Morning Joe's Joe Scarborough And Mika Brzezinski Marry In Washington, D.C.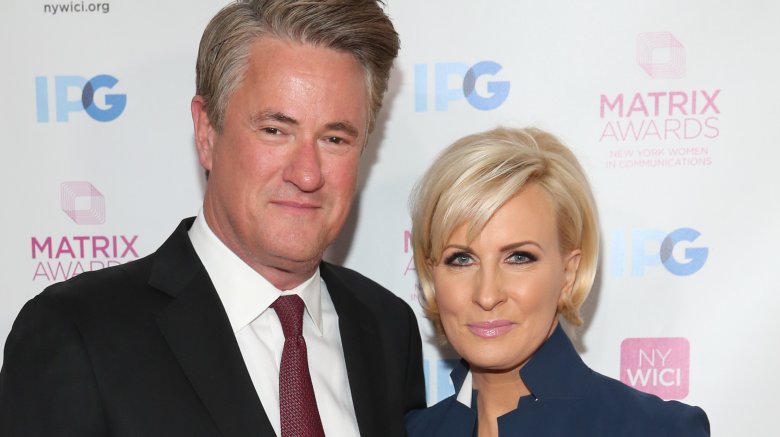 Getty Images
Morning Joe co-hosts Joe Scarborough and Mika Brzezinski have tied the knot!
As reported by Vanity Fair, Scarborough and Brzezinski married at the National Archives in Washington, D.C. on Saturday, Nov. 24, 2018. The two morning news personalities said their "I do's" in front of the Constitution, the Declaration of Independence, and the Bill of Rights. Maryland Rep. Elijah Cummings officiated the ceremony.
Their wedding, which featured the couple, their children from previous relationships, and five guests, was kept secret from most, as the couple didn't even send out invitations to loved ones, instead issuing invites via phone calls. And, as noted by Vanity Fair, the nation's capital was fairly empty with many of the city's residents out of town for the Thanksgiving holiday. "We wanted it to be really small and simple and not what you expected from Mika and Joe," Brzezinski shared with the magazine. "Everything we do is exposed, and everything felt exposed every step of the way, so we want this to be private until it's over. We wanted to recognize it more quietly and have the people who are most important to us around us."
Following their intimate wedding, Scarborough and Brzezinski celebrated their nuptials at the French bistro Chez Billy Sud with "six tables of about 6 to 10 people."
Brzezinski told Vanity Fair that she'd be changing her name to reflect her marriage to Scarborough.
Scarborough had proposed to his Morning Joe co-star in France May 2017.
The pair's wedding marks Scarborough's third marriage and Brzezinski's second. As noted by USA Today, Scarborough was previously married to Melanie Hinton from 1986 to 1999 and to Susan Warren from 2001 to 2013. He has two children from each relationship. Brzezinski was married to James Hoffer from 1993 to 2016.
Congratulations to the couple on their marriage!