Ross Mathews And Salvador Camarena Call It Quits On Their Nearly 10-Year Romance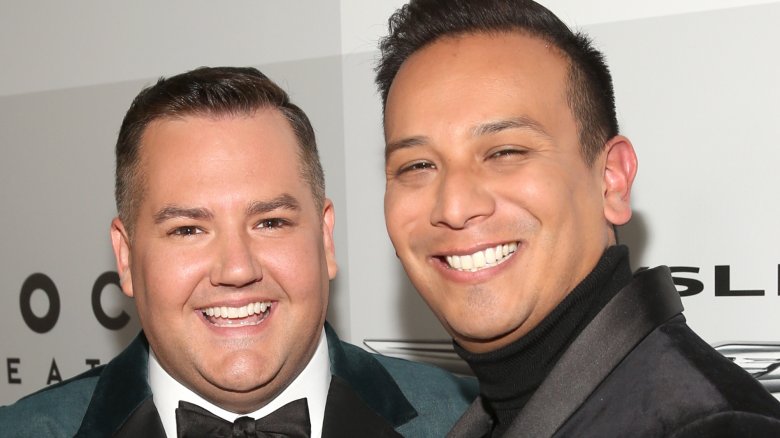 Getty Images
TV personality Ross Mathews and his longtime boyfriend, stylist Salvador Camarena, have split up.
On Sunday, Nov. 25, 2018, Mathews shared a black-and-white photo of himself with Camarena on Instagram, announcing their breakup in the post's caption. "After nearly ten years together, Salvador and I have decided that the time has come to part ways," he wrote. "This split is amicable and filled with kindness, compassion and a genuine love for one another."
Mathews, 39, continued, "As we go forward, each of us feels as if he has a cheerleader in our corner – a family member for life. We are happy. Thank you all for your well wishes and love."
Camarena posted the same photo on his Instagram with a similar caption, in which he included the hashtag, "#consciousuncoupling."
As noted by Us Weekly, Mathews and Camarena began dating back in 2008. In 2012, they publicly discussed the idea of becoming parents. "That's always been a common goal of ours," Mathews told Celebuzz. "That was something that was always important to us when we initially met. They're definitely in our future. But we're both career focused right now."
Camarena added, "I grew up with three older brothers, so I can see myself being a cool little league dad. And Ross would love a little girl to put in pageants."
To that, Mathews replied, "I'm going to name her Chardonnay, and we will bring home that blue ribbon!"
In October 2017, Mathews, who was once known as "Ross the Intern" from The Tonight Show with Jay Leno, opened up about having children in the future again. He told HuffPost, "You know? I want to start focusing on my life and my happiness. I want to have kids now. I feel like I've been married and raising my career. I'm ready pretty soon to think about having some babies."