What The Aides Of The White House Call Ivanka Trump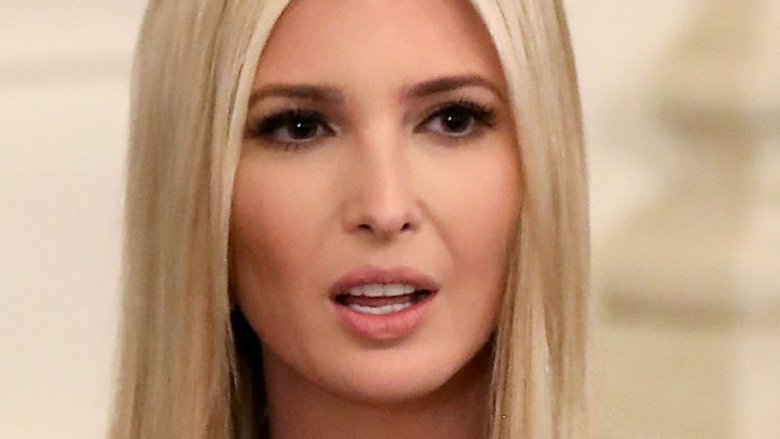 Getty Images
Ivanka Trump may be called a lot of things by American citizens, but just how do White House aides refer to her behind her back? Well, you may be surprised.
It's no big secret that Ivanka Trump, daughter of and senior adviser to President Donald J. Trump, isn't exactly well liked by the American public. According to a poll conducted by Refinery29 and CBS News in August 2018, only 18 percent of American women between the ages 18 and 35 see Ivanka in a "favorable" light. In contrast, 46 percent "view her unfavorably," while 36 percent of millennial women polled apparently just don't know what to think of her.
While that poll may have only been conducted to see what young women think of Ivanka, it wouldn't be surprising to hear that many others don't like Ivanka too much, especially considering just what White House aides actually think of her. In August 2017, Vanity Fair noted in a report that select White House employees sometimes call Ivanka "princess royal," apparently because of her father's high position and her high-profile political career despite her lack of relevant experience. Of course, according to the magazine, these West Wing advisors never actually call Ivanka by the less-than-endearing moniker to her face.
One particular event that apparently infuriated certain White House aides was when President Trump asked his eldest daughter to sit in for him at a July 2017 meeting of the G-20 at the Hamburg Marriott Hotel in Hamburg, Germany. The event was hosted by German chancellor Angela Merkel. Vanity Fair reported that it's not unusual for a world leader to have a delegate take his seat at the meeting, but that didn't stop many from criticizing Trump for what appeared to be apparent nepotism.
In response to a tweet featuring a photo of Ivanka at the meeting, Michael McFaul, who served as the United States ambassador to Russia under President Barack Obama's administration, tweeted out to his followers, "This is strange," adding, "Very strange."
Another person, who Vanity Fair simply described as a "former Trump advisor," said, "Excuse me ... This is not a royal family, and she's not the princess royal."
But White House aides haven't, of course, only bashed Ivanka for that one incident. Apparently, many advisors dislike Ivanka Trump and her husband, Jared Kushner, due to their behavior in Washington, D.C. Of Ivanka and Kushner, a "Washington veteran" told Vanity Fair, "What is off-putting about them is they do not grasp their essential irrelevance." The source continued, "They think they are special."
And the two advisors to President Trump have allegedly acted rather rudely to White House staffers on occasion. Describing Ivanka's actions at 1600 Pennsylvania Avenue, one ex-advisor shared, "She tries to charm you at first, and then there'll be the cutting remark in front of her father." Ivanka is also said to be particularly "cold" to staffers who "are not in favor with the president," according to Vanity Fair.
As he reportedly said at the G-20 meeting, President Trump stated that Ivanka's life may be more difficult because he is her father. "If she weren't my daughter it would be so much easier for her," he said. "It might be the only bad thing she has going, if you want to know the truth."
Perhaps surprisingly, White House staffers have more positive things to say about President Donald Trump's wife, First Lady Melania Trump — despite the American public not always having such nice things to say about her, her policies, and her actions. According to Business Insider, "members of the permanent White House staff instantly adored her." Former staffers have reportedly said that "it was her thoughtful, everyday interactions with them that made her stand out among other first families."
Maybe staffers are more fond of Melania Trump than it'd seem they are of Ivanka Trump because she's "very independent" and "is focused on being a mom" to son Barron, as her spokesperson, Stephanie Winston Wolkoff, told The Washington Post in May 2018.
Or maybe White House staffers just don't feel the need to criticize Melania Trump because, well, Twitter does it for them. Remember how people reacted to the unveiling of her 2018 White House Christmas decorations? Yikes!