Today's Matt Lauer Reportedly 'Not Doing Well' One Year After Scandal, Firing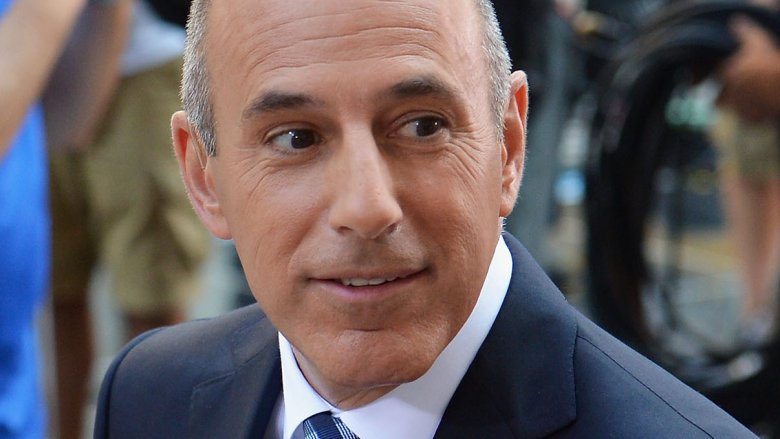 Getty Images
As could be expected, Matt Lauer, former co-host of the Today show, is not exactly living his best life one year after the popular morning news program dumped him for alleged sexual misconduct.
According to People magazine, Matt Lauer has had a difficult time adjusting to his life following his headline-making scandal in 2017, after multiple women came forward to accuse him of sexual harassment and misconduct. A source told the magazine, "It has been hard for him. He went from being a super busy person to having nothing but time on his hands."
The insider added, "He is not doing well."
It may be some time before we see Lauer, 60, on our small screens again, if he decides to try his hand at returning to a TV news career, that is. People's source shared that Lauer is "not thinking about working again right now." Another insider added, "He doesn't sit around thinking about a comeback."
This certainly goes against previous reports that Lauer was attempting to make his way back to TV. In April 2018, Page Six reported that Lauer was seen dining with Mitch Modell of Modell's Sporting Goods at the Upper East Side's Omar at Vaucluse. The publication noted that he had been allegedly "testing the waters for a public comeback by coming out of hiding from his Hamptons home."
NBC, the network behind the Today show, fired Lauer on Nov. 29, 2017, after they'd "received a detailed complaint from a colleague about inappropriate sexual behavior in the workplace by Matt Lauer" (via CNBC). Soon after, Variety published a report in which multiple women accused Lauer of sexual misconduct. The publication had conducted a two-month investigation into Lauer's behavior, noting that he was said to be "known for making lewd comments verbally or over text messages" and that, for him, "work and sex were intertwined."
Specifically, Variety reported that Lauer had once dropped his pants, revealing his penis, after asking a female coworker to enter his office. He then allegedly "reprimanded her for not engaging in a sexual act." On another occasion, Lauer allegedly sent a female colleague a sex toy, along with a note describing how he'd like to use it on her. And, unfortunately, those were just some of the allegations made against him.
The New York Times also reported that one woman had accused Lauer of sexually assaulting her in his office.
Following his firing from Today, Lauer released a statement commenting on reports about his alleged inappropriate behavior, as reported by The New York Times. "Some of what is being said about me is untrue or mischaracterized, but there is enough truth in these stories to make me feel embarrassed and ashamed," he said. "I regret that my shame is now shared by the people I cherish dearly."
He continued, "There are no words to express my sorrow and regret for the pain I have caused others by words and actions," adding, "To the people I have hurt, I am truly sorry. As I am writing this I realize the depth of the damage and disappointment I have left behind at home and at NBC."
Lauer later admitted to having "acted inappropriately" but denied "any allegations or reports of coercive, aggressive or abusive actions on [his] part" (via The Washington Post).
After his firing, he and wife Annette Roque — who were married for 20 years and share 17-year-old son Jack, 14-year-old daughter Romy, and 11-year-old son Thijs — quickly headed for divorce. At the time of this writing, Lauer and Roque are reportedly working to finalize their split (via People). It's thought that Lauer may have to pay Roque up to $20 million in their divorce, as noted by Page Six.
People notes that Lauer hasn't been dating. An insider said, "Some former colleagues have visited him. He has some long-term friends he sees and hangs out with on a regular basis."
According to Page Six, friends of Lauer's have said that he's ready to "restart his life" since his marriage has ended. However, People reports that Lauer just wants to focus on his children. "All he wants is to be involved in his kid's lives," a source told the magazine. "He spends his days doing as much kids stuff as he can."
Still, we suspect that Lauer intends to make his return to television, as he reportedly told fans at a restaurant in August 2018, "Don't worry, I'll be back on TV," as reported by Page Six.