Did The Royal Family Have Rules For Meghan Markle's Character On Suits?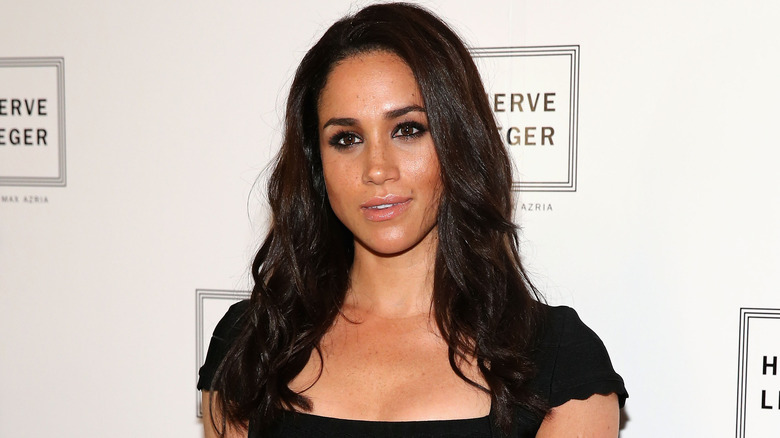 Neilson Barnard/Getty Images
There were many rules Meghan Markle, Duchess of Sussex, and Prince Harry, Duke of Sussex, had to adhere to before they stepped away from the royal family. Among those rules were no selfies with fans and no PDA — which they broke before forging their own path. When the couple were engaged, Meghan was still working as an actor on the series "Suits," where she played paralegal Rachel Zane.
In 2017, Meghan quit the popular USA Network show at the end of Season 7 as she prepared to tie the knot with Harry and become a member of the royal family. "I don't see it as giving anything up. I just see it as a change," she told Sky News at the time. That also marked the end of her acting career. "I've ticked this box, and I feel very proud of the work I've done there," she added.
Juggling her role as Rachel on "Suits" along with the real-life role of Duchess-to-be was difficult for both Markle and Harry, as they felt pressure from the royals. "The show writers were frustrated, because they were often advised by the palace comms team to change lines of dialogue, what her character would do, how she would act," Harry wrote in his memoir "Spare," (via Us Weekly), which was released in January 2023. The show's creator later spoke about a change they needed to make for Meghan's character to adhere to royal protocol.
The naughty word Meghan Markle could not say
Aaron Korsh, the creator of "Suits," had a wide-ranging conversation with The Hollywood Reporter in August 2023 and spoke about the difficulties of navigating rules from the royals while Meghan Markle, Duchess of Sussex, was a cast member. "[The royal family] weighed in on some stuff. Not many things, by the way ... it was a little irritating," Korsh told the outlet. According to Korsh, members of the royal family who were overlooking Meghan's dialogue as Rachel Zane on the show took issue with the use of a specific word. "They didn't want to put the word 'poppycock' in her mouth," the show's creator said. Korsh believed it was because of the last part of that word. "So, we had to change it to 'bulls**t' instead of 'poppycock,'" he said.
That was not the only time the royal family intervened while Meghan played Rachel, but they did not meddle very often. "There was maybe one or two more things, but I can't remember," Korsh told the outlet.
Royals writer Tom Bower wrote about the hurdles "Suits" writers had during Megan's last days on the show in his 2022 book "Revenge: Meghan, Harry and the War between the Windsors." Bower noted that all scripts were reviewed by the royals, who apparently also had instructions for Rachel's wedding scenes. "No photographs, the Palace ordered, were to be shot of Meghan wearing a wedding dress," he wrote, per the Mirror. "Suits" writers started preparing for the actor's exit soon after she was dating Harry. 
Why Meghan Markle was not in the series finale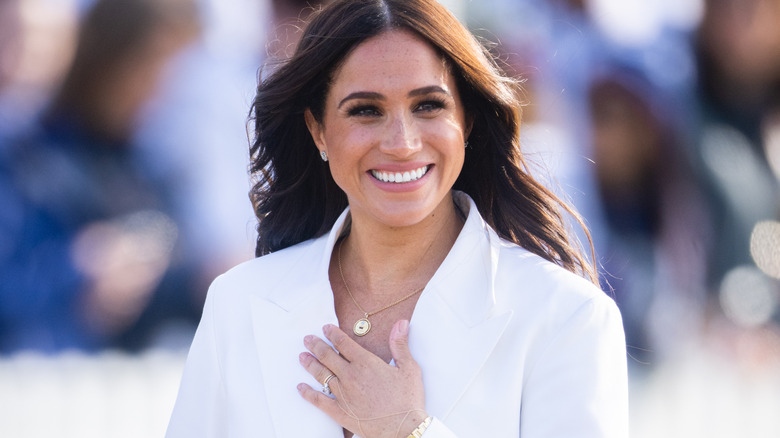 Samir Hussein/Getty Images
It was clear when Meghan Markle, Duchess of Sussex, started dating Prince Harry, the Duke of Sussex, that the actor's time on "Suits" would be coming to a close. Aaron Korsh started working with staff writers to plan a graceful exit for the Rachel Zane character, and they decided to marry her off instead of giving her a grim demise. "And the only way to write a character out like that would be if they got hit by a bus or something," Korsh said while appearing on Radio 4 in 2017 (via BBC). Although Meghan had not yet announced an engagement or plans to leave the show, the writers were preparing to say goodbye to Rachel.
When the series came to a close in 2019, Korsh was faced with the question of whether or not to ask Markle to participate in the finale. "[A]nd in the end I didn't ask, and I just thought, I'm going to respect her new life and not put her in the position of having to ask," the "Suits" creator told Deadline at the time.
Even after Meghan left the USA Network show for greener pastures, Korsh was still quick to defend her when she came under fire in 2021 after a report claimed she bullied royal staffers. "She's a strong woman with a kind heart who's trying to make her way in an unimaginable situation," Korsh tweeted about his former co-worker.