Beth Chapman Leaves Hospital Against Doctors' Advice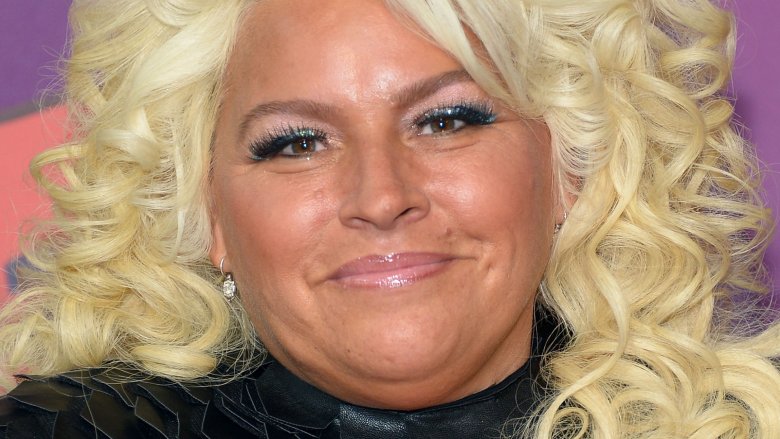 Getty Images
Beth Chapman, who's best known as the wife of Dog the Bounty Hunter, is already back home in Colorado amid her second throat cancer battle.
According to a Radar Online exclusive, published on Sunday evening, Dec. 2, 2018, she's decided to go against doctors' advice as she awaits the results of her biopsy following her recent hospitalization on the West Coast.
"They told us they didn't want her to leave the hospital, but she was adamant, she just wanted to be home," Dog, who's real name is Duane Lee Chapman, told the gossip rag. "She was in a wheelchair to the plane and then a wheelchair on the other side and we were met by friends when we landed who brought us home."
While sharing an update on Beth's condition, the reality TV star added, "They say the cancer follows the path of least resistance, so it goes downward. Half of her lung was full of water. But she's much more comfortable now [that] she can breathe, but she just wanted to come back to Colorado, she loves it here."
As Nicki Swift previously reported, Beth, 51, was taken to Cedars-Sinai Medical Center in Los Angeles on Tuesday, Nov. 27, after experiencing difficulty breathing the night before. That same day, she required emergency surgery after doctors discovered a large cancerous mass in her throat. Amid reports that Beth's condition was life-threatening, the Chapman family's lawyer confirmed that her throat cancer had indeed unfortunately returned, telling E! News, "We are all concerned for her and the well-being of her family."
Dog, 65, has since kept the media and the family's devoted fan base updated, telling TMZ on Wednesday, Nov. 28, "Please say a prayer. She's not doing good." Meanwhile, the married pair's daughter, Lyssa Chapman, told the media outlet, "We're all so devastated. We love our mommy so much ... We've got such an amazing outpour from our fans. We just really appreciate it." She added, "Poor daddy."
The Dog the Bounty Hunter alum also told Us Weekly at the time, "They got most of the throat cancer out ... but the doctors are afraid that it has spread. They are doing a biopsy scan to check if it has spread." Dog added, "I'm here every moment I can be for her. I've never had to go through anything like this in my entire life. I love my honey so much. I don't know what I'm gonna do."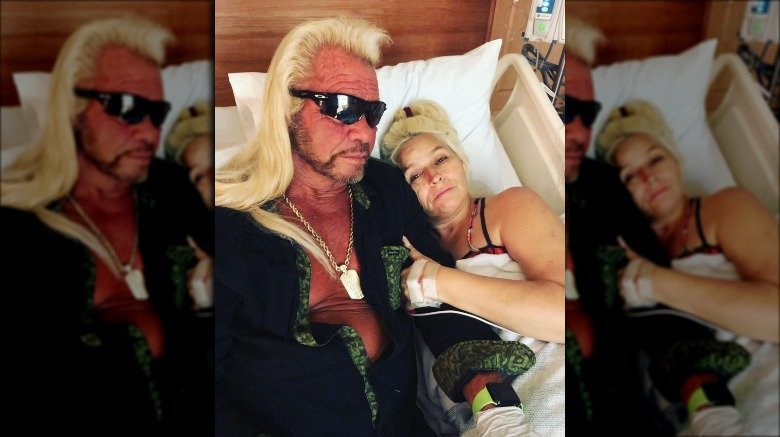 Instagram
The Chapmans are expected to receive the results of their matriarch's biopsy on Monday, Dec. 3. "I'm nervous about the test results tomorrow," Dog recently told Radar Online. "It's like you kinda know what's gonna happen, but you're hoping and praying it's not."
In the meantime, the former A&E TV star is staying by his longtime love's side while fielding questions from the press and tending to things at home. "Beth slept for almost an entire day, and she was more comfortable," Dog said, but added, "Then she got up and she was trying to do things around the house, trying to do laundry and wash the dishes, I said to her 'I've done all that, don't worry.'"
For her part, Beth has since shared an update of her own with her 263,000 Instagram followers. "Another bend in the Road yet not the End of the Road," she wrote alongside a snapshot of the couple lying in her hospital bed last week, before adding the hashtags, "#faith #love #stayhumblepray."
Readers may already be aware that Beth previously required surgery to remove a tumor after publicly disclosing her first battle with stage 2 throat cancer in September 2017. "My life has never been easy, and I surely don't expect it to start now," she wrote in a letter to her loved ones at the time (via Radar Online). "Still, I've never been a victim and I won't let cancer beat me." According to E! News, the married pair revealed that Beth was cancer-free during their November 2017 special, Dog & Beth: Fight of Their Lives. While speaking about his wife's health scare around that time, Dog told Us Weekly, "It has brought us closer." 
Our thoughts are with Beth and the Chapman family during this difficult time.