Sad Details About Hallmark Star Clare Bowen's Personal Life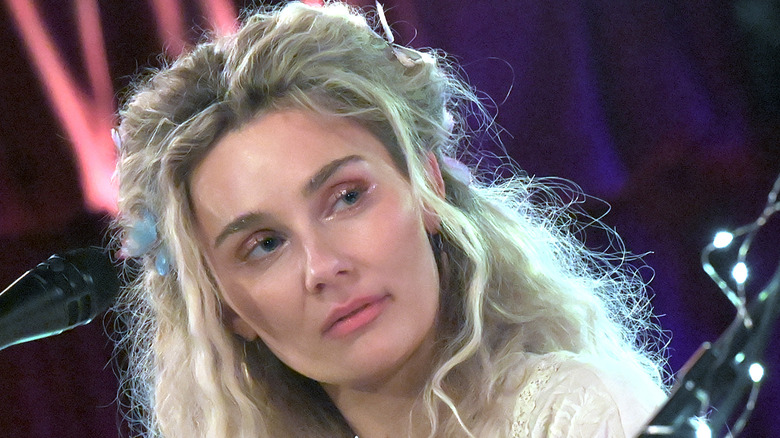 R. Diamond/Getty Images
The Hallmark Channel prides itself on serving up family-friendly, feel-good entertainment. However, the sad details about Hallmark star Clare Bowen's personal life prove that things aren't always as breezy and upbeat when the cameras aren't rolling.
Bowen isn't among the buzziest Hallmark actors; she's only starred in two of their flicks so far. Still, she's definitely made her mark. Per IMDb, Bowen starred alongside Aly Michalka and Chad Michael Murray in 2021's "Sand Dollar Cove" and with Brant Daugherty in 2022's "#Xmas." And she's already a massive fan of working for the wholesome network. "Hallmark is for everybody, and that's what the world needs more of," Bowen told Us Weekly. "It makes people feel good. You can slip it onto the background of the holidays and, you know, the kids are going to enjoy it, and you know Nana's gonna enjoy it, and all your friends are too. It's a movie greeting card, and I love it."
Bowen is best known for playing singer/songwriter Scarlett O'Connor on ABC's "Nashville," and music plays a large part in the Australian's everyday life, too. Bowen told Hallmark that she struggled to interact with others as a child, preferring to spend her time with animals instead. However, songs proved to be her saving grace. "Music was my connection to the rest of the world," she admitted. "[I didn't do] social very well ... but music is the universal language. I felt no barrier there."
A scary childhood diagnosis
It's little surprise that Clare Bowen struggled with forming friendships when she was young, as the actor spent many of her earliest years in and out of hospitals. The celeb was handed a scary cancer diagnosis at the tender age of four. Clare told Australia's The Daily Telegraph that she had kidney cancer and was given two weeks to live.
Clare proved the doctors wrong, though. She spent the next three years undergoing grueling hospital treatments in her hometown of Sydney, Australia, before finally entering remission. Clare credits music's healing powers for helping pull her through, and she continues to pass on its influence through her performing career. "[Music is the reason] I'm still here. I was given two weeks to live. My parents pushed and pushed and pushed for things to happen that usually didn't throughout my treatment," she said. "Getting people to talk about difficult things is a big part of my show."
Clare waved goodbye to cancer when she was seven, but sadly, the disease wasn't done with her family. The Daily Mail reports that in a tragic turn of events, just weeks after she got engaged to her fiancé, Brandon Robert Young, in 2015, Clare's little brother, Tim Bowen, was diagnosed with Stage 4 lymphoma. He was also handed a prognosis of two weeks. He also proved the doctors wrong.
A second cancer scare
Tim Bowen entered remission after a year and a half of treatment. "Timothy's doing really well. Now, we both still have to go for check-ups, and that never really ends. But he's doing really, really well," Clare told reporters at the Grand Ole Opry (via Sounds Like Nashville).
Tim's doing so well that he's back performing with his sister again. Meanwhile, Clare continues to spread love and kindness. "I have come to terms with the fact that one person cannot save the world alone," she told Hallmark. "But by connecting with people, stage by stage, song by song, kindness by kindness, you can make a difference. My life has been really weird and sometimes really scary, but I wouldn't change any of it because it brought me here and made me whatever it is that I am. Now I get to fill little corners of the world with love and kindness, and together — we make them glow."
In 2015, Clare chopped off her hair in solidarity with a child undergoing cancer treatment. "I was really inspired when I heard a story about a little girl who said she couldn't be a princess because she didn't have long hair, and I wanted her, and others like her to know that's not what makes a princess, or a warrior, or a superhero," she posted on Facebook. "It's not what makes you beautiful either. It's your insides that count ... even if you happen to be missing half of them."