Here's Who Hallmark Star Erika Christensen Is Married To In Real Life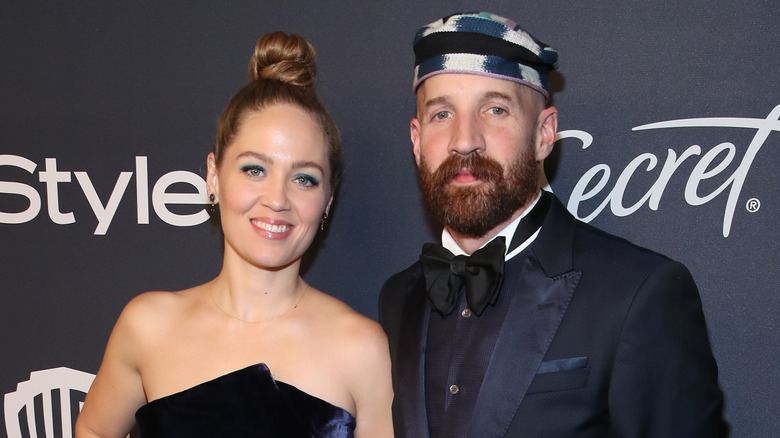 Randy Shropshire/Getty Images
Erika Christensen's husband, Cole Maness, shares her love of adventure. And yes, the star of "My Boyfriends' Dogs" did end up married to a guy who enjoys the company of canines, based on Maness' Instagram page.
Christensen took to Instagram to share the exciting news that she and Maness were engaged in November 2014. In the photo shared with the announcement, she and Maness were pictured kissing against a backdrop of snowy mountains. Maness revealed that his proposal came after quite the adventure; he biked for 250 miles, hitched a ride on a ferry, and hiked for almost 20 miles on the mountainous Pacific Crest Trail. He informed his Instagram followers that this epic journey was followed by "a 3.5-hour drive back in a seatless cargo van to Seattle where [he] was lucky enough to hear the word 'yes.'" In September 2015, People reported that Christensen and Maness had tied the knot. Their wedding took place at the Highland Springs Resort near Palm Springs, and they naturally had an outdoor ceremony.
In addition to being a competitive cyclist and outdoorsman, Maness is a talented amateur photographer. "My stories are somewhat unbelievable, so you may think I'm full of s**t when in all actuality I probably have some photos at home that can prove it all," he told Rapha in 2009. One of the entertaining tales he can tell is how he captured Christensen's heart, and he has plenty of pics that prove he's married to a Hallmark star.
Cycling brought Cole Maness and Erika Christensen together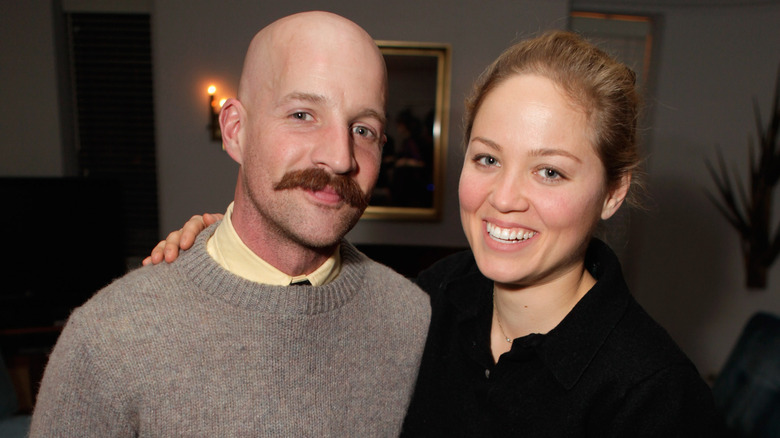 Jeff Vespa/Getty Images
Erika Christensen is an avid cyclist, and she started dating Cole Maness in 2011 after meeting him at a race. "He knew who I was, and I knew who he was, so both of us were playing it cool and wouldn't talk to each other," she recalled to Genlux Magazine. But Maness left enough of an impression on her that she decided to reach out to him on Twitter. When he still didn't make a move, Christensen came up with a plan to gauge his interest. She sent him a text that read, "I wonder if I can trick Cole into asking me out to dinner," presumably under the pretense that it was meant for someone else and she'd sent it to him by accident. This finally did the trick.
Maness is a Memphis, Tennessee, native who discovered his love of cycling while running a store there that sold bikes and various outdoor gear. In a profile by the cycling apparel brand Rapha, he shared, "I got into commuting at first, then I'd go out for the Sunday Shelby Forest training ride which led me to racing." In 2009, Maness partnered with Rapha for its ambitious campaign called the Continental, per The Oregonian. To promote the brand's products, he and a group of fellow cyclists chronicled their adventures as they rode across America. Their scenic rides were hundreds of miles long, and some of the stretches were brutal mountain climbs.
Cole Maness delivered his second child
Cole Maness and Erika Christensen became first-time parents in 2016 with the arrival of their daughter Shane. "In Hawaii, where we recently went for our babymoon — which we didn't even know was a thing, the timing just kind of worked out that way — we would go swimming and hiking every day," Christensen told Momtastic of the couple's active lifestyle before they became a family of three. When their daughter Polly joined the family two years later, she was apparently in a big rush to meet everyone. "Babygirl's own, incredible Dad delivered her all by himself. My fault, as I didn't know she would come so quickly and didn't call the doc until far too late," Christensen wrote on Instagram of her home birth that didn't go as planned. In another post, she praised Maness for keeping his cool during that moment of madness and even making sure that Shane remained entertained; she was learning about the circle of life from "The Lion King" while her mom was in labor.
Christensen and Maness are Scientologists, and in a 2017 interview for the church's celebrity magazine, Christensen said of her husband, "He's one of those people that's good at anything he tries his hand at," (via The Underground Bunker). This apparently extends to being a girl dad, as Maness' Instagram page is loaded with photos of him taking his daughters on adventures of their own, from exploring the mountains to swimming at the beach.