What Chicago Justice Star Joelle Carter Has Said About Her Divorce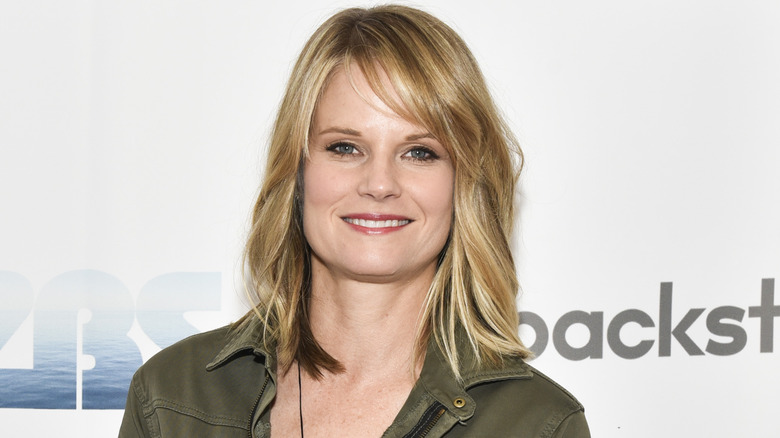 Rodin Eckenroth/Getty Images
Joelle Carter is notoriously private when it comes to the more intimate details of her personal life. The actor, who starred as investigator Laura Nagel on NBC's "Chicago" franchise, "Chicago Justice," was previously married to film producer Andy Bates. The two tied the knot sometime in 2005, according to an article by The Washington Post. During their marriage, Carter and Bates launched their own film production company, Blarma Productions, in 2006. They also adopted a child from birth — a little girl named Luna Rose — in 2010.
Speaking with The Washington Post, Carter said they started the adoption process shortly after she was cast on FX's "Justified." She recalled, "By the time we shot the first season the adoption had gone through, and we got her that summer during hiatus. We were in the room [when she was born]. I cut the cord. It was a wonderful birth family that was very gracious." In a separate interview with ParentDish, Carter said they decided to look into adoption after months of struggling to get pregnant. Gushing about their then-young daughter, she said, "She is the sunshine of our lives. I mean, it is a lot of work and you have to reschedule yourself, but it is all worth it." At the time, the actor also expressed her wish to welcome another baby with Bates. "I hope so," she said. "We might wait until [Luna] is diaper-free so my husband doesn't remember how hard it was when she was an infant."
Sadly, after seven years of marriage, she and Bates parted ways in 2016.
Joelle Carter still has a lot of love for her ex-husband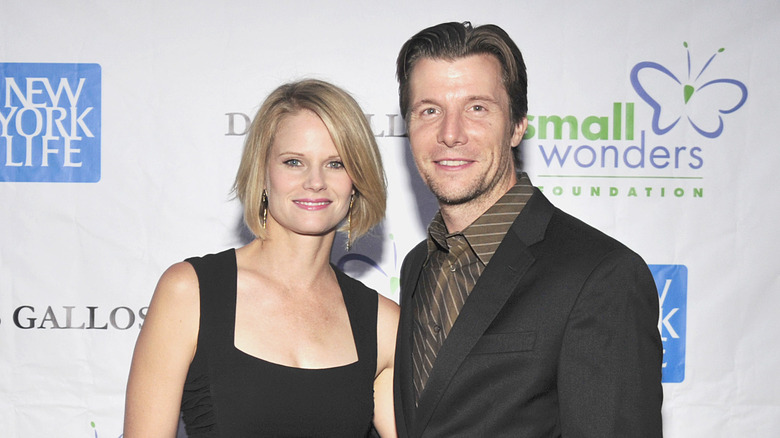 John M. Heller/Getty Images
Fresh off her divorce from Andy Bates, Joelle Carter spoke with Parade in 2017 about their separation. While sharing how she was able to relate to her character on "Chicago Justice," Carter said that both she and Laura Nigel were "strong survivors" when faced with challenges.  "I understand her struggles with her custody case, although mine is so much more amicable, and I understand just the idea of potentially losing the gift of parenting," she explained. "Being so dedicated to a job takes an enormous amount of time because of her sense of wanting to serve justice. In a way, she's married to this job."
Of her divorce, Carter said that she and Bates managed to settle their case out of court. She added that they parted ways in late 2016. Despite the pair no longer being together, Carter said they still have a lot of love and respect for one another. "We came to a place where we found a really nice way to share our daughter," she said. "I do have such a respect for family — our family, and we still support each other."
Speaking with The Hollywood Reporter months later, Carter admitted that she considered leaving "Chicago Justice" while in the midst of her divorce from Bates, saying, "I was very straight with [showrunner] Dick [Wolf] that I just didn't know if it was going to work." Fortunately, Wolf was supportive and understanding of her situation. "He said, 'Well, you come to me... and we'll deal with it,'" Carter explained. "He was very open that that could be a possibility if I needed it."
Has Joelle Carter dated anyone since her divorce?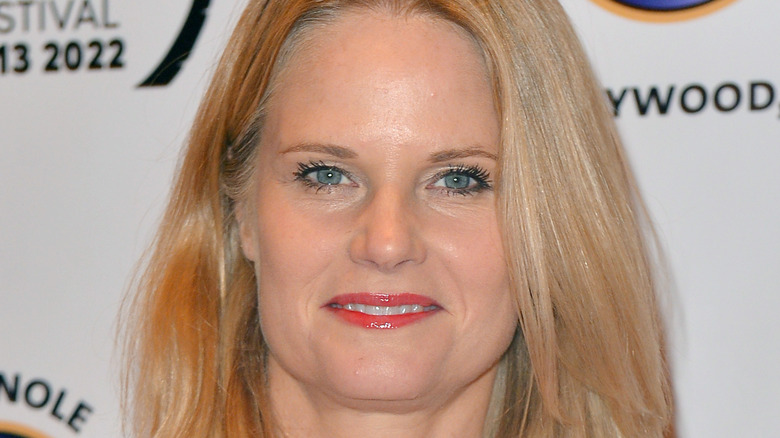 Johnny Louis/Getty Images
Following her divorce from Andy Bates, Joelle Carter has seemingly remained single and has kept herself busy with her work and being a mom to daughter Luna Rose. Ever since the cancelation of "Chicago Justice" in 2017, the actor has taken on numerous acting projects, including ABC's "The Rookie" as Jeremy Hawk's wife, Megan Mitchell, and Bravo's "Dirty John" as Yvonne Newsome/Denise Meehan-Shepard in 2018. She also appeared in NBC's "Chicago Med" in 2020, but not as her original character Laura Nigel — instead playing the role of drug addict Lynne Driscoll in the Season 5 episode titled "Guess it Doesn't Matter Anymore." In addition, Carter also starred as school principal Kim Collins on the mystery drama "Home Before Dark" on Apple TV+, which premiered in 2020 and was renewed for a second season in 2021.
More recently, Carter was seen in the "Protégé" episode of the CBS crime series "FBI" as Special Agent Gwen Carter. She also starred in "The Hill," a movie based on the real-life story of Rickey Hill, a baseball player who made it to Major League Baseball despite being born with a degenerative spine disorder. She played the role of Rickey's mother, Helen Hill, while Colin Ford (from the films "Captain Marvel" and "We Bought A Zoo") portrayed the athlete. Also starring Dennis Quaid, "The Hill" was released in movie theaters last August to mixed critical reception.