The Untold Truth Of Sexyy Red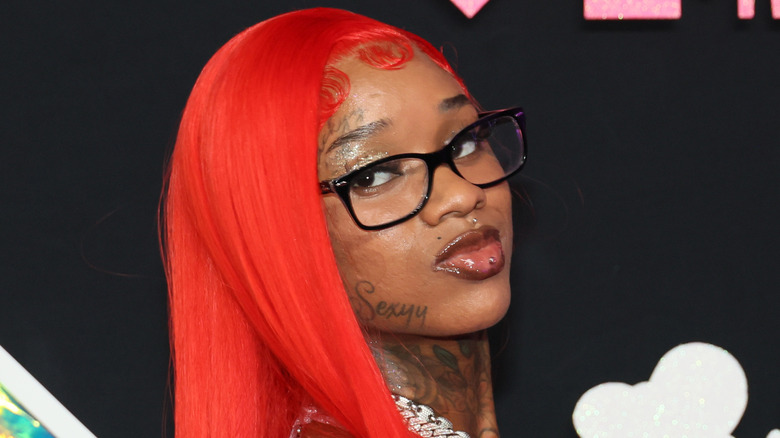 Dia Dipasupil/Getty Images
The following article includes references to sexual abuse.
The flame-haired, provocative rapper Sexyy Red — real name Janae Nierah Wherry — has had quite the rise to fame. A virtual unknown in 2018, the music star went viral for her hip-hop take on Vanessa Carlton's "A Thousand Miles" before teaming up with Summer Walker on the attention-grabbing "Sense Dat God Gave You" four years later. By 2023, she not only dropped the acclaimed mixtape "Hood Hottest Princess," but also scored a Billboard Hot 100 hit with a remix of the explicit "Pound Town," which featured original collaborator Tay Keith and got a boost from none other than Nicki Minaj. 
In addition to dropping a verse on the track, Minaj has often publicly supported Sexyy Red and her unique rap style. In a May 2023 Instagram Live, the Queen of Rap told her fans, "This is only the f***ing beginning for her. This is what I told her. Yo, people like you. People like what you have to say, they like your sound. ... Because motherf***as really want to hear that raw s***. ... And we missin' it after a while in rap and we love discovering new people in rap."
If that wasn't enough, the "SkeeYee" hitmaker's worked with DaBaby, supported Moneybagg Yo, as well as Drake and 21 Savage, on their respective North American tours, and picked up a best breakthrough nod at the 2023 BET Hip-Hop Awards. But there's more to the St. Louis native than her career achievements. From baby daddy issues and business endeavors to several cases of TMI, here's a look at the self-proclaimed Female Gucci Mane's untold truth.
A cheating boyfriend inspired Sexyy Red to start rapping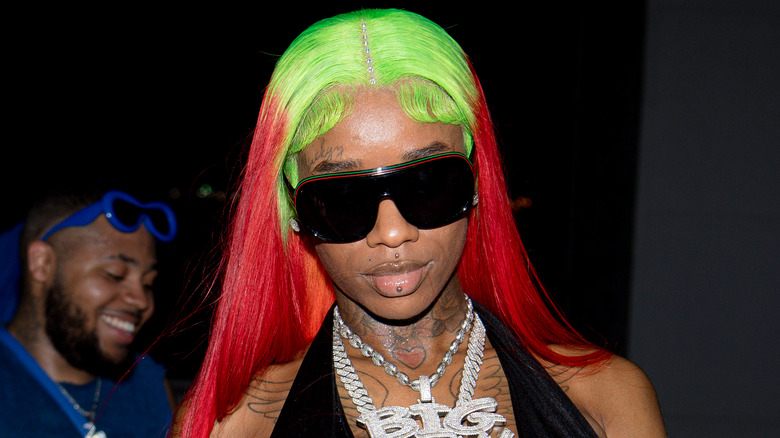 Marcus Ingram/Getty Images
Revenge is a dish best served in a foul-mouthed rap, at least according to Sexyy Red. After discovering that her boyfriend was getting intimate with another woman, the rapper decided to vent her frustrations with a freestyle — which turned out to be the initial iteration of "Pound Town." And the reaction was so positive — even her cheating other half was super enthusiastic — that she decided to pursue the art form even further.
In a May 2023 interview with Complex, Sexyy Red explained the moment she first showcased her rhyming skills to the man who'd done her dirty: "I was just mad and I was like, 'I'm going to diss these hoes.' That's when I started rapping it to him and he was like, 'Oh wow, it's actually tight.' He didn't know how I was finna come on that diss song."
In fact, the unnamed man was so impressed by his girlfriend's lyrical flow that he would request that she perform the same uncomplimentary track in front of others. Sexyy Red added, "He'd go pick up his friends, and he'd be like, 'Listen to her song.' And he'd say [to me], 'Rap that s*** for them.' So I just started rapping." And the rest is hip-hop history.
This rapper is also an entrepreneur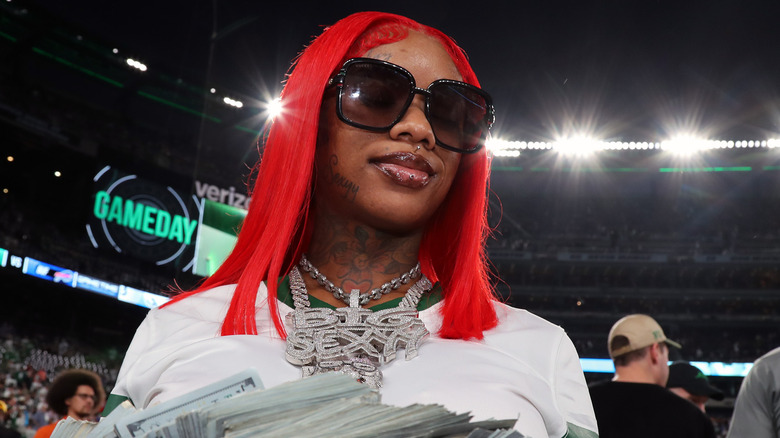 Al Pereira/Getty Images
You're pretty much nothing in the hip-hop game unless you have a lucrative side hustle. Think Dr. Dre and his Beats headphones, Rick Ross and his RICH Hair Care line, or Nicki Minaj and her fruit-infused wine Myx Moscato. And you can add Sexyy Red to the list of entrepreneurial rappers thanks to the launch of her own brand of lip gloss.
Of course, the provocateur was never going to settle for a range of conventionally named products. Indeed, forget Cherry Blossom and the like. Sexyy Red's line sounds more like a checklist at the sexual health clinic. "The names for my lip gloss is something that nobody would've ever thought of," she told Complex in 2023. The music star certainly wasn't kidding. She went on to explain, "I got one called Nut and it's the color of some nut. I got one called Gonorrhea. It's green like gonorrhea. I got one called Yellow Discharge ... ," and well, we can't really reference the other products Sexyy Red mentioned for NSFW reasons. 
That said, the St. Louis native claimed that her unusual marketing technique was working and that her range was regularly selling out. Apparently, their fragrances are far more enticing than their names would suggest, too. "The s*** cute, and it smells good," she said.
Sexyy Red's baby daddy is in prison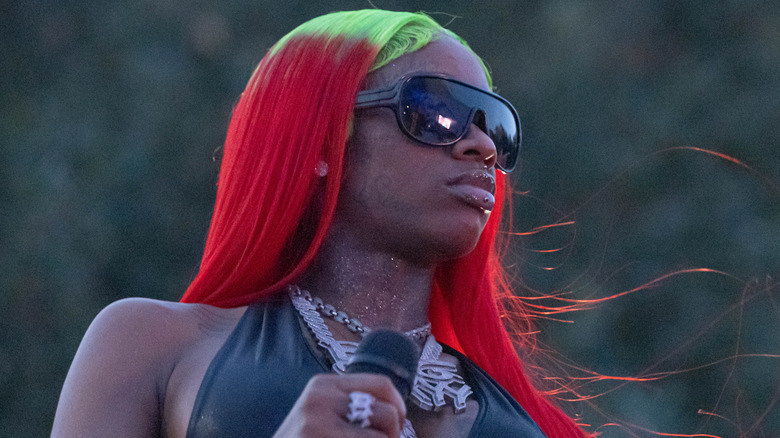 Marcus Ingram/Getty Images
The boyfriend whose cheating ways inspired Sexyy Red to take up rapping is still very much in her life. In fact, he's the father of her first-born, Chuckie. But the rapper doesn't get to see the unknown man as much as she'd like as he's behind bars, as of this writing.
Sexyy Red refused to explain why her partner had been sent to prison in a July 2023 chat with Rolling Stone, but she did admit that she missed him being around on a daily basis. "It's a lot for me," she said. "That's my high school sweetheart. Free him. That's my dog. I hate being on this journey without him. I have my momma, but I don't have him."
Just like she did in her very first freestyle, Sexyy Red has continued to reference the state of their relationship in musical form. On "Female Gucci Mane", for example, she raps, "Free my baby daddy, Y'all be hating on him (yeah)," while on the original Tay Keith collaboration "Pound Town," she declares, "My son need a new pappy."
She started going to strip clubs aged 15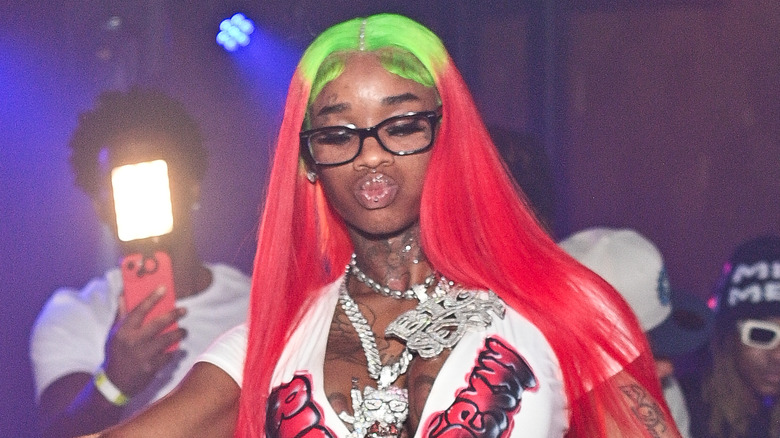 Prince Williams/Getty Images
In a July 2023 interview with The Face, Sexyy Red revealed she's always been older than her years. In fact, there was one occasion at elementary school that she was accused of plagiarism by her teacher because her descriptive work was so advanced. And by the time the rapper got to high school, her 15-year-old self was already living the life of a party animal in her Missouri hometown's strip joint scene with the help of her big sister's ID. 
"We just used to be outside every night for no reason," Sexyy Red recalled. "It'd be funny because I'd come back to school and everybody just was on some lame stuff. But me, I was already going to the club, going out of town for the weekend." The rapper's partying ways also continued during the school week. Sexyy Red added, "I used to be coming in at three, four o'clock in the morning on a school night, and wake up and go right to school." 
But these wild nights out did have a beneficial impact on her future career. It was at the clubs that she got hooked on the Boosie and Webbie tracks that would inform her storytelling abilities.
Sexyy Red has an interesting concept of romance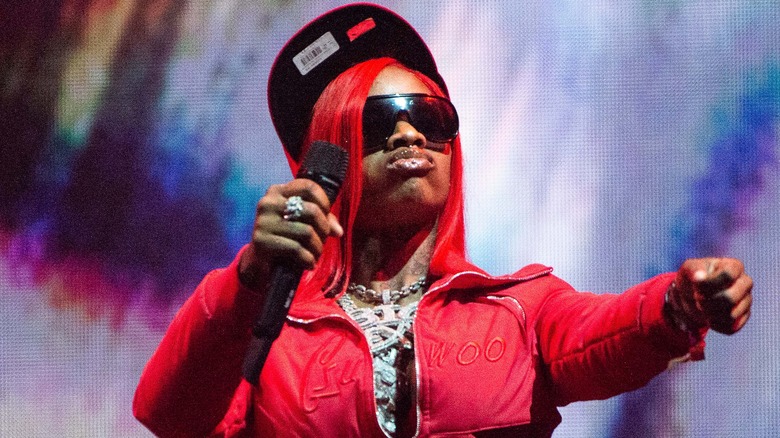 Joseph Okpako/Getty Images
During a chat with "Montreality" in September 2023, Sexyy Red was asked to disclose the most romantic thing anyone had ever done for her. And instead of something along the lines of a candlelit dinner, a surprise bouquet of flowers, or a marriage proposal in front of the Eiffel Tower, the "Pound Town" hitmaker revealed that it was a display of petty thievery.
"It was my first boyfriend," Sexyy Red explained. "I was just in high school. He was a little older than me. It was Valentine's Day — I'll never forget. He robbed somebody and gave me the money and gave me the bill he stole, and it was just so sweet."
But it wasn't just cold hard cash — apparently the sum of $13 — that the object of her affections treated her to on the most loved-up holiday of the year. Sexyy Red, who was aged 15 at the time, was also presented with a Gucci belt, albeit a fake one. And she couldn't have been more impressed: "That was the first time somebody ever had got me a gift or tried to do something for me, and I know he didn't have it. So the fact that you still made a way and you did what you had to do, that was nice."
She can't decide whether she looks like another rapper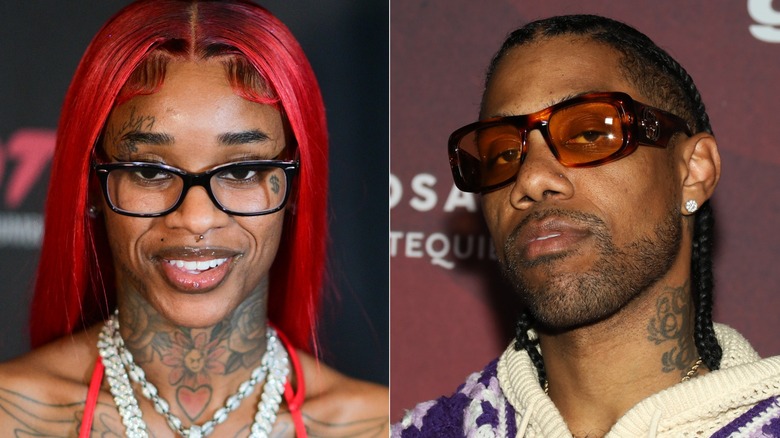 Prince Williams, Paul Archuleta/Getty Images
Sexyy Red has been compared to several rappers during her rise to fame. Nicki Minaj, Cardi B, and Megan Thee Stallion, just to name a few. But while she no doubt has no qualms about being mentioned in the same breath as such chart-toppers, there is one fellow hip-hop star she hates being likened to.
In a since-deleted conversation about annoying fan interactions on Funny Marco's "Open Thoughts" YouTube channel, the star said in August 2023 (via Complex), "I hate when they say I look like Young Thug 'cause no the f*** we do not look alike." That appeared to add fuel to the fire, as that September, one particularly mischievous tech whiz swapped out Sexyy Red's face with that of Young Thug's in a video clip for her track "Hood Rats." Her collaborator, Sukihana, was also substituted for "30 Rock" alum Tracy Morgan. "What's wrong with y'all," Sexyy Red responded on Twitter to the offending post. 
However, not long before this, the St. Louis native had appeared to do a 180 on the whole issue. Indeed, Sexyy Red took to Twitter in late August to comment alongside side-by-side snaps of herself and Young Thug, captioning it, "Yea that's my twin I must admit," alongside a crying-laughing emoji.
Is Sexyy Red dating Drake?
Sexyy Red got everyone's tongues wagging in the summer of 2023 when she was pictured looking very cozy with superstar Drake after she opened up for him at a Brooklyn gig. And their social media captions only gave the tabloids more ammunition.
The "God's Plan" hitmaker was the first to upload the backstage snap on an Instagram Story that July alongside the words, "Just met my rightful wife," later adding, "If my girl see ya'll backstage being thirsty it's gonna get smokey." For her part, Sexyy Red soon treated her own Instagram followers to the same photo with the caption, "I'm yo favorite rapper favorite rapper." That wasn't the only evidence that the pair had gotten close, however, since the "Pound Town" star was later tapped up to support Drake and 21 Savage on their "It's All a Blur Tour."
In another picture uploaded to Sexyy Red's Instagram account the following month, the pair could once again be seen embracing. This time around, it was accompanied by the star hinting to her followers at some kind of connection. Meanwhile, at the Rolling Loud Festival in July, Sexyy Red revealed (via Daily Loud) that they've been spending time in the studio, too — so perhaps it's merely all platonic between these two. "We got a song coming out," she explained. "I mean, we supposed to be. I did some lil s*** on his song, he sent me a beat, and I had rapped for him or whatever. He was f***in' with it, so we gon' see if he drop that b****."
Sexyy Red is in it for the money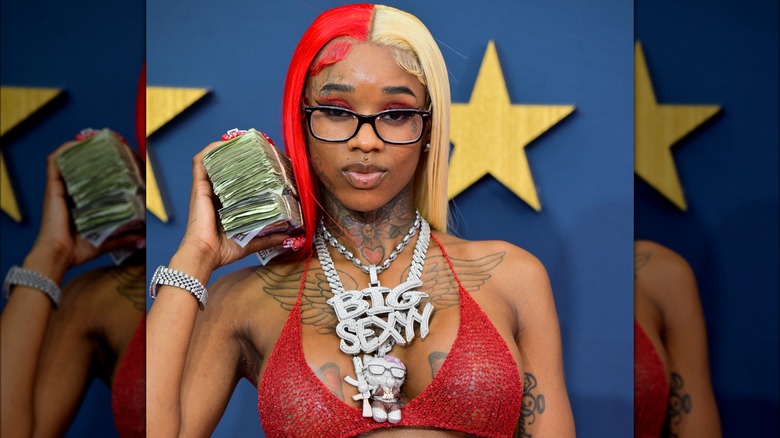 Prince Williams/Getty Images
Ask most artists why they do what they do for a living, and they'll no doubt say it's for the love of music, a creative urge that they can't control, or that they want to make the world a better place. Not Sexyy Red. Indeed, for the St. Louis rapper, it's all about the Benjamins.  
In her candid 2023 interview with Complex, the "Pound Town" hitmaker freely admitted that cold hard cash is her main incentive: "I ain't going to lie. I'm in it for the moolah. Because I need money. I got to live. So I want all the money. Whatever I can do to get some money ... I'm going to do it." 
Sexyy Red then gave an example that may come as good news for any fan with a spare five grand lying around. "Say my show is $10,000 and the person only got $5,000. I'm not going to turn that five down," she said. "I'm going to at least go to the show, show my face, or something. You're not going to get the full experience, but I'm going to take that five bands. And it's going to add up every time. I'm getting everything." 
This star likes to give back
She might be scoring Billboard Hot 100 hits, getting invitations to the MTV Video Music Awards, and paling around with Drake these days — but Sexyy Red hasn't forgotten where she came from. Indeed, the rapper is determined to pay things forward now that she's a fully-fledged hip-hop superstar.
In July 2023, the "Pound Town" hitmaker showed up at a St. Louis high school to help students prepare for the biggest night on their social calendar. She explained on Twitter, "Y'all do know I went there to give the boys money for they haircuts and girls bundles for prom week 'cause I remember when I needed help with my prom stuff."
Of course, controversy seems to follow Sexyy Red around pretty much wherever she goes, and this was no exception. Some critics took umbrage with the fact that she threw her middle fingers up on her arrival at the school's gym, before smiling and waving. These naysayers also claimed that someone whose music is laced with profanity shouldn't be held up as a role model for teenagers. But we'll leave it to the parents and teens themselves to decide that.
Sexyy Red believes the truth is out there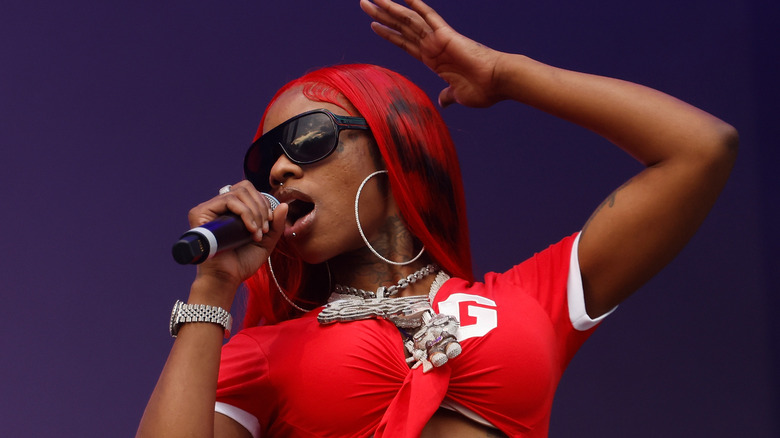 Taylor Hill/Getty Images
When she's not courting controversy with her latest unfiltered rap, sending the tabloids into overdrive when it comes to dating rumors, or allegedly looking bored at star-studded awarded ceremonies, Sexyy Red apparently likes nothing better than researching life paths. And if you don't know what life paths are, let the hip-hop star explain.
"It's like astrology, where they take your birthday, add the numbers up, and they tell what kind of person you is," Sexyy Red told Complex in May 2023. "It tells your personality all the way through. I feel like the way our birthdays are set up, it do give you your spark. Something about you. It's interesting."
Sexyy Red also revealed she's a firm believer in everything from aliens and mermaids to Bigfoot and ghosts, recalling one family incident that explained the latter. "Our house was haunted," explaining how her family owned an older speaker that required both a button to be pushed and a knob to be turned in order for it to function. "My mom was just chilling, and out of nowhere, the speaker turned on by itself and it went all the way up, just playing music. She was scared." We can't say we blame her!
She isn't afraid to disclose her sexual health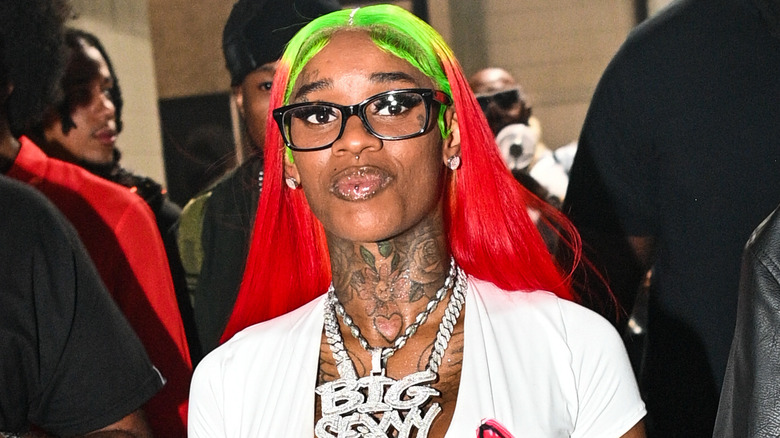 Prince Williams/Getty Images
Listeners of Angela Yee's podcast "Lip Service" perhaps got more than they bargained for in June 2023 when outspoken rapper Sexyy Red dropped by for a chat which pretty much redefined the term TMI. Indeed, while most stars would be mortified about discussing their sexual health in public, the "Pound Town" rapper was more than happy to share about her experiences with one particular disease — chlamydia.
Sexyy Red revealed, "This is what happened: Me and my n**** was together, and we broke up 'cause he was cheating on me. Then I went and did me, and he did him. And then we missed each other, came back together. We both was like, 'What the f*** is that smell?' ... And we went to the doctor together." Noting that both parties were diagnosed with the STI, she added, "We still don't know who did it."
Thankfully, as Sexyy Red subsequently confirmed on Twitter, the chlamydia infection had since cleared up thanks to medication.
Sexyy Red used to be a hairstylist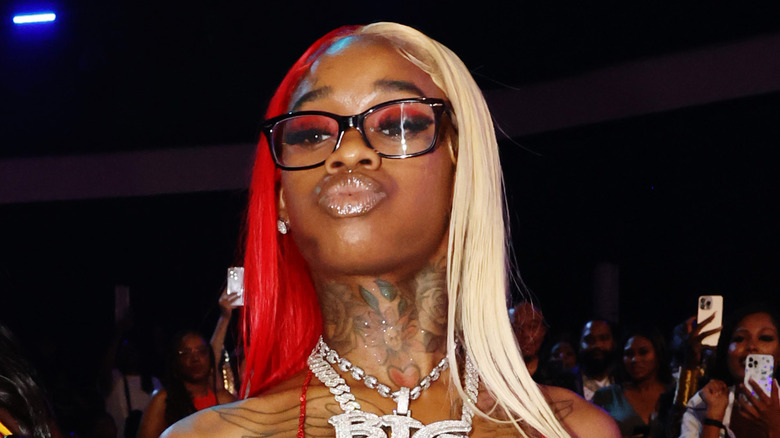 Johnny Nunez/Getty Images
Alongside her lack of filter and impressive lyrical flow, Sexyy Red is renowned for her striking red hair. And there's a good chance that if the hip-hop world hadn't come calling, the St. Louis native would have forged a career transforming other people's locks.
In an August 2023 interview with Girls United, Sexyy Red claimed that she was once her "hood's hottest hair stylist" before finding fame as a rapper. It was a reputation that began during her school years when she wanted to make some extra pocket money: the future star would secretly invite her friends and other girls from around the area over to help braid their hair for a small fee.
Sexyy Red also began dying her own hair before she'd even reached her teenage years, eventually settling on the color that would become her musical namesake. But not everyone at the time approved. The rapper added, "The teachers and lunch ladies at school told me I was grown for having red hair. But I didn't see it as that, and my mama didn't either. I wasn't a fast girl, I just liked hair."
The rapper was the victim of revenge porn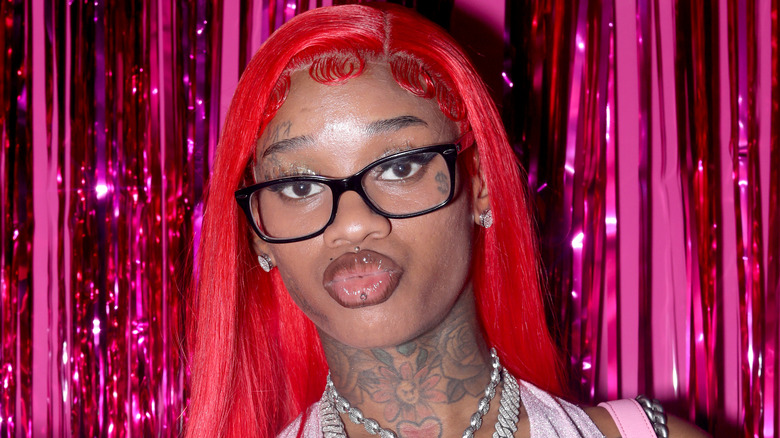 Catherine Powell/Getty Images
Sexyy Red certainly made everyone sit up and listen when she guested on fellow rappers Lil Yachty and MitchGoneMad's podcast "A Safe Place" in August 2023. Indeed, in one of several startling revelations, she disclosed that she'd been a victim of revenge porn. 
In her own inimitable way, the hip-hop star explained that she'd been getting intimate with someone who "had a girlfriend but he didn't want her," adding, "He wanted me." Unfortunately, the mystery man left the phone storing footage of his and Sexyy Red's sexual exploits at the scene of a car accident he then left. His other half, who was at the scene, found the phone and then the offending clip — which she then uploaded online.
When asked whether the video, which subsequently went viral, was still on the world wide web, Sexyy Red answered, "It was, but I can't find it no more. But some people still find it. ... Some people still pull it up." The "Pound Town" hitmaker then added that this is how the incarcerated father of her son, Chuckie, found out she'd been sleeping with another man.
Sexyy Red opened up about surviving sexual assault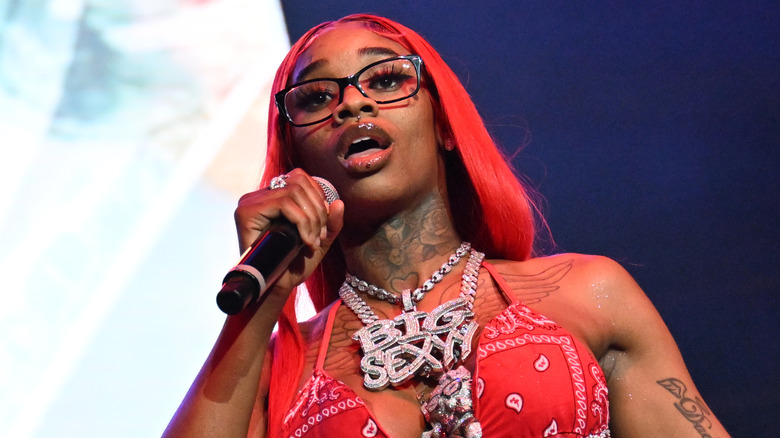 Paras Griffin/Getty Images
During that same appearance on "A Safe Place" podcast, Sexyy Red was asked by hosts Lil Yachty and MitchGoneMad about the craziest thing that had ever happened in her life. It's fair to say that the pair were caught by surprise by the answer that their guest gave.
"I got raped before; that's the craziest thing that's ever happened to me," Sexyy Red stated. After awkwardly laughing, the hosts admitted that they weren't expecting such a revelation. "We just wanted to say we are sorry that happened to you," MitchGoneMad later added, with Lil Yachty noting, "That is unfortunate."
Sexyy Red didn't disclose any more information about the traumatic incident, and the subsequent headlines focused on Lil Yachty and MitchGoneMad's initial insensitive response more than anything. The duo also suffered a backlash on Twitter, with one user posting, "The way they dismissed her trauma and changed the topic so quickly was so uncalled for. Why is it so hard for y'all to show women especially, black women compassion?"
If you or anyone you know has been a victim of sexual assault, help is available. Visit the Rape, Abuse & Incest National Network website or contact RAINN's National Helpline at 1-800-656-HOPE (4673).