Kevin Hart Steps Down From Hosting 2019 Oscars Following Controversy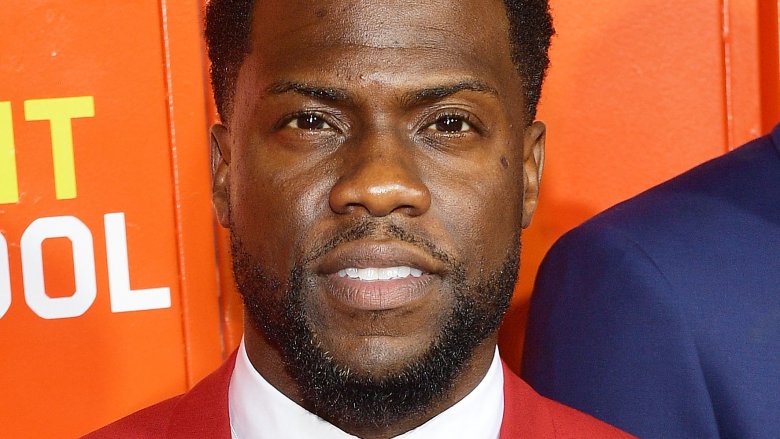 Getty Images
Comedian Kevin Hart will no longer be hosting the 2019 Oscars.
Hart announced his decision to step down as host of the Academy Awards on Thursday, Dec. 6, 2018, just days after he was first revealed to be the prestigious ceremony's host. Taking to Twitter, Hart told his 34.6 million followers, "I have made the choice to step down from hosting this year's Oscar's....this is because I do not want to be a distraction on a night that should be celebrated by so many amazing talented artists. I sincerely apologize to the LGBTQ community for my insensitive words from my past."
He continued, "I'm sorry that I hurt people.. I am evolving and want to continue to do so. My goal is to bring people together not tear us apart. Much love & appreciation to the Academy. I hope we can meet again."
Hart was first announced to be the host of the 2019 Oscars on Tuesday, Dec. 4, as reported by The Hollywood Reporter. At the time, he shared on Instagram, "I will be sure to make this years Oscars a special one," noting that it'd been "a goal on [his] list for a long time."
However, many people quickly found Hart to be an unwise choice for the Oscars, as he has a history of making controversial statements regarding the LGBTQ+ community. For example, in his 2010 comedy special, Kevin Hart: Seriously Funny, Hart said, as reported by Us Weekly, "One of my biggest fears is my son growing up and being gay. That's a fear. Keep in mind, I'm not homophobic. ... Be happy. Do what you want to do. But me, as a heterosexual male, if I can prevent my son from being gay, I will."
Hart has also reportedly posted many homophobic tweets over the years, as captured by The Guardian's Benjamin Lee. In one tweet, Hart wrote, "Yo if my son comes home & try's 2 play with my daughters doll house I'm going to break it over his head & say n my voice 'stop that's gay.'" Hart also reportedly called people "f*g" online and called one person's profile picture a "gay bill board for AIDs."
As noted by Us Weekly, it didn't take long for Hart to delete any controversial tweets from his Twitter page. Still, many were outraged at Hart and didn't feel he should serve as host of the Oscars.
Actor Billy Eichner, for instance, tweeted out, "Many of us have jokes/tweets we regret. I'm ok with tasteless jokes, depending on context. What bothers me about these is you can tell its not just a joke-there's real truth, anger & fear behind these. I hope Kevin's thinking has evolved since 2011."
Hart responded to the backlash, posting a black-and-white video of himself addressing that matter. In the caption, he wrote, "Stop looking for reasons to be negative....Stop searching for reasons to be angry." He went on, "I work hard on a daily basis to spread positivity to all.....with that being said. If you want to search my history or past and anger yourselves with what u find that is fine with me. I'm almost 40 years old and I'm in love with the man that I am becoming."
He noted, "I LOVE EVERYBODY.....ONCE AGAIN EVERYBODY. If you choose to not believe me then that's on you."
Presumably in response to Hart's message, Halloween star Jamie Lee Curtis tweeted, "Homophobia is not positivity."
In another Instagram post shared on Thursday, Dec. 6, Hart said that the Academy had called him and told him to apologize for his old tweets or else they'd find another host. "I chose to pass. I passed on the apology. The reason why I passed is because I've addressed this several times. ... I'm not going to continue to go back and tap into the days of old when I moved on and I'm in a completely different space in my life."
He added, "Regardless, The Academy I'm thankful and appreciative of the opportunity. If it goes away, no harm no foul."
The Oscars will air on ABC on Sunday, Feb. 24, 2019. At the time of this writing, a new host for the ceremony has not yet been announced. However, some celebs have ideas of who could replace Hart. Actress and TV host Busy Philipps, for example, noted that either she could host the Oscars or a number of other talented female entertainers, including the likes of Issa Rae, Sarah Silverman, Ali Wong, Samantha Bee, Robin Thede, and Aisha Tyler, could. Hopefully, the Academy takes her suggestions seriously, because we'd love to see any of those women hosting one of the biggest nights in entertainment.