Does Kelsea Ballerini Get Along With Chase Stokes' Ex Madelyn Cline?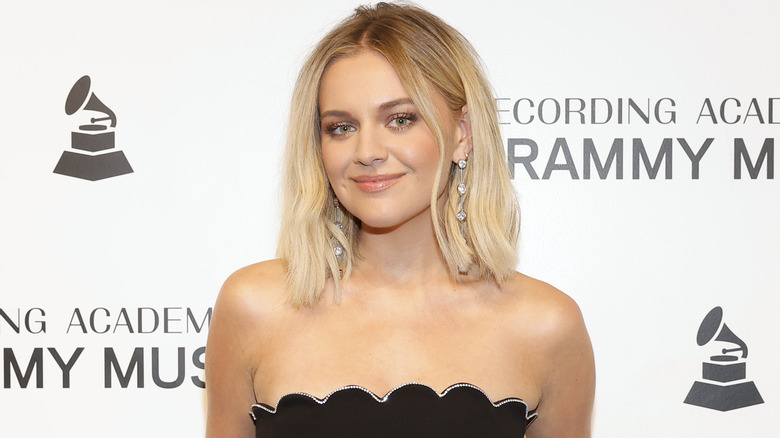 Emma Mcintyre/Getty Images
Kelsea Ballerini isn't worried about "the other girl," aka Madelyn Cline, who dated Chase Stokes before the country singer did. Ballerini and Stokes first sparked romance rumors in January 2023 but kept it low-key, or at least they tried to, per US Weekly. From commenting on each other's Instagrams to going out in public, it seemed obvious that the two were an item.
In February 2023, Ballerini finally confirmed her relationship with the "Outer Banks" actor via the "Call Her Daddy" podcast and revealed she slid into his DMs. She shared, "[My manager] was like, 'You know who's really cute, like, when you're ready? Chase.' I was like, 'You're so right.' His handle is "hichasestokes" and I just said, 'Hi Chase Stokes.'" Since then, Stokes and Ballerini have been inseparable, but both of them have a complicated relationship history.
According to People, Ballerini finalized her divorce from ex-husband Morgan Evans in November 2022. As for Stokes, in November 2021, he had a public breakup with Cline, per People. Cline and Stokes' post-breakup may not seem as complicated as Ballerini's divorce, but it sort of is. Cline and Stokes have had to continue to work together on the show "Outer Banks" – and as if that wasn't awkward enough, the two also play one another's love interest. While this could have made his current relationship with Ballerini a bit difficult, it doesn't seem to be that way.
Kelsea Ballerini left a sweet comment for Madelyn Cline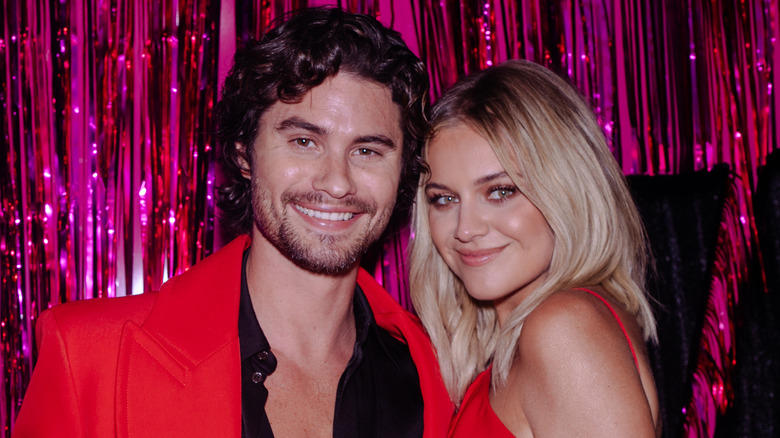 Catherine Powell/Getty Images
Kelsea Ballerini makes it look easy to get along with your boyfriend's ex. A weird statement, but it's true! Ballerini, Chase Stokes, and Madelyn Cline are all in the entertainment industry, so it seemed like only a matter of time before they would have a run-in with each other. When it was revealed all three would be attending the Video Music Awards, the public awaited the nail-biting interaction. But, there was no need to worry because it was all drama-free!
The "If You Go Down" singer walked the red carpet hand-in-hand with Stokes, both wearing red themselves, per J-14. As for Cline, she dazzled on the red carpet solo. The three didn't have any interaction during or before the show, but after the show, it was clear there was no tension between Ballerini and Cline. The "Outer Banks" star posted photos of her stunning red carpet look to Instagram, and while fans flooded the comments with admiration, so did Ballerini. 
The country music star commented, "You looked a ridiculous level of stunning and I'm glad I finally got to hug your neck." The love wasn't one-sided, Cline responded to Ballerini with just as sweet of a message. "So happy I got to squeeze you, gorgeous gorgeous girl," the "Outer Banks" star told Ballerini. No drama to be seen here, so fans can breathe a sigh of relief.
Madelyn Cline moved on
Eugene Gologursky/Getty Images
If Kelsea Ballerini and Madelyn Cline being friends didn't prove that the "Knives Out 2" star is over Chase Stokes, the fact that she has moved on to someone else will. After Cline and Stokes broke up, she had a relationship with singer-songwriter Jackson Guthy, per US Weekly. The couple were extremely private about their romance, which began in June 2022. They hardly shared one another on social media or attended events with each other. However, in March 2023, the "Outer Banks" star shared a rare glimpse into their relationship with a photo of her and Guthy for his birthday on her Instagram. Cline captioned the post, "Happiest of birthdays my love @jacksonguthy."
It seemed things were smooth sailing between Cline and Guthy, but in July 2023, fans noticed the couple unfollowed one another, per J-14. Although they never confirmed their split, it was all but confirmed that the pair had broken up after news got out that Cline was dating Pete Davidson. Davidson has had a reputation for dating some of the most beautiful women in Hollywood, from Ariana Grande, Kim Kardashian, and now Cline. Sources reported to US Weekly, "Pete and Madelyn are dating. They spent the night together at the Beverly Hills Hotel and then had breakfast together there the next morning. They were really low-key and kept things casual, wearing baseball hats." Davidson and Cline have yet to confirm the relationship, but either way, it seems the "Outer Banks" star is living her best life.