The Unflattering Nickname The Press Has Given Meghan Markle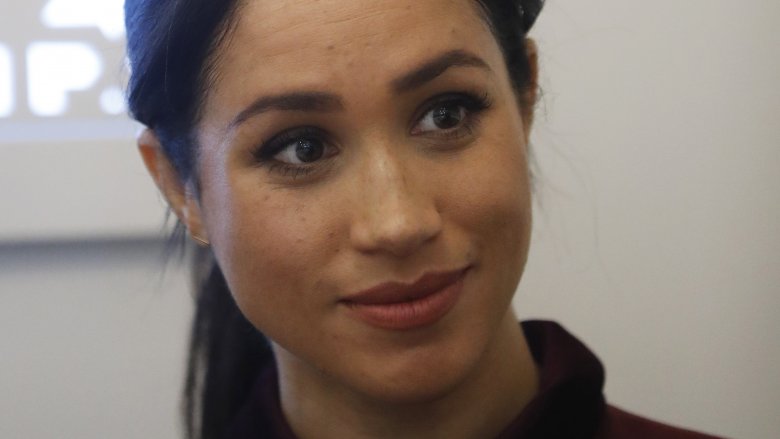 Getty Images
Meghan Markle has apparently earned herself a not-so-nice nickname from royal staffers.
According to Inside Edition, British newspapers have alleged that members of the royal staff have taken to calling Meghan Markle, the Duchess of Sussex, "Duchess Difficult." The gossip rag notes that many palace employees have allegedly found the former Suits star to be "demanding."
News of Markle's unflattering nickname comes after reports that multiple members of her staff reportedly quit. First to leave her post was Markle's personal assistant Melissa Touabti in early November 2018. While Markle has not commented on Touabti's exit, it's thought that Markle's issues with her family, which has largely played out in the press, and the stress that came along with planning Markle's May 2018 wedding to Prince Harry were among the reasons that Touabti quit after working for Markle for just six months.
The Sunday Mirror (via the Daily Mail) reported that Toubati once "[broke] down in tears over the stress of her job." A source shared, "Her job was highly pressurised and in the end it became too much," adding, "She put up with quite a lot. Meghan put a lot of demands on her and it ended up with her in tears."
Markle's aide and secretary Samantha Cohen is also reported to be leaving her gig, as reported by The Sunday Times (via Marie Claire). Cohen, who is known in the press as "Samantha the Panther" because of her "take-no-prisoners manner" (via Inside Edition), has worked for the royal family for years, and reportedly took on the job of being Markle's secretary to help her adjust to royal life. However, her time with Markle was only ever supposed to be temporary, though Markle had reportedly hoped to keep Cohen on permanently.
Royal expert Victoria Arbiter commented on Cohen's leaving to Inside Edition, dismissing rumors that Cohen's exit has anything to do with Markle being "difficult." She stated, "It's founded from absolutely nothing. It was said from day one that Samantha Cohen was only going to serve as the interim assistant to Harry and Meghan. She was never meant to stay any longer."
Still, Cohen's role isn't going to be easy to fill, even with Cohen's help finding a replacement — especially considering Markle's busy schedule, pregnancy, and never-ending family drama. "Sam will be a huge loss," an insider shared (via Marie Claire). "Going forward, Meghan might need someone cut from a slightly different cloth to traditional courtiers, who is not a career civil servant or royal insider."
The source added (via E! News), "Meghan needs someone with reserves of energy and patience to help her define her future role."
Inside Edition notes that royal staffers aren't the only ones who allegedly have found issue with Meghan Markle. Prince Harry's older brother, Prince William, also reportedly had problems with Markle early on in her relationship with Harry. According to Inside Edition, William once expressed his belief that Markle might not be a good match for Harry, and "Harry went mental," as noted by a source. The insider continued, "The brothers' relationship has not really recovered."
Rumors that Markle is difficult to work with also comes on the heels of rumors that she and Prince William's wife, Kate Middleton, have been feuding following Markle and Harry's decision to move from Nottingham Cottage in London to Frogmore Cottage in Windsor, England, as reported by Us Weekly. However, sources have dispelled the gossip about Markle and Middleton's relationship, noting that, while they come from "two totally different worlds," the two royals have "really grown to love and respect one another."
Another insider added, "The 'feud' is definitely being played up. Are they the best of friends? No. Do they speak every waking second? No. Do they hate each other? Absolutely not. ... They will always have a bond that no one can break."
Regarding Harry and Markle's big move, a source explained that it had nothing to do with any alleged bad blood between them and William and Middleton, as reported by Entertainment Weekly. Harry and Markle reportedly just wanted more space to grow their family and wanted room for Markle's mother, Doria Ragland, so that she may stay with them in the future.
Furthermore, in the wake of the rumors about a family feud, Prince William and Kate Middleton have reportedly decided that they'll be celebrating Christmas with Prince Harry, Meghan Markle, and the rest of the royal family, despite often annually switching between spending the holiday with the royals and with Middleton's family (they spent Christmas with the royals in 2017).
Hopefully, Markle will be able to spend a relaxing holiday with her husband, her mother, and her in-laws — and will soon be able to put to rest any false rumors of her being a difficult woman to work for or get along with in the new year.