Unfolding The Truth On Jennifer Aniston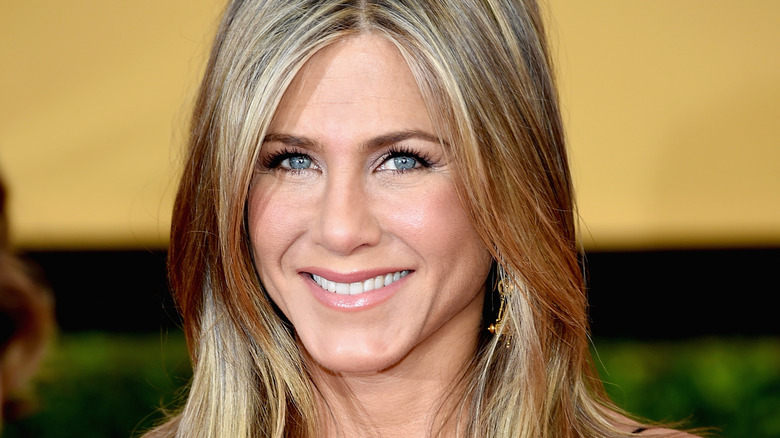 Ethan Miller/Getty Images
Jennifer Aniston's Hollywood career has been an enviable one. Cast in what would become one of television's most iconic comedies when she was in her mid-20s, Aniston and her "Friends" co-stars went on to earn $1 million per episode. The show's success sparked a successful movie career, with Aniston going on to appear in numerous big-screen projects, including such films as "Bruce Almighty," "Marley and Me," "Horrible Bosses" (and its sequel), "We're the Millers," and the "Murder Mystery" comedies alongside Adam Sandler.
Throughout that career, Aniston has mainly stayed out of the tabloids — save for her two failed marriages to actors Brad Pitt and Justin Theroux — by steering clear of the kind of temptations and egregious behavior that has dented many a Hollywood career. She's also been candid about her ongoing quest for personal growth. "I am a constant work in progress," she revealed in a 2022 interview with Allure. "Thank God. How uninteresting would life be if we all achieved enlightenment and that was it?"
It's that attitude that her legions of fans have come to love as she continues to thrive in a career spanning four decades, offering a sense that, as much as she's already accomplished, we ain't seen nothing yet. To find out more about this internationally famous — yet somewhat enigmatic — star, read on to discover the untold truth of Jennifer Aniston.
She had a fraught relationship with her mother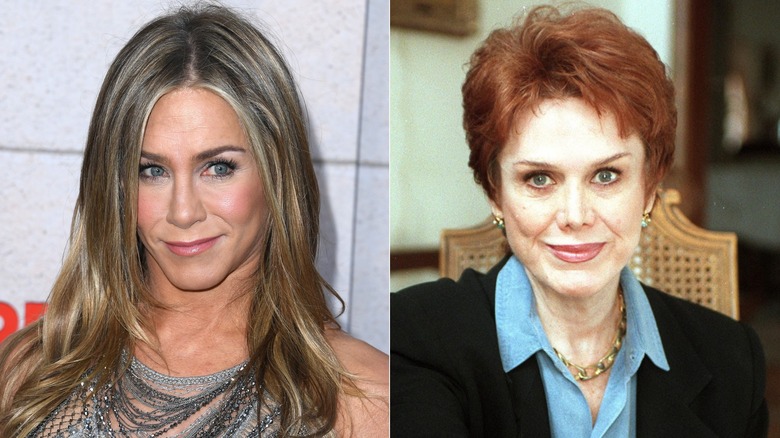 Steve Granitz & Paul Harris/Getty
Jennifer Aniston has showbiz in her blood. Her father, late actor John Aniston, is best known for his five decades as Victor Kiriakis in "Days of Our Lives," while her mother, Nancy Dow (who died in 2016), was a model and TV actor.
According to Aniston, she never felt that she measured up to the expectations her mother had set for her. "She was very critical of me," Aniston told The Hollywood Reporter in 2015. "Because she was a model, she was gorgeous, stunning. I wasn't. I never was." Her mother, she told the Sunday Telegraph (via People), was overly concerned with outward appearances. "She was a model and she was all about presentation and what she looked like and what I looked like," Aniston explained. "I did not come out the model child she'd hoped for ..." Her parents eventually divorced, with Aniston's childhood colored by all the strife that entailed. "My house was not a fun house to live in," she told Allure.
In 1999, Dow published "From Mother and Daughter to Friends: A Memoir," chronicling their difficult relationship. The book deepened their rift, so much that they reportedly didn't speak for years. "I never thought my mom would not know my husband," Aniston said in a 2004 interview with Diane Sawyer (as reported by ABC News), referring to then-spouse Brad Pitt and her estrangement from her mom. They eventually managed to patch things up before Dow's death.
She had a lot of terrible jobs before landing her first acting role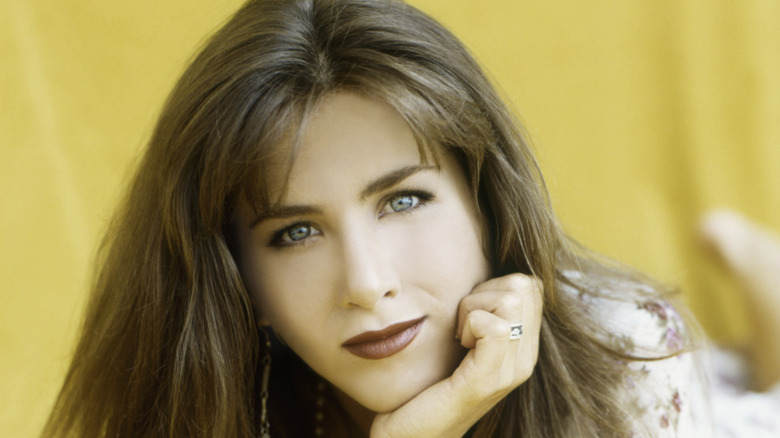 Aaron Rapoport/Getty Images
As the daughter of two actors, it's easy to assume that Jennifer Aniston grew up in the lap of luxury. That assumption, however, is way off. "I grew up with absolutely no money at all," she told Parade, describing a childhood that was far from glamorous. "I made my allowance as a kid cleaning toilets," she said. "I'm actually pretty good at it."
Before becoming one of the world's most successful actors, Jennifer Aniston had a lot of jobs outside the realm of the entertainment industry. "I worked at an advertising agency, as a receptionist," she revealed in an interview with Collider. "I worked two days as a bike messenger. It was really wrong to put me on a bike in New York City with taxi cabs," she added. As she told the Mirror, she was better at speed than she was with directions. "I apologize for all those envelopes and packages which arrived late!" she quipped. She elaborated about her brief stint as a bike messenger during an interview with "The Tonight Show," conceding she was pretty terrible at it. "I think I may have gotten into a cab, just to finish the day," she said.
"I always enjoyed where I was working," she told Parade. "I loved being a waitress. OK, I didn't like time-share selling, I hated that job."
Her famous father begged her not to become an actor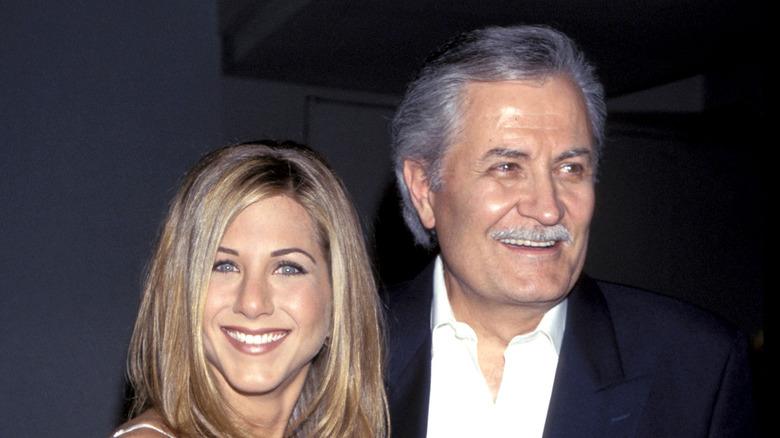 Kmazur/Getty Images
Given her lineage, it seems almost inevitable that Jennifer Aniston would follow her parents' path and embark on a career as an actor. As she told Collider, when she saw a Broadway production of "Annie" when she was a kid, she began imagining that it was her up there on the stage. "So, I really did have that fantasy of it, but I didn't think I would ever actually achieve it," she said. "I didn't know if it was possible, but I had that creative bug, pretty early on."
Her father, soap star John Aniston, had firsthand experience with the brutal rejection actors face on a daily basis and did not want his daughter to have to endure those indignities. "I was hell-bent because my dad was just begging me not to be in the industry," she said, recalling her dad wanting her to go to law school instead. However, she was undeterred. "That was my one rebellion," she said of her decision to pursue acting. "I was hoping that I was going to make it, so that I could prove him wrong."
Her decision to ignore her dad's advice and take a shot at stardom, she told The Hollywood Reporter, also coalesced into the philosophy that continues to guide her. "Do what keeps you happy," she said," and don't ever let people box you in."
She went through a goth phase in high school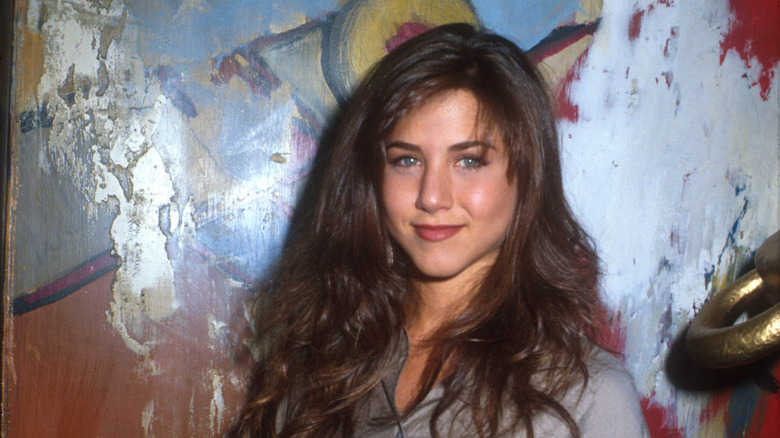 Barry King/Getty Images
Jennifer Aniston has been open about the difficult relationship she had with her mother. This, she told InStyle (as reported by Page Six), led to some teenage rebellion when she adopted a look guaranteed to put her mother — who had a very specific idea of how a young woman should present herself — on edge. "I was a dumpy teenager. My mom was a model and was all about looks, so I rebelled by going goth," she explained. "It took me years of peeling back the onion to finally stop using makeup as a mask and feel comfortable in my skin."
Looking back, Aniston doesn't have particularly fond memories of that particular period in her fashion evolution. "High school was tragic," she added in a 2016 interview with People, "Just not well-informed. You know, you're experimenting. It was the '80s and I looked like a goth nightmare."
With Aniston's goth days may be decades behind her, she's come to appreciate the true meaning of beauty. According to Aniston, the whole notion of beauty coming from within isn't just a cliché, but a truism that resonates within her at an increasingly deeper level as she grows older. In fact, she described beauty as "really learning to love every single thing about yourself."
She was on four failed TV shows before striking gold with Friends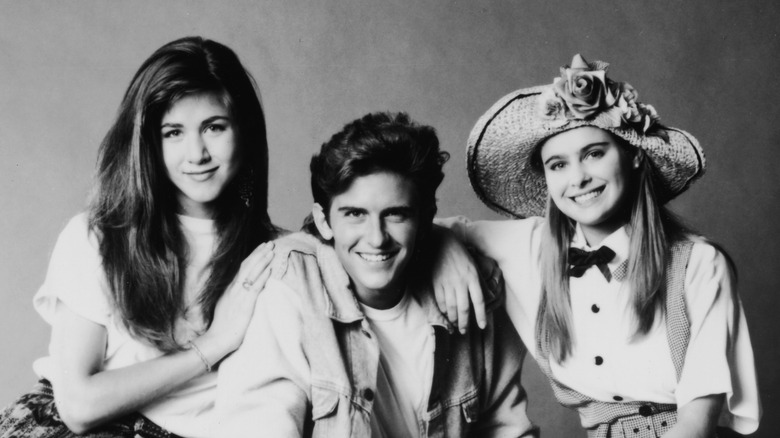 Fotos International/Getty Images
Once Jennifer Aniston's acting career got rolling, she began landing roles in films and TV series. Right out of the gate, she was cast as a series regular in "Molloy," a 1990 sitcom starring Mayim Bialik of "Blossom" fame. Her big break, however, turned into a big bust when the show was axed after six episodes. Not long after, she was cast in another series, "Ferris Bueller," based on the hit Matthew Broderick movie, which was canceled after 13 episodes.
In 1992, she joined "The Edge," a sketch comedy series on the Fox network that only lasted a single season. Then, in 1994, she became a series regular on the CBS sitcom "Muddling Through." 
After she'd signed on for "Muddling Through," Aniston was offered a role on a different sitcom, NBC's "Friends," but was in second position — meaning she was contractually obligated to stick with "Muddling Through" for as long as it continued. NBC president Warren Littlefield, however, was bullish on "Friends," and really wanted Aniston to be part of it; when he learned "Muddling Through" was struggling in the ratings so much that CBS was burning off episodes on Saturday nights, he instructed NBC's scheduler, Preston Beckman, to obliterate the show in order to free up Aniston. "I put original Danielle Steel movies against it," Beckman told The Hollywood Reporter. "We wanted to make sure they weren't going to pick up more episodes just to be spiteful."
She turned down a chance to join SNL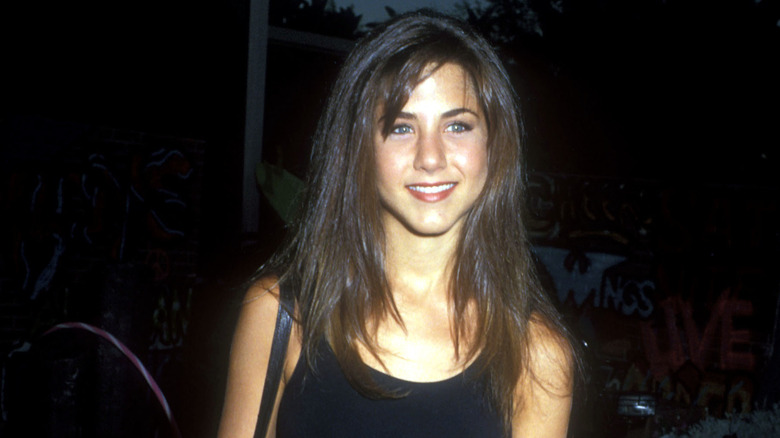 Barry King/Getty Images
During the period just before the launch of "Friends," Jennifer Aniston found herself in a conundrum when she was presented with an opportunity to join the cast of one of television's most iconic shows, "Saturday Night Live."
That revelation came during Oprah Winfrey's joint 2011 interview with Aniston and her "Just Go With It" co-star Adam Sandler. Sandler remembered, during his time on the "SNL" cast, seeing Aniston enter the office of exec producer Lorne Michaels for a meeting. Sandler, who already knew Aniston, was thrilled she was going to be joining the show — until he learned that she'd turned down Michaels' offer. "She said no?" Sandler recalled thinking. "She's gonna do that 'Friends?' What the hell is 'Friends?'" Aniston confirmed that Sandler's memory of what took place was right on the money. "But [Sandler and other 'SNL' cast members] thought I was making a huge mistake," Aniston said. "Did all right."
In a 2019 appearance on "The Howard Stern Show," Aniston shared her reasoning for taking a pass on an established hit in order to roll the dice on an untested sitcom. "I didn't think I would like that environment," she said of "SNL," recalling that she lectured Michaels on how she felt female cast members were being given short shrift compared to their male counterparts. "I was such a young twit," she admitted. "You're just not the brightest when you're in your early 20s."
She blew her first Friends paycheck on a regrettable purchase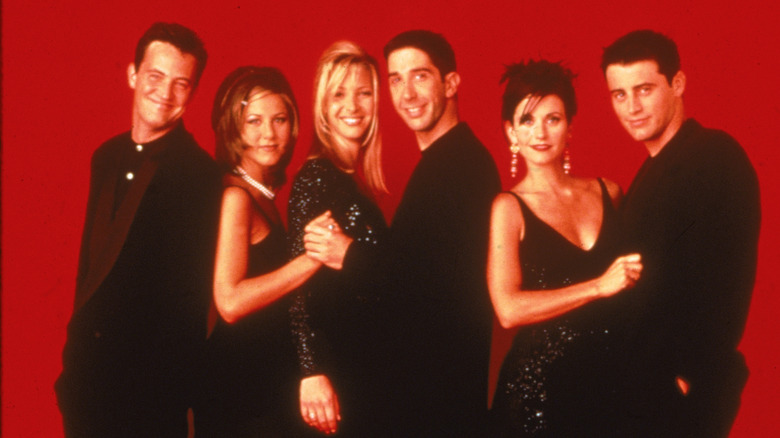 Fotos International/Getty Images
Becoming a member of the "Friends" cast would not only change her life, but it would also make Jennifer Aniston and her co-stars among the highest-paid actors in television history ... eventually. Before the show was the hit it would eventually become, and each member of the cast earned a whopping $1 million per episode, Aniston's salary was considerably smaller — reportedly just $22,500 for an episode.
When her first "Friends" paycheck arrived, Aniston decided to treat herself. "My first big splurge was on a Mercedes that had a for sale sign on it for almost two years," she said in an interview with PopSugar. As she recalled, she'd often pass by the car, parked in the same spot on an LA street, while she drove in her clunker. "I was always like 'I can't wait. Someday,'" she said. Thanks to that paycheck, she was able to plunk down the $13,000 asking price, and became the proud owner of a luxury vehicle. "And then I drove it. And then I drove it again and it never drove again," Aniston said. "It was a lemon."
Looking back at her unfortunate purchase, Aniston realized she'd learned a $13,000 lesson. "I didn't know any better to get it checked out," she admitted. "That was just a nice 25-year-old mistake."
She was the only person who wasn't in love with her iconic Friends hairstyle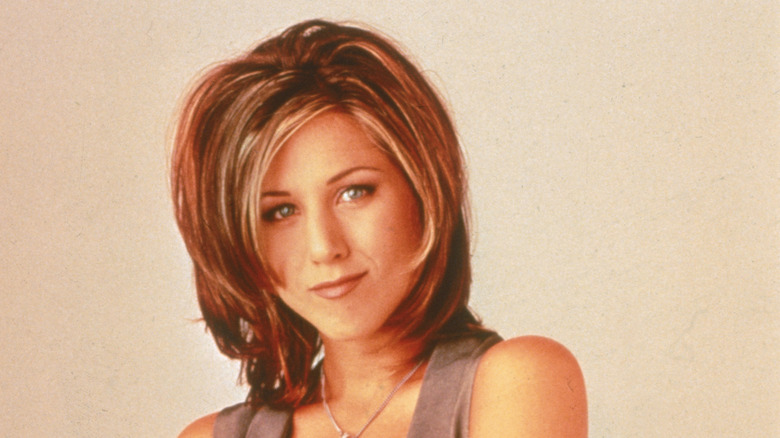 Getty Images/Getty Images
Not only did the meteoric success of "Friends" make Jennifer Aniston a star, but the show also did the same for her hair. In fact, the 'do she sported on the show became so popular it actually had a name: the Rachel, after her sitcom character, with countless women during the 1990s instructing their stylists to duplicate it on their own locks.
As it turned out, the only woman in the world who wasn't enamored of that hairstyle was Aniston herself. "I was not a fan of the Rachel," she told Glamour. "That was kind of cringe-y for me." As she told Allure, the cut came from Chris McMillan, who worked with her hair on "Friends" and continues to be her hairstylist. "I love Chris, and he's the bane of my existence at the same time because he started that damn Rachel, which was not my best look," she declared. "How do I say this? I think it was the ugliest haircut I've ever seen."
While the Rachel remains iconic, decades after making its television debut, it didn't actually last all that long on Aniston's own head. "That hairdo lasted about a total, I think, of seven months, and it has had legs of 15 years," she recalled during a sit-down with "Conan." 
She's appeared in a few music videos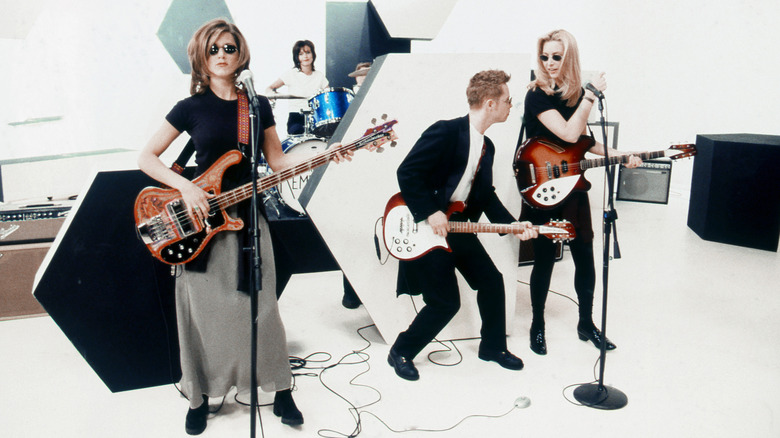 Kevin Mazur/Getty Images
Film and television aren't the only mediums in which Jennifer Aniston has displayed her talents. As it turns out, she's also appeared in three music videos over the years. The first dated from 1995 and should be familiar to anyone who's ever watched an episode of "Friends" — "I'll Be There For You," the single by The Rembrandts that took on a whole new life when it was selected to be the sitcom's theme song. In fact, Aniston is joined by co-stars David Schwimmer, Courteney Cox, Matthew Perry, Lisa Kudrow, and Matt LeBlanc, with the actors cavorting alongside the band. At one point, Aniston is seen playing bass, while Kudrow is on guitar, and Cox pounds the drums.
She next appeared in the 1996 music video for "Walls (Circus)" by Tom Petty and the Heartbreakers. Aniston's time onscreen is brief in the video — which blends a circus theme with Hindu imagery — appearing with a bindi on her forehead, her hair in pigtails. Like her previous music video, this one also had a connection to a project she was involved with: the film "She's the One" (for which Petty and his band provided original songs for the soundtrack).
Aniston later made an appearance in the video for "I Want to Be in Love," the 2001 single from singer-songwriter Melissa Etheridge. This time, Etheridge's performance of the song is interspersed with footage of Aniston attending a party.
She's had a lifelong struggle with dyslexia but didn't realize she had it until her 20s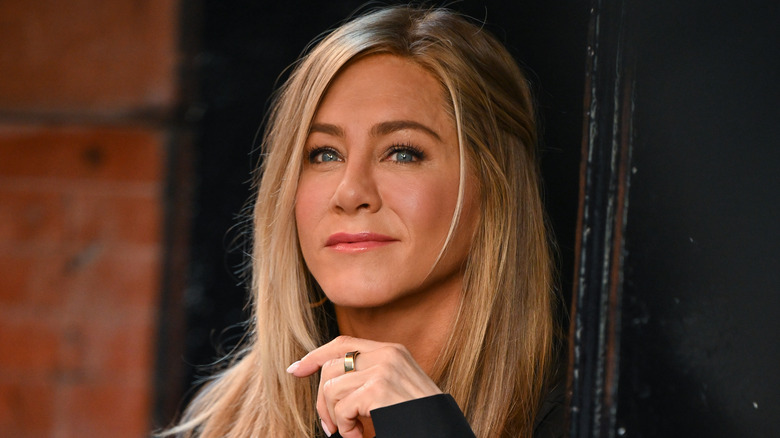 James Devaney/Getty Images
In her career as an actor, Jennifer Aniston has had to overcome her fair share of adversity, ranging from the continual rejection experienced by most aspiring actors, to beginning her Hollywood journey with multiple canceled TV shows. However, one thing even her most ardent fans didn't realize was that she'd also had to struggle with dyslexia for her entire life.
Aniston revealed her dyslexia in a 2015 interview with The Hollywood Reporter, explaining she didn't even realize she had it until being diagnosed in her 20s. In fact, her diagnosis came about due to a fluke, when she took an eye exam to get a new prescription for glasses. In the test, she was given a special pair of glasses to wear, with one lens red and the other blue. She was then asked to scan a paragraph, and then answer 10 questions about what she'd read. She only answered three correctly. "Then they put a computer on my eyes," she said, "showing where my eyes went when I read. My eyes would jump four words and go back two words ..."
Being diagnosed with dyslexia provided the missing piece of a puzzle that had flummoxed her since she was little. "I thought I wasn't smart. I just couldn't retain anything," she explained. "Now I had this great discovery. I felt like all of my childhood trauma-dies, tragedies, dramas were explained."
Jennifer Aniston has a very real phobia involving water
Like many people, Jennifer Aniston has secret quirks and phobias that she mostly keeps under wraps. In a 2015 interview with E! News, she revealed one of them, a somewhat unusual phobia. "I basically have a real fear of going underwater," she said.
As Aniston explained, it all goes back to a childhood incident in which she was riding a tricycle around the edge of a swimming pool and accidentally pedaled right into the pool. While her brother jumped in to drag her out, young Aniston panicked, and gripped the handlebars of the bike, impeding his rescue efforts. Although she was eventually pulled to safety, the trauma has not gone away. "So, I can't go underwater and no one will believe me. I honestly can't," she said.
Aniston's phobia doesn't typically hamper her career, but it did come into play while she filmed her 2014 film "Cake," which involved scenes in which her character undergoes water therapy. "It's not a love of mine to sink underwater," she said in an interview with "Extra." One scene in particular proved extra-challenging when she was supposed to grip weights and sink to the bottom of a swimming pool. "I just couldn't," she admitted. "It took 30-some-odd takes for me to finally get any kind of take that you saw me sort of going down." Asked if she felt that she'd overcome her fear with that experience, Aniston declared, "No. I will never do that again."
She had a secret Instagram profile before launching her official one
For most of her career, Jennifer Aniston had been the type of celebrity who closely guarded her privacy and maintained a total blackout on social media — until October 2019, that is. That was when she officially joined Instagram. "And now we're Instagram FRIENDS too. HI INSTAGRAM," she wrote in the caption to her very first post, accompanying a selfie of herself and all five of her "Friends" co-stars. Since then, Aniston has maintained a regular presence on Instagram, sharing everything from her workouts, to her pets, to a recipe for her favorite smoothie. Meanwhile, she also set a Guinness World Record for the Instagram account to reach 1 million followers in the shortest amount of time, achieving that milestone in a mere five hours and 16 minutes. 
During an appearance on "Jimmy Kimmel Live!" she was asked why she decided to dive into the world of social media after so many years of avoiding it. "I don't know," she responded, admitting that many people had talked her into it. "What you resist persists, so what the hey," she added with a shrug. 
Aniston also revealed that prior to launching her official account, she set up a fake one — purely for research purposes, however. "When I was thinking about doing this, I sort of figured it was time to kind of understand the world, and sort of dip my toe into the social media pool," she explained.
She's no fan of cancel culture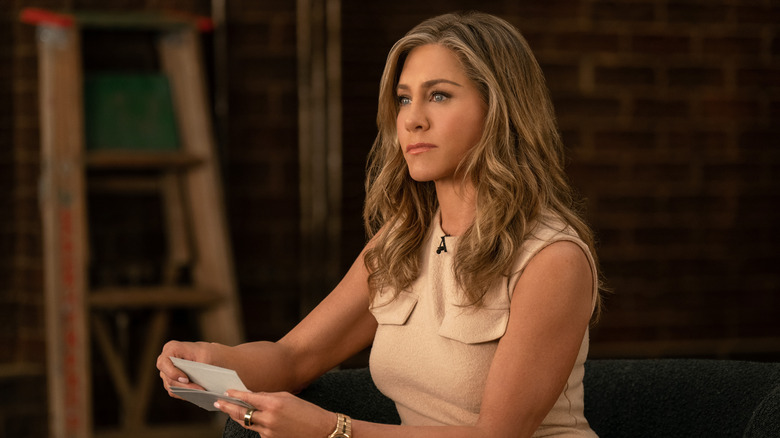 Apple TV+
When Jennifer Aniston made her long-awaited post-"Friends" return to television, it wasn't on a traditional network, but on the Apple TV+ streaming service in "The Morning Show." The series was loosely inspired by Matt Lauer's shocking fall from grace after the longtime "Today" host was fired in disgrace after numerous women accused him of sexual misconduct. 
Chief among the show's themes, Aniston told Variety, was shining the spotlight on inappropriate behavior in show business that was once seen as acceptable, but no longer. "All fictional," she said of the series' characters and storylines, "but also kind of highlighting aspects of the archetype of a charming narcissist, of a generation of men that didn't think that was bad behavior."
When Lauer was axed from "Today," he joined other alleged sexual predators to have effectively been canceled, a list that includes Oscar-winning director Woody Allen, bombastic movie mogul Harvey Weinstein, and once-beloved comedian Bill Cosby. However, there have been other so-called cancellations over allegations far less severe than those, something that Aniston feels should be factored into the conversation. "I'm so over cancel culture," Aniston said in a 2023 interview with the Wall Street Journal. "I probably just got canceled by saying that, I just don't understand what it means," she added. "Is there no redemption? I don't know. I don't put everybody in the Harvey Weinstein basket."
Harvey Weinstein thought Jennifer Aniston 'should be killed'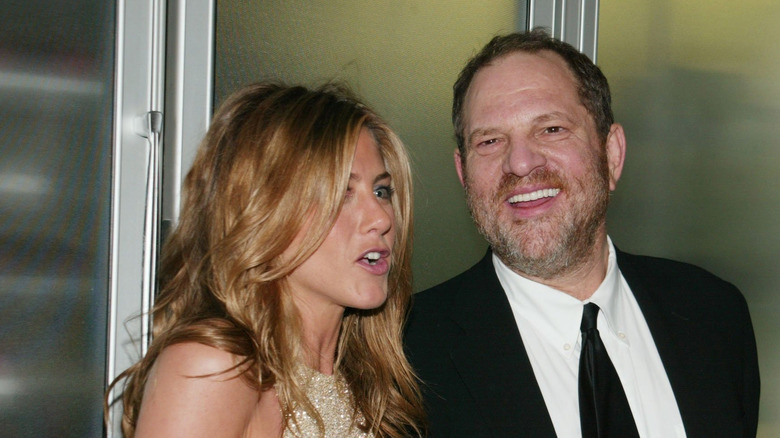 Sylvain Gaboury/Getty Images
Jennifer Aniston has made her feelings about Harvey Weinstein crystal clear, but apparently that antipathy goes both ways. According to unsealed court records obtained by Variety, it all started back in 2017, when The National Enquirer was preparing a story claiming that Aniston had been sexually assaulted by Weinstein; both Weinstein and Aniston have denied that ever happened. When a reporter reached out to Weinstein for comment about the false allegation, Weinstein responded with a curious comment. "Jen Aniston should be killed," he wrote to the reporter in an email. 
In her 2023 interview with the Wall Street Journal, Aniston shared some details about her own interactions with Weinstein. "He's not a guy, you're like, 'God, I can't wait to hang out with Harvey,'" she said. "Never. You were actually like, 'Oh, God, OK, suck it up.'"
According to Aniston, she was well aware of the rumors about Weinstein that had been floating around Hollywood for years and approached him with caution. "I remember actually, he came to visit me on a movie to pitch me a movie," she recalled. "And I do remember consciously having a person stay in my trailer."
If you or anyone you know has been a victim of sexual assault, help is available. Visit the Rape, Abuse & Incest National Network website or contact RAINN's National Helpline at 1-800-656-HOPE (4673).