Here's What Shakira Looks Like Without Makeup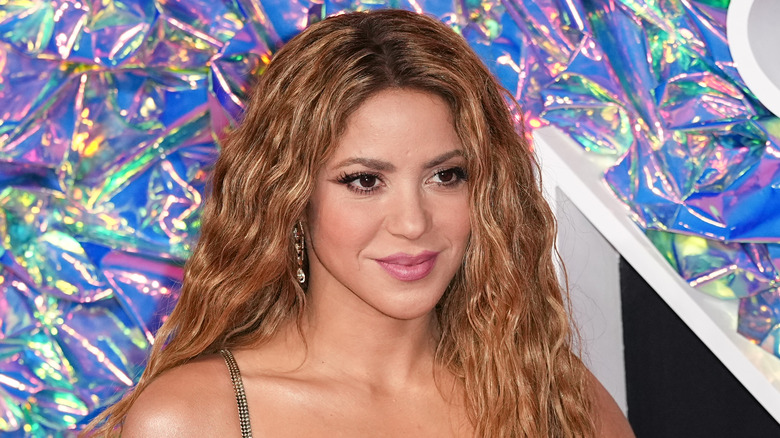 John Nacion/Getty Images
As a pop star who's performed in hundreds of concerts and dozens of music videos, Shakira has rocked many different makeup looks throughout her career. The native Colombian became a Latin sensation with her hit album "Pies Descalzos" in 1995 and went on to receive Latin Grammy awards for songs in her next album, "¿Dónde Están los Ladrones?" in 1998. Back then, she sported a very different look, with dark brown hair and a smokey eye, as seen in her music video for "Inevitable."
When Shakira's music made its way into the United States with her English debut album "Laundry Service," she traded her dark gothic appearance for beachy blonde waves and a more subdued makeup look. In 2014, the "Hips Don't Lie" singer showed off a barely made-up face for the cover of Glamour. While she obviously had makeup on, without the dark liner or red lips she sometimes wears, it's easy to see that Shakira would look just as fresh-faced without any makeup — which she has proven many times.
Shakira shows off her freckles and sun-kissed skin at the beach
Shakira proves that less is more when it comes to her makeup. The natural beauty showed off her glowing skin and rosy cheeks in a 2022 beach outing on Instagram. "Cuando se asoma el sol," she captioned the snap, translating to "When the sun goes down." In 2020, she shared a more serious, dolled-down look in support of relief efforts for the deadly explosion in Beirut. "100% of the profits from this limited edition tee support the relief efforts of the @lebaneseredcross and @offre.joie who are on the ground responding to humanitarian needs for the people of Beirut," she captioned the shot, wearing a t-shirt with the words, "Rise From The Ashes."
On how she keeps her skin glowing, Shakira told InStyle, "A good way to prep your skin is to use a vitamin C serum, it does wonders — especially when my skin gets dehydrated. If I'm super dry, I also layer on vitamin E — I just get capsules from the pharmacy and squeeze it right onto my skin." When it comes to makeup, Shakira has ditched her heavily lined eyes and proudly sports a more natural front. "I feel like the less makeup I use, the better I look," she explained. Besides keeping her skin hydrated with vitamins and wearing minimal products, Shakira has a theory when it comes to beauty that has nothing to do with makeup.
Shakira believes beauty comes from within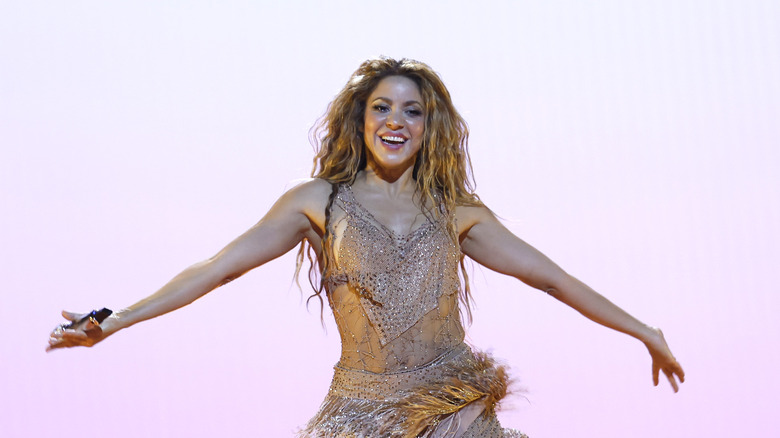 Jason Kempin/Getty Images
While Shakira has often been complimented for her beauty, she believes that true beauty resides more within a person than on the outside. "I think beauty is more ... has a lot to do with a state of mind and feeling harmonious inside," she explained to Melanie Murphy. However, she added that there are products she uses to help her appearance. The "Waka Waka" singer again stressed the importance of applying vitamins to her face, especially vitamin C, which she said produced collagen.
Sunblock is also one product Shakira won't go without, and she revealed to Allure that her favorite brand is BabyGanics "because it's all-natural, waterproof, gentle, and it really stays." For a soft summer look, she added, "I'm trying to go au naturel with my makeup." Instead of applying foundation all over her face, she only uses it on "certain areas." Even when she gets dolled up for events like the 2023 VMA's, Shakira stays true to her tried-and-true soft and pretty look that's been her signature style for over a decade.