Kanye West Goes After Drake On Twitter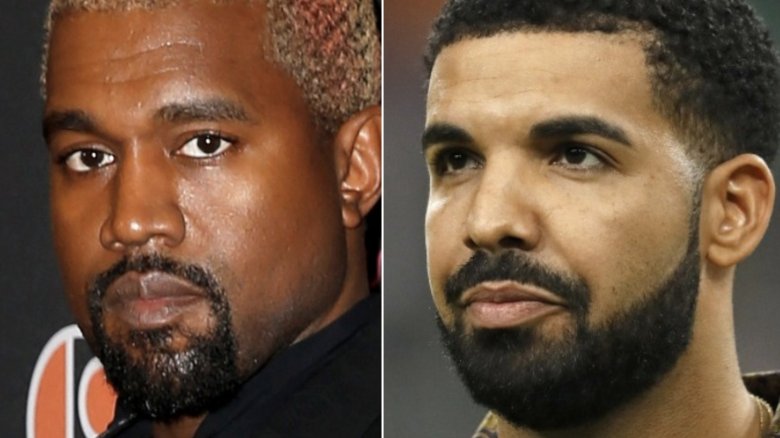 Getty Images
Rapper Kanye West is at it again on Twitter — this time with fellow artist Drake.
On Thursday, Dec. 13, 2018, Kanye West tweeted about his problems with Drake, telling his 28.8 million followers just what's been "bothering [him] too long." West shared that Drake had allegedly "sent in a clearance request" for the song "Say What's Real." According to Billboard, Drake would need West's approval to release the track on a mixtape because it samples the song "Say You Will," which West produced and featured on his 2008 record 808s & Heartbreak.
Regarding Drake's alleged request, West told his followers, "This proves s*** faker than wrestling." He also criticized Drake for having not yet apologized for "mentioning the 350s and trying to take food out your idols kids mouths." As reported by The Hollywood Reporter, Drake, who allegedly believed that West had spilled the beans to Pusha T about his secret son (which Pusha T rapped about on "The Story of Adidon"), took aim at West on French Montana's track "No Stylist." He rapped, "Yeah, keepin' it G, I told her 'don't wear no 350s 'round me." For those unfamiliar with West's clothing line, 350s are shoes his brand sells.
West later tweeted that Drake had called him, writing, "Mission accomplished." However, West noted that he didn't clear Drake's "Say What's Real" request.
But despite those tweets seeming like an end to West's tweetstorm, they were just the beginning. Presumably directing his posts at Drake, West said that Drake had threatened him. He went on, saying, in part, "There would never be a drake without a Kanye west so never come out your mouth with a threat." West also accused Drake of getting people "hurt at concerts" and for "[picking] on people with mental health issues." (West has opened up about being diagnosed with bipolar disorder (via People), though he's also claimed that he was misdiagnosed.)
Among his many tweets, West tweeted, "Leave me and my family alone bro," noting, "You're mad at me for something I didn't do."
West's wife, reality TV star Kim Kardashian, also got in on the Twitter beef, tweeting at Drake, "Never threaten my husband or our family. He paved the way for there to be a Drake."
She also tweeted out, "My husband is the most brilliant person, the most genius person that I know. He has broken so many boundaries, everything from music, stage design, fashion and culture and will continue to change the world."
So, what has Drake said about all this? Well, not much. He's stayed silent on Twitter, and, on Instagram, he simply posted a series of laughing-crying emojis on his Stories, presumably in response to West's furious tweets.
Unfortunately, it'd appear that West's feud with Drake is just getting started.