Amal Clooney Carries Twins Alexander And Ella Around NYC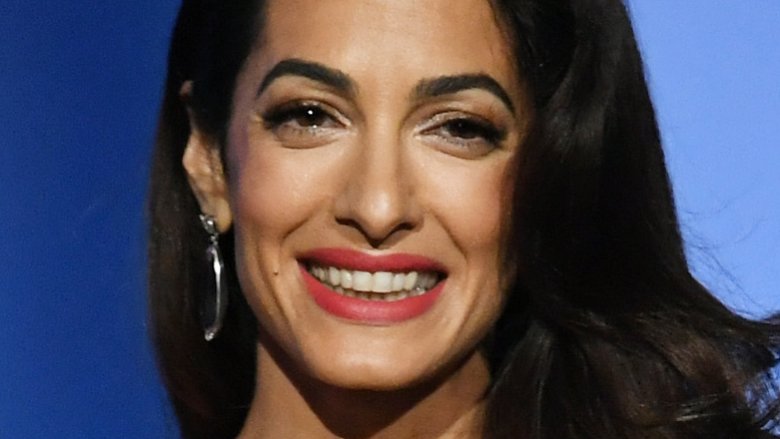 Getty Images
Amal Clooney's children with husband George Clooney couldn't be cuter.
The international law and human rights lawyer, who famously married her movie star husband in 2014, walked through the streets of New York City with her two adorable kiddos in tow. The 1-and-a-half-year-old twins, son Alexander and daughter Ella, were bundled up to stay warm as they left the Four Seasons hotel to brace the cold East Coast winter weather on Thursday, Dec. 6, 2018, as reported by TMZ. While both youngsters wore blue jeans, Alexander donned a black hooded jacket and black-and-white Adidas sneakers, while sister Ella was dressed in what appeared to be a denim shirt, a white-knit poncho and matching hat, and white kicks. Accessorizing at a young age, Ella carried a cute brown bag with an assortment of patches on its front.
Both children also had red scarf-wearing teddy bears with them. How sweet!
Of course, mama Amal, 40, looked amazing as always as she carried a child on each hip. She herself rocked a black knit cap, a knee-skimming cheetah-print vest, and black leather pants. Oh, and did we mention her edgy pair of black lace-up boots? According to Aol, the reported $998 shoes are from Stuart Weitzman and feature a three-inch block heel. Clearly, motherhood has done absolutely nothing to dampen Amal's sense of style.
Closer Weekly reported that George, 57, wasn't with his wife and their children during their day in the city.
The night before Amal's day out with her kids, she and George attended a New York gala — specifically, the United Nations Correspondents Association Awards, according to TMZ. As reported by People, the celebrity couple (and George's parents, Nick and Nina Clooney, too) dressed to the nines, with Amal wearing a gorgeous navy and white gown designed by J. Mendel (via Page Six), while the Up in the Air star donned a timeless tuxedo.
At the event, Amal received the 2018 UNCA Global Citizen of the Year Award.
Amal and George Clooney have mostly kept their children from the public eye since their birth in early June 2017. That said, however, the proud parents have spoken out to the press about their kids.
Speaking with Extra in October 2017, George shared that his children had already developed different personalities, despite only being a few months old at that point. "Ella is very elegant and dainty, and she has these big beautiful eyes — she looks like Amal," the Academy Award-winning actor said.
Of son Alexander, he told Extra, "He's just a thug." He explained, "He's a fat little boy. He laughs louder than everyone in the room. It's the funniest thing."
In an April 2018 interview with Vogue, Amal shared that Alexander and Ella had started talking. "We've had some 'Mamas' and 'Dadas,'" she revealed to the magazine. "George was very careful to ensure that 'Mama' was the first word."
Of babies Alexander and Ella — who have been raised near London, Los Angeles, and Italy — a source reportedly close to the Clooneys told People, "They're too beautiful, simply adorable," adding, "One looks just like her mother and the other is the image of his father ... It looks like they took the best parts of both Amal and George and mixed them together."
The insider went on to note, "George and Amal are very hands-on parents."
Another source told the magazine, "George is a great dad – so fun and silly." They continued, "He always plays with the babies, and seems to love it. He entertains them for hours. Amal is amazing [with them] as well. They make an incredible team."
While Amal and George Clooney are clearly wonderful, caring parents — ones who've already certainly set amazing examples for their kids in both their professional and personal lives — don't expect to hear about the celebrity couple further expanding their family anytime soon. When asked by Extra if he and Amal were done having children, George responded, "Done!"
But that doesn't mean that Amal and George Clooney won't be looking after any other kids in their life — they just won't have any more of their own. According to Express, Amal and George are "tipped as hot favourites to be godparents" of the first child of Prince Harry and Meghan Markle, the Duke and Duchess of Sussex, whose May 2018 wedding Amal and George attended. The royal couple's baby is reportedly due in the spring of 2019.