The Heartbreaking Story Of Julianne Hough's Late Dogs Lexi And Harley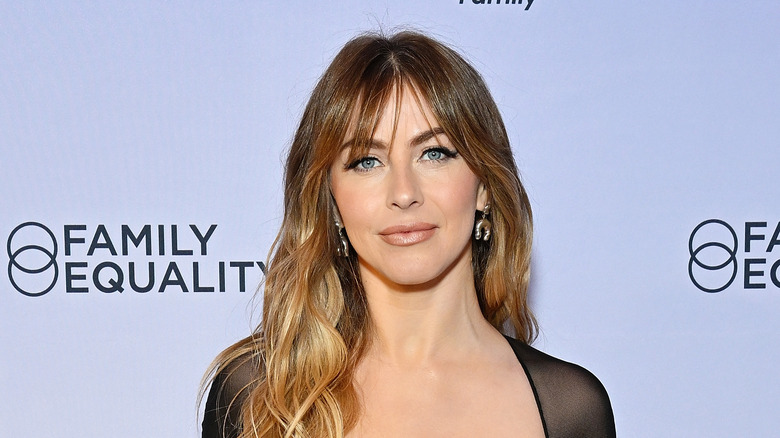 Slaven Vlasic/Getty Images
Julianne Hough has always had a soft spot for animals, and she was once the proud mom of two adorable pooches, Lexi and Harley. Growing up, the "Dancing with the Stars" alum was always surrounded by pets, especially dogs. "I've had dogs my entire life," she told Modern Dog magazine in 2010. However, it wasn't until she got Lexi, a Cavalier King Charles spaniel, in 2009 that she learned what being a pet owner actually entails. Talking about Lexi, Hough said she considers her dog to be like her own daughter. She added that she and her fur baby have very similar personalities, in that they are both loving and fiercely independent. "She will only come to you when she wants to," Hough explained. "She loves you and wants to be with you, but only on her terms."
After several years of sharing her life with just Lexi, in 2011 Hough brought home another canine companion — a black-and-white Cavalier King Charles spaniel that she named Harley. Despite their different personalities, Lexi and her little brother got along well and were each other's best friends. Whereas Lexi is the sweet princess, Harley's the cute little rebel, Hough said in a previous chat with People. "They're great," the fur mom said of her adorable pups, adding, "They're my kids. My babies."
In 2019, Hough suffered an unimaginable loss when both of her dogs, Lexi and Harley, tragically died. The dancer and host shared the devastating news in a heartbreaking tribute for her furry best friends on social media.
Lexi and Harley died on the same day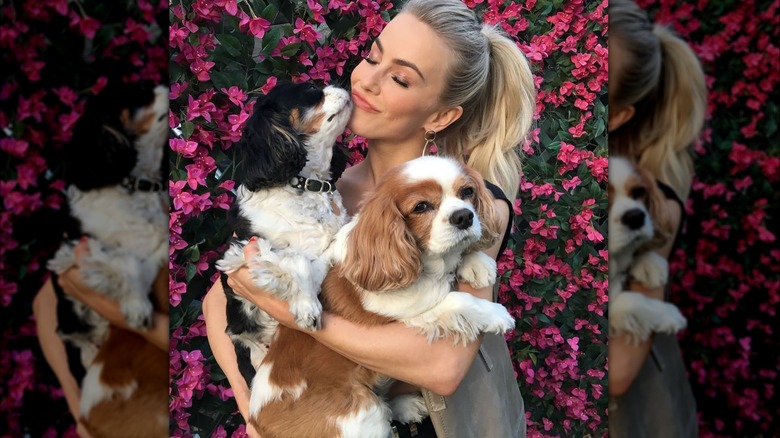 Julianne Hough will always have a special place in her heart for her pups Lexi and Harley. In her message for her dogs, posted on October 13, 2019 on Instagram, the "America's Got Talent" judge thanked her Cavalier King Charles spaniels for filling her life with so much love and joy. She wrote, "Pure love is real, it existed through us. My heart expanded and felt the truth of what is possible. I am forever grateful." She also thanked her fur babies for teaching her how to be their mother and for being her guardian angels here on this earth. Ending her message, the "Safe Haven" star vowed to always cherish the precious memories they once shared together. "I've never experienced a love like ours," she told her late dogs. "I miss you. I love you forever."
Though the exact cause of Lexi and Harley's deaths remains unclear, Hough said that both of her dogs died on September 28, 2019. Opening up about the traumatic loss on Danica Patrick's "Pretty Intense" podcast, Hough said that she's never experienced such emotional pain. "It was a heartbreaking one," she mused, adding that Lexi and Harley's deaths used to haunt her even in her sleep. "I would have nightmares about how they died and they died that same way," Hough revealed.
Julianne Hough adopted another dog
Since losing Lexi and Harley, Julianne Hough has welcomed a new canine companion into her life. The "Rock of Ages" actor announced on Instagram on September 22 that she had gotten a new puppy: a golden pooch named Sunny. "Say hello to little miss Sunny girl," Hough wrote alongside a clip of her adorable pup. She also gushed about her furry friend on her Instagram Stories. "Now that Sunny has made her media debut... Get ready to be inundated with perfect content," Hough was quoted as saying by People. She posted a short clip of her cradling Sunny in her arms and playing with her cute pup. "I love you. I love you so much," the "POTUS" star whispered to Sunny as she licked her on the lips. "You are my sunshine, my little Sunny girl."
In the comments, fans speculated over what type of dog Sunny is, with one follower saying that she looks pretty similar to a doxie (another term for dachshund). Others said that Sunny looks more like a puppy Cavalier King Charles spaniel, like Hough's late dogs Lexi and Harley. Meanwhile, others swooned over the new pooch and said they were happy for Hough. "Oh my gosh Jules. What a darling angel pup," said one follower. "Obsessed!!! She's perfect!" wrote another fan. Another gushed, "You did it!!! [You're] a dog mom again!! Congratulations!!!!! Your fur babies, are watching from above!"