Artie Lange Reveals 'Deformed Nose' Caused By Decades Of Drug Use
Comedian Artie Lange, known for his gigs on The Howard Stern Show and MADtv, has shared a close look at his changed appearance.
On Tuesday, Dec. 25, 2018, Artie Lange took to Twitter to post a photo of his face, showing his 364,000 followers that his nose had been altered due to his past drug use. In the Christmas day picture, Lange makes a disgusted face, recreating a look French actress Sophie Marceau allegedly gave him when they were filming the 1999 romantic comedy Lost & Found, which also starred actor and comedian David Spade. His nose appears to be flat against his face.
"She sat next to me in the make up trailer every day," he wrote in a post on Twitter. "The next tweet is my impression of the way she looked at me when I said Good Morning."
Alongside the photo, the 51-year-old added, "This is it but I believe her nose had a septum and had not been hideously deformed due to over 3 decades of drug abuse." 
NJ.com had previously reported that Lange's deflated-looking nose is the result of years of cocaine and heroin abuse. His nose's current state may also be the result of a particular incident in which Lange had attempted to snort smashed-up OxyContin and had accidentally snorted glass. He reportedly had to have surgery on his nose at some point in the past.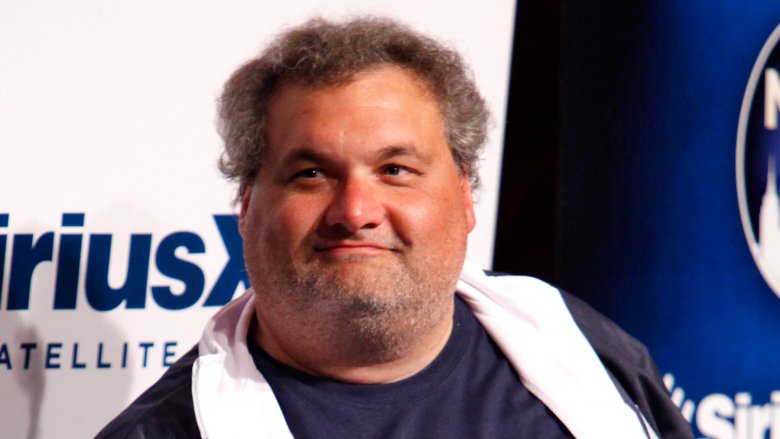 Getty Images
Artie Lange has long struggled with substance abuse problems. At the time of this writing, he is reportedly on probation after having been arrested for heroin possession. As reported by NJ.com, after violating the terms of his probation, he was ordered to appear in court. Having had a drug test done, he tested positive for having "cocaine, amphetamine, benzodiazepines and Suboxone" in his system. His attorney claimed that Lange had prescriptions for the benzodiazepines and amphetamine.
At the time, Lange alleged that he hadn't done cocaine in the days before his court appearance, despite the prosecution stating that he wouldn't have tested positive for the drug unless he'd had it just two days prior. "I wouldn't be arrogant enough to come in here after using cocaine for two days," Lange told the court.
As a result of his failed drug test, Lange was ordered to apply to "drug court."
Tweeting about the ordeal on Dec. 14, 2018, Lange told his fans that, at the time, he had gone 41 days without using heroin, which he marked as a victory. "That's a prison that for now I'm out of. It's also the reason I'm not in jail," he shared. He also admitted to using cocaine, though he said it should've been out of his system by the time he was tested for drugs.
"I have work to do. I feel now I can also stop Cocaine. But that's arrogance and addiction. I'm accepting help," he tweeted out. "If I fail now I will go to jail. Jail is not for addicts. But I'd be giving [the court] no choice." Lange, who has attempted to end his life twice in the past, added, "Pray for me."
Previously, in March 2017, he was taken into police custody for drug possession after cops reportedly found heroin, cocaine, and drug paraphernalia on his person and in his car.
Lange was later arrested in Bloomfield, N.J. in May 2017, while state cops were performing a "plainclothes surveillance operation," as reported by NJ.com. He was allegedly pulled over for driving quickly and "erratically" away from a McDonald's. After being pulled over, police reportedly found heroin in his possession and charged him with "possession of a controlled dangerous substance and drug paraphernalia."
The comedian entered rehab in Pennsylvania in November 2018. At the time, he tweeted, "I'm at The Retreat by Lancaster PA. This place is a Godsend! They're not payin me. No free stay. They do it right. I'm so grateful to them. The nurses are Angels. I'm not saying I will never relapse. I pray every day!! Just happy to be alive. I ain't checkin out yet! I love u all!"
Unfortunately, as we know, it wouldn't be long before Lange would use cocaine again.
If you or someone you know is struggling with drug addiction, please call the Substance Abuse and Mental Health Services Administration's free, 24/7 National Hotline for help at 1-800-662-HELP (4357).