What Taylor Armstrong Has Said About Her Late Ex Russell's Death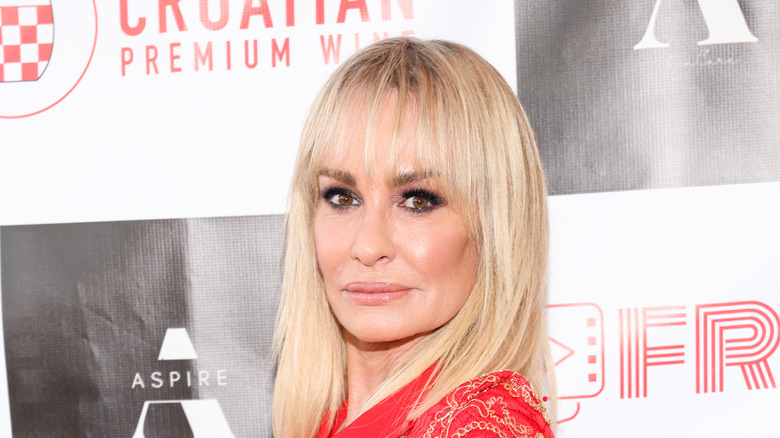 Victoria Sirakova/Getty Images
This article contains mention of suicide and domestic abuse.
Taylor Armstrong faced a horrific tragedy in August 2011 when her late ex-husband Russell Armstrong died by suicide. The couple appeared like they were living the American dream in their big Beverly Hills house and spending huge amounts on parties, but Taylor's storyline soon became dark when it was revealed during Season 2 of "The Real Housewives of Beverly Hills" that Russell was allegedly abusive toward his wife. The episode aired after Russell's death but "RHOBH" fans saw the dissolution of his marriage with Taylor as details about his reportedly explosive temper came to light.
In July 2011, Taylor filed for divorce from Russell and told People (via Bravo), "Although we have tried our best to work our differences, I have come to the conclusion that it is in the best interests of our family that we separate." Sadly, Russell died the following month and Taylor made the decision to allow the events leading up to the harrowing event to air on "RHOBH." She shared with Bravo, "I was supportive of Season 2 airing, despite all that I was going through, because I did want people to see what it was like, what I went through so that they could also have hope that there was something on the other side." Since then, Taylor has been open about Russell's death, and years later, she shed more information on the details surrounding his suicide.
If you or someone you know is struggling or in crisis, help is available. Call or text 988 or chat 988lifeline.org.
If you or someone you know is dealing with domestic abuse, you can call the National Domestic Violence Hotline at 1−800−799−7233. You can also find more information, resources, and support at their website.
Taylor Armstrong believes Russell was in business with bad people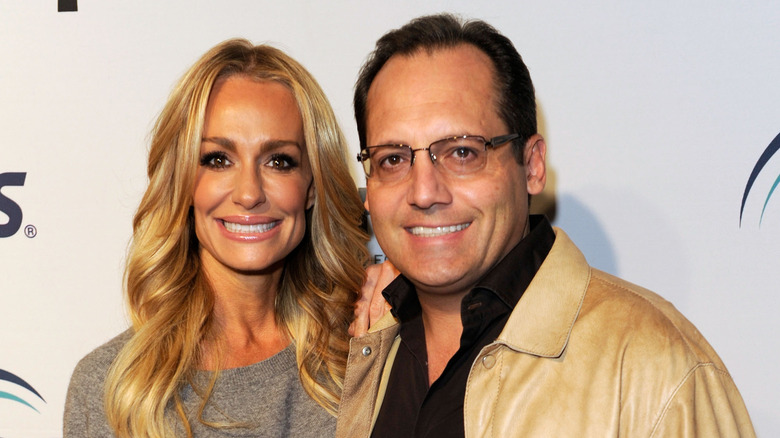 Michael Caulfield/Getty Images
It's been over 12 years since Russell Armstrong's death and Taylor Armstrong has added more insight about the tragic incident. In an appearance on "Jeff Lewis Live," she revealed that after Russell Armstrong died by suicide, his business partner had as well. "After it became public — it was all over the media — that same day is when his business partner took his life," the "RHOBH" alum shared. The family had asked to keep the information private until after the burial due to religious reasons, Taylor explained. When Lewis asked if Russell and his business partner had dealings with "the wrong people," she answered, "There's a lot of speculation that that was the case," adding that she thought the two men died to protect their families.
Russell's death left behind Taylor with an incredible financial burden. ABC reported that he was over $1.5 million in debt and his lawyer Ronald Richards shared, "He didn't have any extra assets. He was living month to month to support his lifestyle for Taylor." Because Taylor was still married to Russell, she ended up having to sell her beloved items to settle his $1.5 million lawsuit.
Taylor Armstrong struggled with letting go of her wedding ring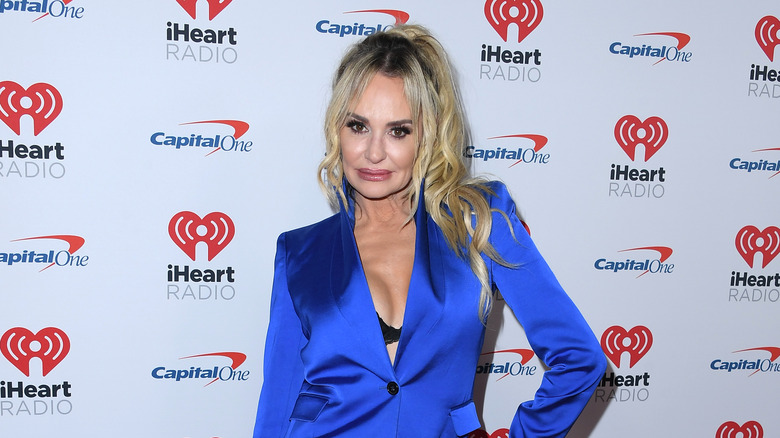 Steve Granitz/Getty Images
The aftermath of Russell Armstrong's death played out in Season 3 of "RHOBH" as Taylor Armstrong had to deal with the pending lawsuit of her late estranged husband. Russell was sued by My Medical Records for allegedly using money he raised through investors for his own personal needs, per E! News. Following his death, Taylor was left to pick up the pieces, and Season 3 saw her sobbing when she was told she would have to give up her $250,000 wedding ring given by Russell.
"In the end, it was the right thing to do to settle and to let go of my ring. The pressure was too great and I couldn't keep fighting and spending a fortune on attorneys. I couldn't keep pace with a public company," Taylor wrote in a blog, via Bravo. She credited her attorneys, including her now-husband John Bluher, for helping her through the litigation. The reality star told Us Weekly, "We didn't really like each other for the first couple of years, because every time he called me, it was bad news. But he stood by my side through everything and helped me navigate everything I was going through."
Proving that there is a light at the end of the tunnel, Taylor now uses her experience to help other domestic abuse victims. "I just feel like there's got to be a way for women to reach out for help," she shared with ET.