Aaliyah's Former Boyfriend Makes A Big Claim About R. Kelly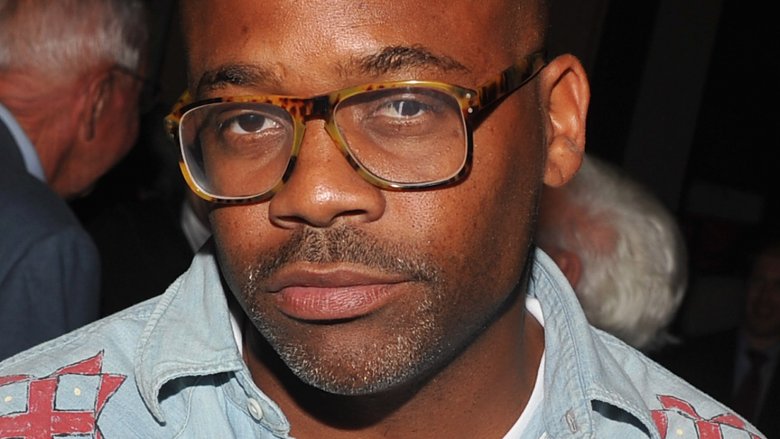 Getty Images
Late singer Aaliyah's former boyfriend Damon Dash spoke out about the headline-making Lifetime series Surviving R. Kelly and what he remembers his ex-girlfriend saying about R&B crooner R. Kelly when they were together.
Speaking with Hip Hop Motivation in a video posted on Jan. 5, 2019, Damon Dash, who's known for co-founding Roc-A-Fella Records with rapper Jay-Z and producer Kareem "Biggs" Burke, opened up about his knowledge of R. Kelly throughout the years. To start, Dash revealed that he'd viewed some of Surviving R. Kelly on TV — "as much as [he] could tolerate."
He noted that, when watching one woman attempt to discuss her experiences with R. Kelly, he recalled how Aaliyah used to act. "I remember Aaliyah trying to talk about it and she couldn't. She just would leave it at, 'That dude was a bad man,'" the 47-year-old said. "And I didn't really wanna know what he did to the extent that I might feel the need ... to deal with it. Just 'cause that's what a man does. But it just was so much hurt for her to revisit it. It was like, 'I wouldn't even wanna revisit it without a professional.' Whatever got done was terrible.'"
Dash shared that, because of his relationship with Aaliyah, he wanted no part of making R. Kelly's 2002 record, The Best of Both Worlds, leaving it to Jay-Z to work on (via Perez Hilton). "I was like 'Bro, you know homie violated and he violated my girl. He violated a friend of yours,'" Dash stated. Clearly unhappy with his business partner choosing to continue a working relationship with Kelly, Dash said that was the moment he knew "Roc-A-Fella was defunct."
"I knew, morally, we weren't the same," he explained, adding, "It was over. I couldn't f**k with it. It was something that, to me, was just like ... not to say 'unforgivable,' but I couldn't understand it." He went on, "I thought, 'Well, the people aren't gonna have that.' But nobody said nothing.'"
Dash further questioned why it took people "so long" to listen to all of the stories out there about R. Kelly when he'd known about them for years.
Lifetime aired the docu-series Surviving R. Kelly over the course of three nights in January 2019, starting on Thursday, Jan. 3. The program shared interviews with people regarding their experiences with the controversial singer. Some even opened up about "new allegations about his sexual, mental, and physical abuse," as Lifetime boasted on their site.
Among those interviewed was popular singer John Legend, whom Dash applauded for publicly condemning Kelly. He later addressed his appearance on the docu-series on Twitter, telling followers, "To everyone telling me how courageous I am for appearing in the doc, it didn't feel risky at all. I believe these women and don't give a f**k about protecting a serial child rapist. Easy decision."
Following Surviving R. Kelly's premiere, the "Ignition" artist has come under investigation for sexual abuse allegations in Georgia, as reported by Complex. Chicago prosecutors also reportedly instructed any alleged victims to come forward and speak to police.
According to The Hollywood Reporter, Kelly's attorney in Chicago, Steve Greenberg, has denied the allegations against his client, claiming that they're just "another round of stories" being used to "fill reality TV time."
For readers who may not be aware of Aaliyah's connection to R. Kelly — who, in 2017, was accused of running a sex cult — the two reportedly had a mentee-mentor relationship when she was a young teenager and he was in his 20s. It's been long rumored that the celebs married when Aaliyah was just 15 years old. According to Kelly's former personal assistant Demetrius Smith (via People), he'd helped obtain falsified legal documents for Aaliyah so that she could wed.
Smith also claimed that the wedding had come after Kelly allegedly worrid that he'd gotten Aaliyah pregnant. "Robert said, 'Man we got Aaliyah in trouble,'" Smith recalled. "That broke my heart right there because I really believed him when he said that he wasn't messing with Aaliyah ... Once he told me that I was at a loss for words."
Aaliyah later passed away in a tragic plane crash in 2001, when she was just 22 years old.