Why We're Worried About Pete Davidson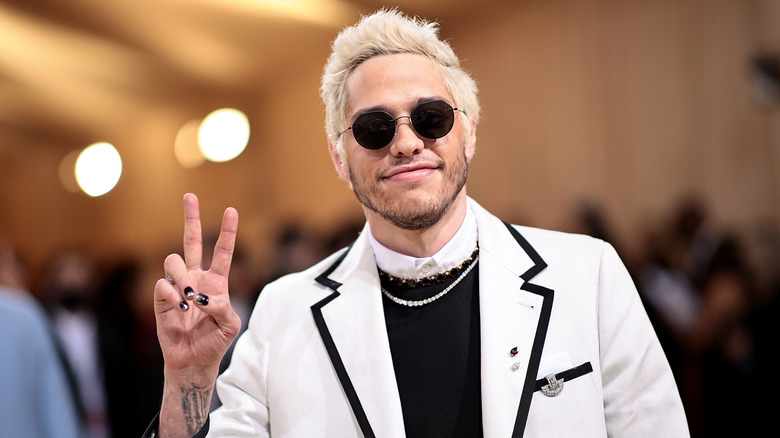 Dimitrios Kambouris/Getty Images
Pete Davidson became a household name as a cast member on "Saturday Night Live," and he's gone on to be recognized for far more than just his jokes. His self-deprecating humor and honesty have made him a successful comedian — and he's not afraid to be open about more somber topics like mental health. Not to mention the Staten Island native has a laundry list of beautiful women he's dated over the years, which has landed him in the tabloids repeatedly (Kim Kardashian, anyone?). 
It's no secret that comedians use humor to cope with life's complicated and tragic moments. Davidson admitted so himself when he returned to "Saturday Night Live" as a host in 2023, sharing, "[Sometimes] comedy is really the only way forward through tragedy." During his cold open, Davidson spoke about how watching Eddie Murphy's special "Delirious" helped him deal with his father's death as a kid: "I was laughing again."
The former SNL cast member has lived through his fair share of ups and downs, and he's been incredibly candid about his struggles. From losing his father at a young age to admitting he struggles with depression, BPD, and PTSD, Davidson's life is far more than can fit in the confines of SNL's stage at 30 Rock. While he's put on a brave face and still has plenty to laugh about, it doesn't mean it hasn't caused alarm. Here are some reasons why we're worried about Pete Davidson.
Pete Davidson crashed his SUV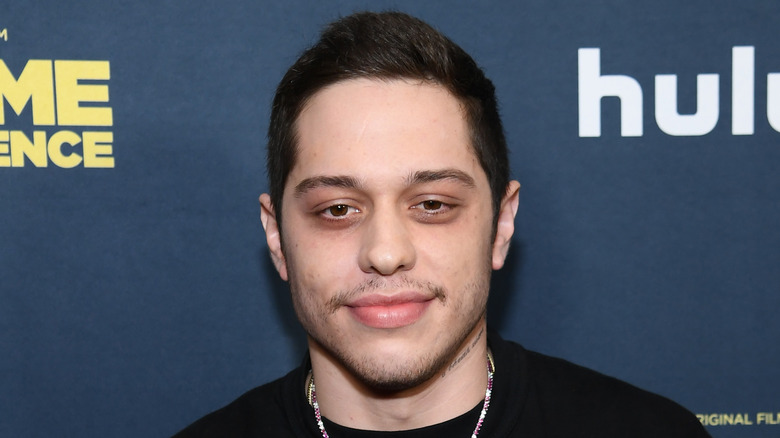 Dimitrios Kambouris/Getty Images
Pete Davidson doesn't exactly have the best track record when it comes to car accidents. The "King of Staten Island" actor made headlines in the fall of 2023 when he crashed the side of his SUV into a wall after leaving his stand-up comedy show at The Wiltern in Los Angeles. 
As per Page Six, the comedian left his show around 10 p.m. before side-swiping a wall while leaving the venue. Davidson was behind the wheel of his GMC SUV with four friends in the car with him when the incident occurred. The accident left the former "SNL" star's vehicle covered in white scrapes starting at the back door and reaching to the back wheel. 
It hasn't been Davidson's best year in terms of car accidents. As Page Six reported just months prior, the comedian was charged with reckless driving in June 2023 for crashing his vehicle into a Beverly Hills home at the start of the year. The Staten Island native was driving his Mercedes Benz at the time with his then-girlfriend, Chase Sui Wonders, when he popped a curb, hit a fire hydrant, and skidded all the way into the side of a residential home. Police said that Davidson had been driving at high speeds when the incident occurred, leaving the siding on the corner of the home broken and shoved inward. Shortly after being charged with the one-count misdemeanor, Page Six reported on the star's check-in to a rehab facility to work on his mental health.
Pete Davidson's father died in the 9/11 attacks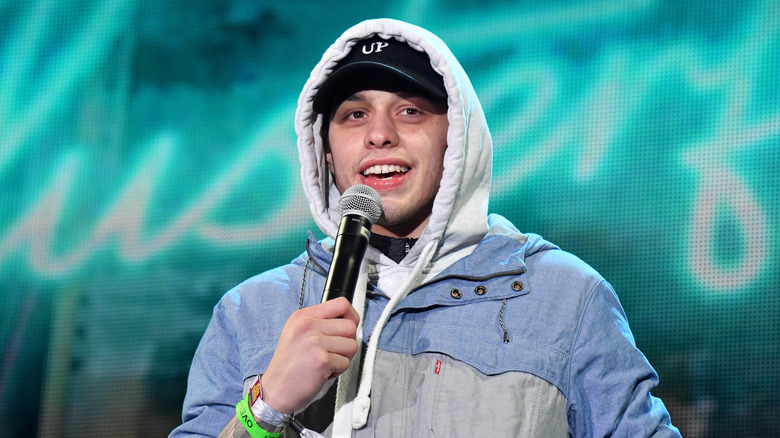 Jeff Kravitz/Getty Images
Pete Davidson's father was one of the many firefighters who died during the tragic 9/11 terrorist attacks in New York City. The "Meet Cute" actor opened up about his father's death on John Bernthal's "Real Ones" podcast, admitting that he went weeks without closure. "My dad told me he was going to pick me up from school on 9/11. I got picked up by my mom. She didn't tell me what was going on for like three days," he revealed. "She kept telling me, 'Dad's at work,' 'He's coming home,' whatever," Davidson said. "I had no idea." 
The former "SNL" star was just 7 years old when he discovered his father Scott had died, despite his mother attempting to shield him from the news being broadcast on television. "Then one night, I turned on the TV and I just saw my dad on the TV," he explained. "I was like, 'Oh, OK.' And they were like, these are all the firemen that are, like, dead." Davidson revealed that he was diagnosed with Borderline Personality Disorder as well as PTSD, both conditions he feels stems from the abandonment he felt in the wake of his father's death. 
"You know, Dad says he's coming to pick you up and he doesn't. For life, I'm like, I don't believe anyone, and I'm trying to learn how to believe people — and Hollywood isn't exactly the greatest place to learn that skill," he shared. Despite the tragedy, it has made Davidson who he is today. "If my dad didn't die, I wouldn't be a comic," he told Variety.
Pete Davidson attempted to drown himself when he was a kid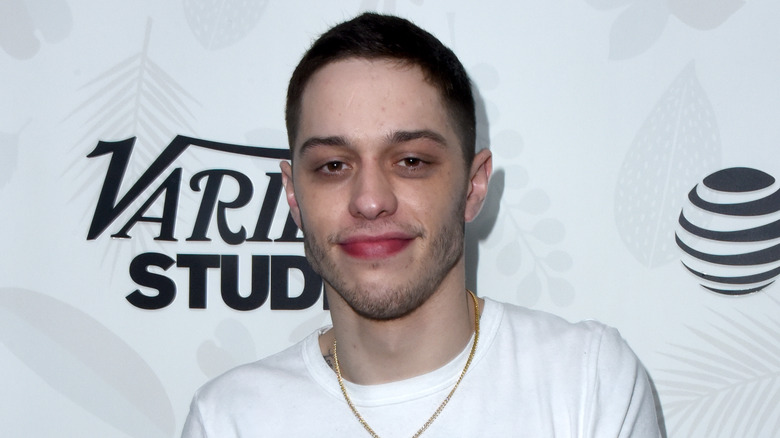 Vivien Killilea/Getty Images
The sudden loss of his father at a young age quickly imprinted on Pete Davidson's life. "I learned what death was," he told Variety, sharing that he's had a lifelong struggle combating his own inner demons. "I've been in and out of mental health facilities since I was 9," he admitted. "I tried to drown myself in the pool when I was in the fourth or fifth grade. I was trying to get my head stuck in the ladder in the deep end, so I would not be able to get up. But I'm too much of a p*ssy, and my head is too small." 
Davidson's history of mental health struggles led him to self-harm. In his YouTube interview with Charlamagne Tha God, he admitted he started getting tattoos to hide the scars on his chest. "Whenever you're so manic and upset sometimes [cutting was] the only thing that would work for me," he said, divulging that he's since learned of new ways to cope with his depression. "You learn like, Oh you could take a cold shower, you could work out, you can listen to music really loud ... " he explained.
Ultimately, comedy was one thing that gave Davidson motivation on some of his hardest days, and he shared that it's helped him approach life with more levity. "To learn how anything can just be taken away from you early gave me this sense of 'F— it. Whatever, dude.' I'm able to do stand-up and f— around because hopefully, the worst thing that has ever happened to me happened," he explained. 
Pete Davidson said he's depressed 'all the time'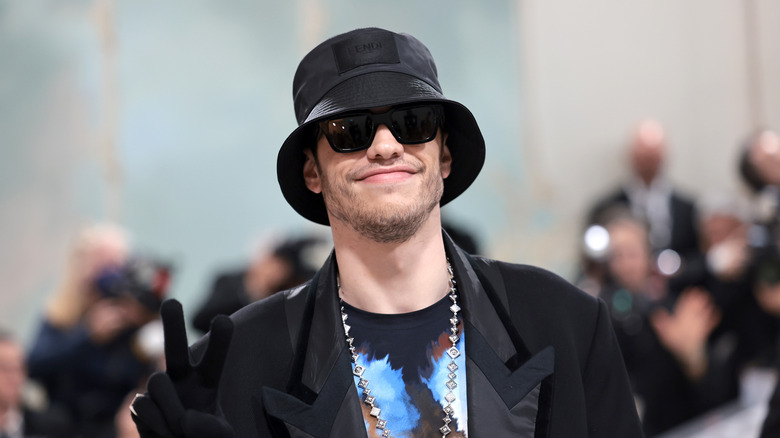 Jamie Mccarthy/Getty Images
Pete Davidson has said that depression is a life-long struggle of his. The "Suicide Squad" star admitted during his interview with Charlamagne Tha God that he's "always depressed, all the time," adding, "I have to constantly bring myself out of it." Despite his mental health struggles, Davidson learned to create routines and coping skills in order to combat his changes in mood. "I wake up depressed, but now I know my steps. I have to go outside and be in the sun for a little bit, or go for a walk. It's all just programming yourself to trick your brain."
The stand-up comedian revealed that he also struggles with suicidal thoughts, but the support of his family members has made a positive difference. "My rock bottom is when people are scared for my life and I have to go away, and then I have to bring myself back up again," he told Charlamagne Tha God. "I think I've hit it a few times. As long as you're around good, supportive people, and if you're strong enough, you'll be able to get out of it."
Writing skits and comedy sketches have given Davidson the motivation to live without being bogged down by negative thoughts. To alleviate his mood, he admitted to using Ketamine, a dissociative sedative sometimes used for its hallucinogenic effects, daily for years until he checked himself into rehab in 2023. During a comedy show with John Mulaney and Jon Stewart (per People), Davidson joked that you "can't do drugs in your 30s," telling the crowd that "it's not cute anymore."
Pete Davidson made worrying threats about himself on social media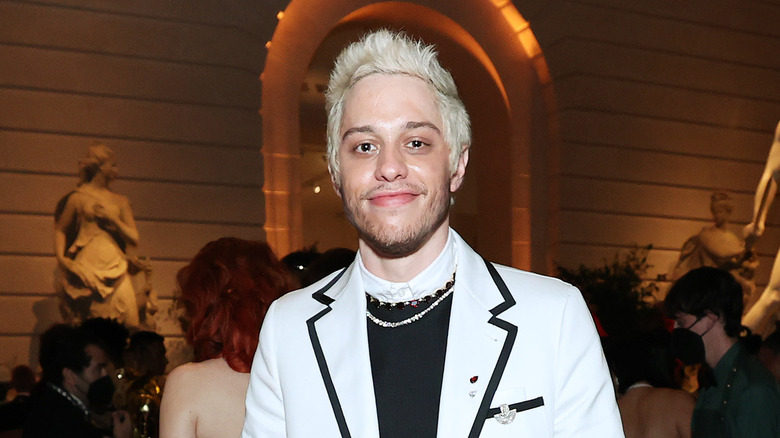 Cindy Ord/mg21/Getty Images
Pete Davidson has a history of disabling and reenabling his social media accounts, but one particular incident led fans into a panic. The comedian took to Instagram in 2018 in a since-deleted post (per PageSix) that read: "I really don't want to be on this earth anymore. I'm doing my best to stay here for you but I actually don't know how much longer I can last. all I've ever tried to do was help people. just remember I told you so."
The message came fresh after his ex-fiancée Ariana Grande inserted herself into a Twitter feud between Drake and Kanye West. "Guys, I know there are grown men arguing online rn but miley and I dropping our beautiful, new songs tonight so if y'all could please jus behave for just like a few hours so the girls can shine that'd be sick thank u," the singer tweeted (and since-deleted, per Time). 
Grande later apologized for the tweet after concerns rose about her glibly downplaying how the two rappers were feeling by referring to the fight as "grown men arguing online." Davidson chimed into the debate after West clapped back at Grande, writing on Instagram: "Bravo Kanye West for standing up for yourself and speaking out [about] mental health," adding, " ... We need people like Kanye. No one should ever point fingers at you for your bravery in speaking about mental health. I'm seriously disgusted."
Reportedly, Davidson refused to see Grande after the singer attempted to check on him following his cryptic post. He did, however, hang out with Machine Gun Kelly when the rapper paid the comedian a visit following the controversy.
Pete Davidson said he couldn't perform comedy without smoking marijuana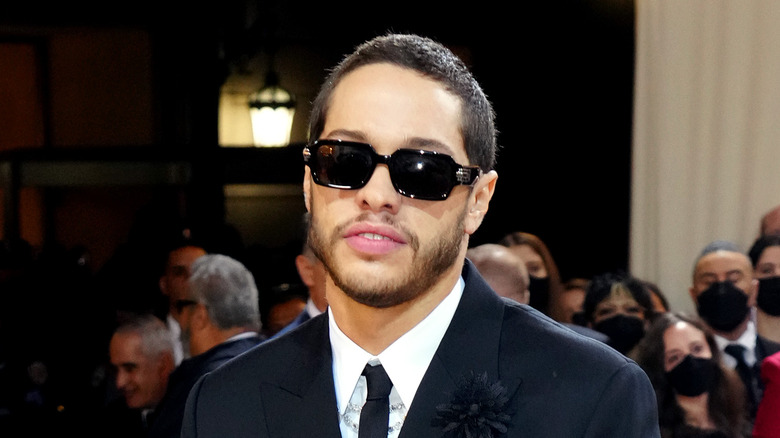 Jeff Kravitz/Getty Images
Pete Davidson is one of many celebrities who have been diagnosed with Crohn's disease. According to the Mayo Clinic, the condition "causes swelling of the tissues (inflammation) in your digestive tract, which can lead to abdominal pain, severe diarrhea, fatigue, weight loss, and malnutrition." Davidson spoke to High Times about being diagnosed with the disease at 17 years old, admitting that marijuana helped him combat the side effects.
"Weed would be the only thing that would help me eat," the comedian shared, adding that he tried several different medicines and consulted various doctors while dealing with his condition. "My stomach would just be in pain all day and then I wouldn't be able to eat and then I'd smoke, and I'd be able to eat and do my shows," he explained. He went on to admit that he depends on marijuana for his day-to-day life, confessing:  "I wouldn't be able to do 'SNL' if I didn't smoke weed, I wouldn't be able to do anything — really." 
The "King of Staten Island" actor revealed that performing without smoking isn't something he enjoys. "It's awful for me because I don't feel well," he explained. "I could perform not high but it wouldn't be that much fun for me ... I'd be in a lot of pain before shows and, you know, I smoke a joint and like immediately 'I can do this.'"
Pete Davidson's public beef with Kanye West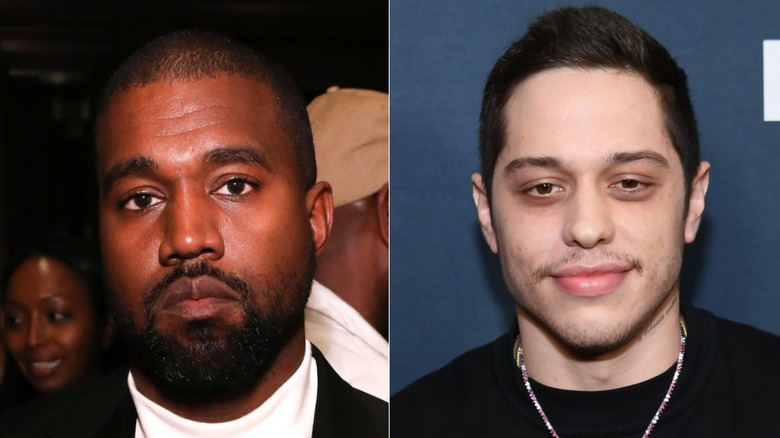 Robin Marchant & Dimitrios Kambouris/Getty
Readers, we're gonna let you finish — but Kanye West and Pete Davidson had one of the best beefs of all time! It's hard to resist a Kanye pun, just like it's hard to resist reading up on one of Hollywood's messiest and most dramatic feuds. Davidson spoke about West over the years and even championed the rapper for speaking on his mental health issues. Though he sometimes took jabs at the rapper in "SNL" skits in the spirit of humor, things got ugly in 2022 when the rapper's ex-wife Kim Kardashian and Davidson started dating.
The "Jesus Walks" artist proceeded to attack and threaten Davidson online following the news. In the single "City of Gods," which features Ye, he raps: "This afternoon, a hundred goons pullin' up to 'SNL,' when I pull up, it's dead on arrival," which was an obvious dig at Davidson. The feud got even more vicious when West leaked text messages between him and Davidson in which the former "SNL" comedian wrote: " ... I'd never get in the way of your children. It's a promise. How you guys go about raising your children is your business, not mine." In response, West captioned his post: "No, you will never meet my children."
Their feud continued for a month, with Davidson sending Ye a selfie famously captioned "In bed with your wife," and the rapper releasing a graphic music video for "Eazy" featuring Davidson as a decapitated clay figurine. Ultimately the beef fizzled out, just as Davidson's relationship with Kardashian did in 2022.
Pete Davidson has been in and out of rehab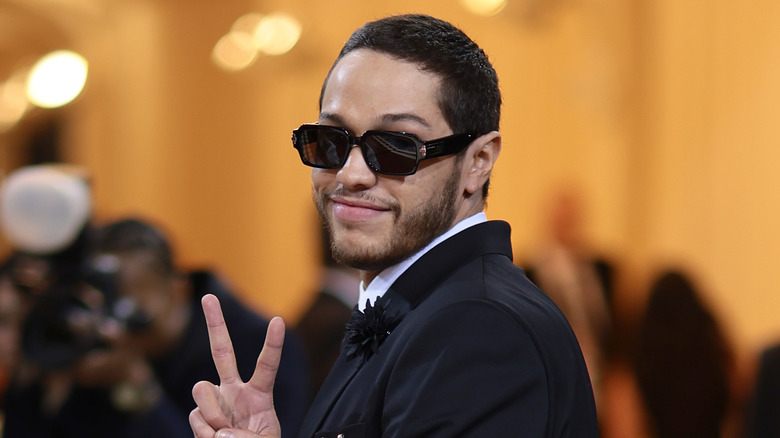 Dimitrios Kambouris/Getty Images
Pete Davidson is not afraid to talk about his many stints in rehab over the years. In an interview with Charlamagne Tha God, the comedian got candid about seeking help for his mental health, admitting that it's not as taboo as some make it out to be. "I don't think going to rehab is that big of a deal," Davidson said, revealing that he goes several times to readjust his medication for BPD and PTSD. "I think [rehab] is a really, strong, powerful thing and some of the most beautiful, cool people you ever meet are there," he added.
Davidson explained there's a misconception that rehab centers are only used by stars to get help for drug addiction. "Do I do drugs? Absolutely," the comedian explained, but he expanded to say that it's not the reason he seeks help. "Some people are sad," he explained, "some people got to work and figure their stuff out." He continued, "The beautiful thing about rehab is that they get you sober so that they can figure out what the problem is." Davidson said he checked into a facility that did exactly that, which allowed for his medicine to be readjusted after he himself had been sober for a few weeks. 
In typical Davidson fashion, his rehab stints have become the butt of the joke. At his comedy show with John Mulaney and Jon Stewart, he jokingly told the crowd (as shared by People): "I am fresh out of rehab, everyone ... I got that post-rehab glow. Seventh time's the charm!"
Pete Davidson said his co-stars made fun of him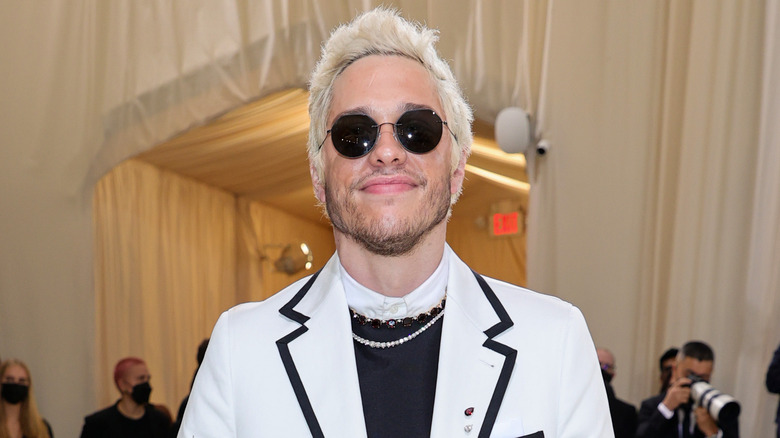 Theo Wargo/Getty Images
Pete Davidson got candid about his former "SNL" cast mates, and it's not what you might expect. In his interview with Charlamagne Tha God in 2020, the comedian revealed that he knew he should step away from the show after getting tired of being the butt of the joke. "I personally think I should be done with that show 'cause they make fun of me on it," he explained. "I'm like cold-open, political punch-lines and 'Weekend Update' [level] jokes ... like, whose side are you on?"
The "Suicide Squad" actor admitted that though he liked his castmates, it was hard for him to know who he could trust while being a member of the cast. "I have a weird feeling in that building where I don't know whose team they're playing for really," he said, sharing "[I can't tell] if I'm the joke or I'm in on the joke." Davidson went on to describe the environment as "cut-throat" and said that "everyone wants to be the next 'thing'" in the comedy world; "You're not going to get coddled over there, they don't give a f**k at the end of the day."
The star also revealed that he lived with a fear of getting fired for his first three years on "SNL." Citing the immense pressure cast members feel to succeed and build lasting careers, Davidson admitted, "It's scary to work [at 'SNL.']" Despite the obstacles, he acknowledged that the platform the show gave him to perform live has made him a better comedian.
Pete Davidson is constantly criticized for his dating life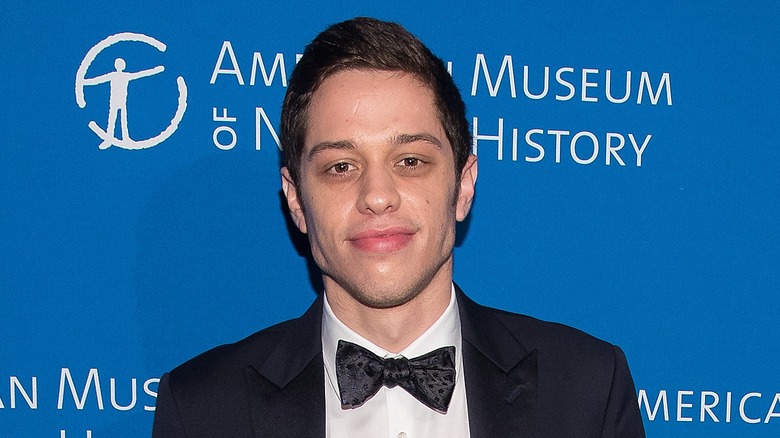 Mike Pont/Getty Images
With a laundry list of beautiful women for ex-girlfriends, it's no question that Pete Davidson has constantly wound up in the tabloids over his dating life. Ariana Grande, Kim Kardashian, Kate Beckinsale, Phoebe Dynevor, and Kaia Gerber are just some of the ladies the comedian has been romantically linked to. His infamous dating history even sparked the term "Big D*ck Energy," which is less about anatomy and more about men who exude confidence and swagger. 
While Davidson might be one of Hollywood's most eligible bachelors, he doesn't understand why the tabloids have scrutinized his dating life. "I'm in my 20s and I've dated people," he admitted on the "Real Ones" podcast (via People); "And for some reason, that's very crazy and interesting to people. I don't think it's interesting." He went on to add: "In 12 years I've dated 10 people. I don't think that's that crazy, but to some people, that's very interesting. That became all anyone would talk about."
The stand-up comedian admitted to feeling insecure when "SNL" skits constantly brought up his dating life as punchlines, joking that his beautiful exes are out of his league. "I'd be sitting in the back watching the cold open and — the cold open [is] topical, political humor, whatever's in the culture. And then — making fun of you. Then you've gotta walk out and do a sketch next and hit your mark and the show just made fun of you ... At the end of the day, that's what it is. This was a really difficult thing to do. You feel small. You feel super insecure."