Tim Tebow Proposes To Former Miss Universe Demi-Leigh Nel-Peters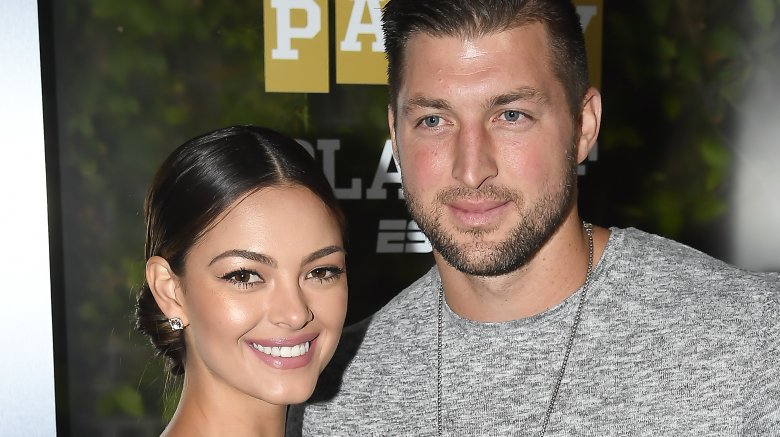 Getty Images
Former quarterback Tim Tebow may soon be a married man, as he recently proposed to Demi-Leigh Nel-Peters, who snagged the title of Miss Universe in 2017.
Tebow popped the big question at sunset on Wednesday, Jan. 9, 2019, while at his family's farm in Jacksonville, Fla., People reports. According to the magazine, the former Denver Broncos player walked with Nel-Peters on the property, stopping near a lake and a bench that he'd had engraved with the date of when they first met. How romantic!
After talking about their future, Tebow, 31, got down on one knee and asked Nel-Peters, 23, to marry him. Once Nel-Peters said yes, she added a brand new piece of jewelry to her wardrobe: a "7.25-carat solitaire ring." Tebow reportedly told her, "This ring is internally flawless. ... Just like you."
And, as if all that weren't enough, singer Matthew Mole then stepped out of hiding behind a hay bale and sang the couple's favorite song, "The Wedding Song."
Nel-Peters wouldn't have to wait to tell her family the exciting news, as Tebow, who was "excited" to propose, had flown them to his family's property and they'd been watching the proposal from a distance.
To People, Nel-Peters shared, "I'm so excited for the wedding, and I can't wait to spend forever with Tim." According to the magazine, Tebow and Nel-Peters first starting dating over the summer of 2018.
Tebow, who'd previously dated 2012's Miss Universe Olivia Culpo, later took to Instagram to share a few moments from the proposal. In the caption, he wrote, "Thank you for saying YES and making me the happiest man in the world. You're the love of my life, and I can't wait to spend the rest of my life with you."
Nel-Peters posted the same pictures on her Instagram page, adding, "Any dreams I've ever had, you've exceeded them all! I love you and I can't wait to spend forever with you!"
Congratulations to Tebow and Nel-Peters!