What Officials Found At R. Kelly's Chicago Studio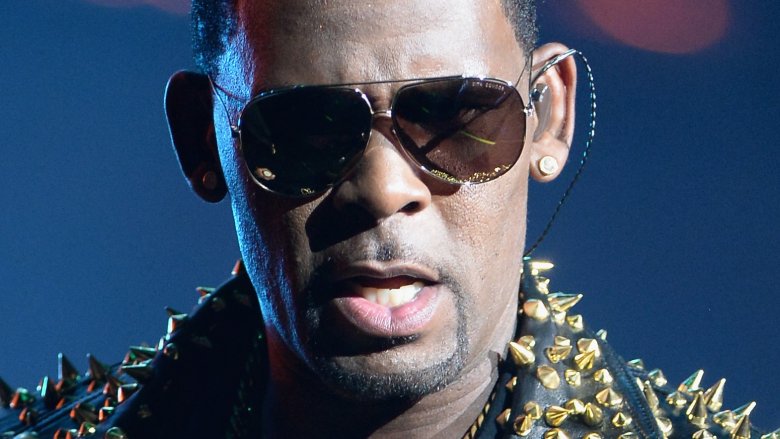 Getty Images
R. Kelly may be facing additional legal problems after police searched his Chicago studio during the afternoon of Wednesday, Jan. 16, 2019.
Chicago authorities reportedly found evidence of wrongdoing at R. Kelly's local studio, as reported by TMZ. But what they discovered is said to have nothing to do with the disturbing allegations that have been brought against the R&B singer. According to the celebrity gossip rag, cops, who arrived at the location with the Cook County Building and Zoning Department, believe that the studio has been "used as a residence." And, since the building is reportedly only zoned for industrial purposes, using it as a place for living is not allowed.
TMZ further reported that police typically work with the Building and Zoning Department on issues like these and noted that authorities had looked into Kelly's studio because the artist allegedly owes about $166,000 in rent and might be evicted — not because of the allegations  of sexual misconduct that have been levied against him. According to the Chicago Tribune, Judge Jim Ryan gave Kelly until Jan. 21 to pay back the "$173,885 owed to Midwest Commercial Funding LLC," which includes not only the back rent but also attorneys' fees and court costs.
ABC7 Eyewitness News reports that Kelly's 8,000-square foot studio boasts a "kitchen and dining area, furniture and games." The property was reportedly listed for sale for a whopping  $3.9 million but its price was later cut down to $3.4 million.
Besides finding that the recording studio may have been used as someone's residence, Chicago authorities also reportedly learned that there'd allegedly been "work done" that hadn't been okayed with the proper permits. Building Department spokesman Gregg Cunningham said that the department was specifically looking at the studio's "plumbing, electrical systems and carpentry," as shared by USA Today.
According to TMZ, the city of Chicago "will file an amended complaint against R. Kelly for a future court hearing." Kelly could reportedly face up to $1,000 in fines per day per building code violation, assuming the property owners are fined and presumably fight for Kelly to make those payments himself (via the Chicago Tribune). This is probably likely as Kelly was reportedly told to follow "all applicable laws and building codes" when making any changes to the property in his lease.
USA Today notes that Cunningham revealed that no evidence supporting the sexual misconduct allegations against Kelly were found at the scene. However, ABC7 Eyewitness News reports that neighbors claimed that "young girls are frequently seen congregating in the alley behind the building." The media source also mentioned that one of Kelly's associates reportedly arrived at the studio before building inspectors and removed "computer equipment from the building."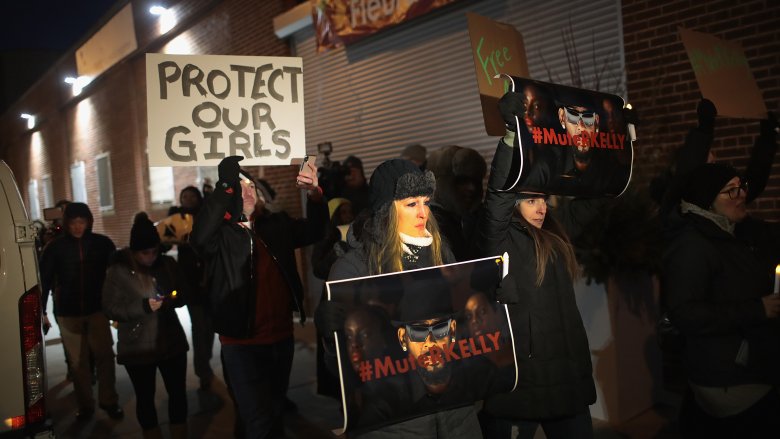 Getty Images
R. Kelly has made headlines in recent weeks for his alleged history of sexual abuse. The TV network Lifetime largely contributed to this, as it aired a documentary series about the "I Believe I Can Fly" singer over the course of three days in early January. The program, titled Surviving R. Kelly, shared people's experiences with the artist, including women who claim to have been abused by him and parents of women who believe their daughters have been brainwashed by Kelly into joining his alleged sex cult.
Surviving R. Kelly also shed light on claims that Kelly has allegedly repeatedly had sex with underage girls, as noted by Inside Edition. The docuseries also noted Kelly's long-rumored marriage to the late singer Aaliyah when she was just 15 years old.
The Tuesday after the docuseries premiered, Cook County State's Attorney Kim Foxx, who said she was "sickened" by what she saw in Surviving R. Kelly, asked for any alleged victims to come forward and speak with authorities, stating, "We cannot do anything related to these allegations without the cooperation of these victims" (via NBC Chicago).
As reported by Vulture, people, many of whom are involved with #MuteRKelly, Black Women's Blueprint, UltraViolet, and other organizations, later protested outside of Sony's New York headquarters, urging Sony and RCA to drop Kelly as a signed artist.
Other artists, including the likes of Lady Gaga, Celine Dion, and Chance the Rapper, have removed music they've worked on with Kelly from iTunes and streaming services (via TMZ).
R. Kelly's attorney, Steve Greenberg, has publicly denied the allegations made against his client (via the Associated Press).