Why Julie Andrews And Her First Husband Tony Walton Got A Divorce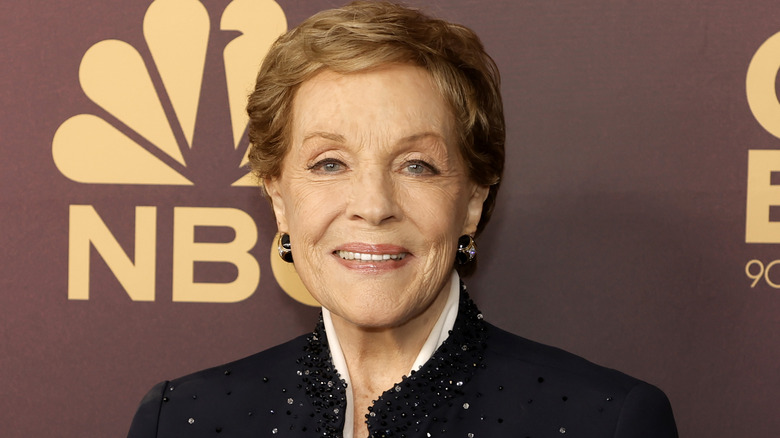 Kevin Winter/Getty Images
The hills apparently weren't alive with music and love toward the end of Julie Andrews' first marriage, as she and her husband Tony Walton divorced after nine years. An acclaimed set and costume designer, Walton earned several awards for his work, including an Oscar for the 1979 musical film "All That Jazz," per People. 
After seeing Andrews in a production of "Humpty Dumpty" when she was 11, Walton — who was 12 years old at the time — and the actor became friends. Fast forward 11 years, and the pair said "I do." A few years after tying the knot, they welcomed their daughter Emma Walton (known as Emma Walton Hamilton after her marriage) into the world.
Andrews and her husband's lives overlapped significantly, as Walton did the costume design for "Mary Poppins," which starred a young Andrews and legendary actor Dick Van Dyke. Still, the connection with their careers wasn't enough to hold the couple's romance together. 
"The Sound of Music" star has been candid about the hurdles of marriage before. In 2019, she told Vanity Fair, "Marriage is a big up-and-down graph. It's a wondrous thing, but it's probably the hardest work I've ever done, I think." However, hard work just couldn't save Andrews and Walton's marriage. As the actor grinded away, her relationship with Walton suffered.
Career demands and long distance caused marital strain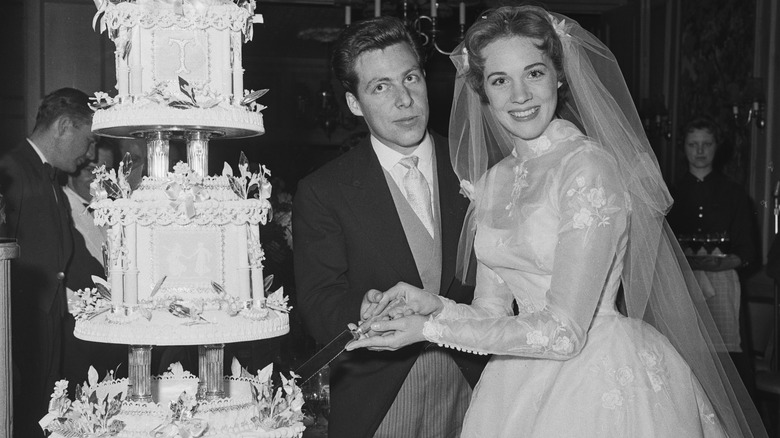 Evening Standard/Getty Images
Although they were both in the entertainment industry, Julie Andrews and Tony Walton were being pulled in different directions. In her memoir "Home Work," Andrews opened up about the harsh realities of her early years of fame and how it impacted her marriage. She and her then-husband frequently maintained a long-distance relationship, as the two were often in different countries, according to Now To Love. Career obligations put a strain on their marriage and caused emotional distress for the actor.
Andrews described how she struggled, saying, "the steep learning curve and rigorous demands of Broadway, a marriage and a child and now Hollywood ... all of this had generated powerful emotions inside me, which I had buried in order to survive." While Andrews took responsibility for their crumbling marriage, she reasoned they likely both played a part.
Although their marriage didn't work out, Andrews and Walton remained amicable. "Tony and I had known each other since I was 12 or 13 and it was a great friendship, and it still is," she said. In 2022, Walton died after suffering health complications from a stroke. Andrews shared some heartfelt words about her ex-husband. "Tony was my dearest and oldest friend. He taught me to see the world with fresh eyes and his talent was simply monumental," she told People. "He was a Titan of the Arts. A doting father and husband ... and beloved beyond measure."
Second time was the charm for Julie Andrews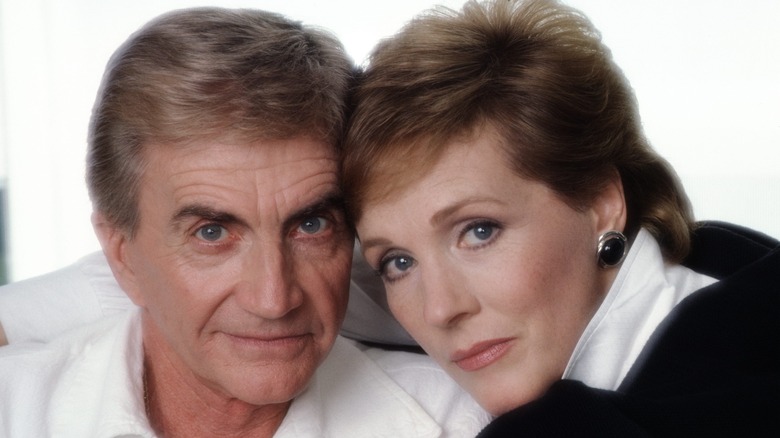 Jack Mitchell/Getty Images
Following her separation from Tony Walton, Julie Andrews gave marriage another go with director Blake Edwards. Head over heels, Andrews tied the knot with Edwards in 1969. "I felt he was the most charismatic and interesting fellow I'd ever met, and there's no doubt to this day I don't think I'll ever find anybody quite like him. He was unbelievably terrific," she told Now to Love.
Edwards and Andrews had a lot in common, as both had tried their hand at marriage before. Additionally, they each attended therapy to deal with their respective challenges and traumas, per Yours Magazine. Andrews, in fact, found great solace in therapy. In an appearance on "The Late Show with Stephen Colbert," Andrews revealed that she sought help after her split from Walton. "So I went and got into it and it saved my life in a way," she said.
Andrews and Edwards stayed married up until the director's death in 2010, per Entertainment Tonight. In an interview with Good Morning Britain (via ET), the actor reflected on their longtime love. "We were married 41 years and it was a love story; it was," she said, adding that the secret to their lasting marriage was quite simple. "Success in our marriage was to take it one day at a time and so, lo and behold, 41 years later there we still were."