Celebs Caught Falling Asleep On Live Tv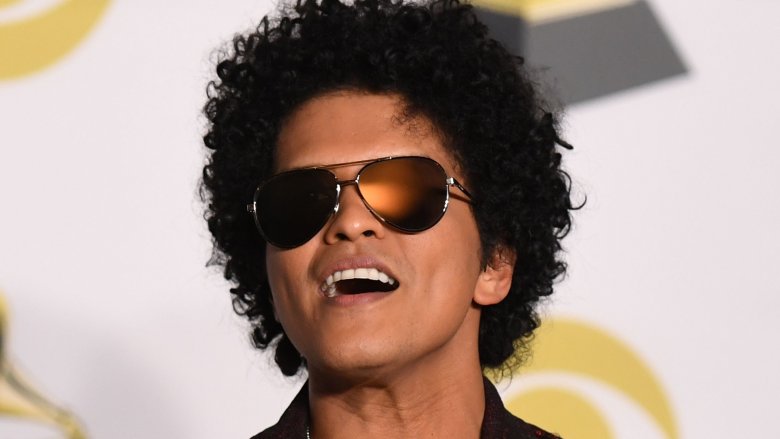 Getty Images
Even A-list stars need to catch a few Z's every now and then, but their berserko schedules make eight hours of sleep nearly impossible. With that in mind, it's no wonder so many bold-faced names have been caught falling asleep on live TV — at award shows, during interviews, and to the palpable delight of hawk-eyed Twitter denizens everywhere. (The internet never sleeps.) You may think celebrities are "always on," but it's time to wake up and smell the coffee. Pop star Bruno Mars evidently nodded off at the 2017 BET Awards. Oscar-winner actor Morgan Freeman appeared to lose consciousness during a joint interview with fellow acting icon Michael Caine. Meanwhile, legendary entertainer Harry Belafonte swore he was simply in the middle of a meditation session. (Hey, whatever helps you sleep at night.)
Curious to know more about some of the stars who took a "time out" live on the air? Well, pour yourself some Sleepytime tea, curl beneath the comforter, and make yourself comfortable. We're going to read you a little bedtime story entitled "Celebs Caught Falling Asleep on Live TV." 
Accepting Oscars while Chrissy Teigen is trying to sleep? Rude.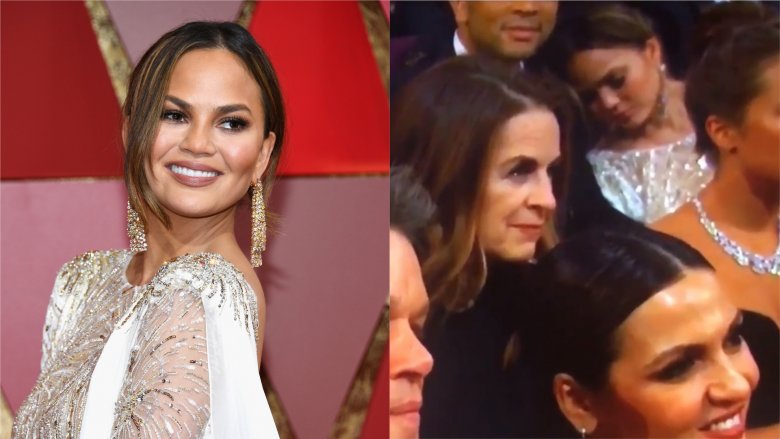 Getty Images / YouTube
Other stars have been struck down by sudden-onset award-show sleepiness, too. As E! News reports, model Chrissy Teigen was "caught on camera sleeping" at the 2017 Academy Awards — all while a mumbly Casey Affleck accepted his best actor Academy Award for Manchester by the Sea. Roughly "five minutes later," Emma Stone won in the best actress category for La La Land, and Teigen's head was still conspicuously slumped against the shoulder of hubby John Legend.  
Perhaps Us Weekly slightly overstated the situation by claiming that Teigen "set the Internet on fire" with her slumbering star turn, but the Twitterverse certainly did perk up. One enamored fan tweeted: "I think my favorite part of the Oscars so far has been Chrissy Teigen sleeping on John. She is my spirit animal." Another viewer concurred: "I am Chrissy Teigen sleeping during Casey Affleck's speech."
Once she regained consciousness, Teigen simply couldn't resist getting in on all the fun. As Hello! magazine reported, she took to Twitter the next morning to write: "Just woke up what happened," thereby setting the internet ablaze twice in as many days.
Morgan Freeman: Behind on sleep, or ahead of his time?
Deny, deny, deny. That was Morgan Freeman's strategy after the actor apparently fall asleep during a remote interview on Q13 Fox's This Morning show (per Vanity Fair). Really, who can blame him? At the time, co-star Michael Caine was waxing poetic on the subtle art of stage magic, a central theme in the film Now You See Me. Throughout the interview, Freeman's body language all but screams, "And Now You Don't." The actor appeared unable and/or unwilling to keep his eyes open as Caine chatted with anchors Bill Wixey and Kaci Aitchison. According to Vanity Fair, Freeman did, at least, manage to "sporadically awaken to nod convincingly," which is the key to winning at life.
The gaffe certainly appealed to magazine editors, inspiring The Guardian to christen Freeman "the man who can do interviews in his sleep." Freeman's publicist also seemed to be on high alert, emailing The Wall Street Journal an ironclad explanation from Freeman: "I wasn't actually sleeping," he said. "I'm a beta tester for Google Eyelids. I was merely taking the opportunity to update my Facebook page."
Mike Ditka took a time out
Former NFL coach Mike Ditka could very well be on a secret mission to commit every conceivable faux pas on live television, and if so, we salute him. Before he was strongly suspected of farting on live TV back in 2015, Ditka appeared to fall asleep during a December 2013 appearance on ESPN's Sunday NFL Countdown (per USA Today). 
NFL analyst Keyshawn Johnson gallantly shook Ditka awake shortly after "an apparently not-so-lively report on the Dolphins-Jets game," according to the Los Angeles Times. Ditka involuntarily performed a twitchy little shimmy upon awakening. Perhaps he'd been having a bad dream in which he was endlessly falling, falling, falling asleep on live TV. Although the Los Angeles Times strongly advised Ditka to "go take a nap," viewers didn't seem remotely surprised by his trip to the Land of Nod. One commenter ruefully noted: "No big deal. I've fallen asleep many times during that program" (via the Daily Mail).
​X Factor's James Arthur had a late night
In December 2012, X Factor Season 9 winner James Arthur demonstrated that he also possessed The "ZZZ" Factor. Shortly before the crooner was to be interviewed by Lorraine Kelly on the ITV program Lorraine, the cameras cut to the green room, capturing the singer most definitely asleep beneath a smart-looking coat. As the Daily Mail reported, the previous evening had been a late one for Arthur, as he'd been out celebrating his big win until the wee hours of the night. 
During the subsequent interview, Kelly asked Arthur if he got any rest the night before. "Maybe," he cryptically responds. "I definitely haven't had the most sleep I've ever had." He claimed he had not yet come to terms with his victory, and the whole thing felt ... like a dream? "It hasn't sunk in yet," he says. "I was very overwhelmed and I think that's why my reaction was so still." As for why his reaction was "so still" in the green room — that's because Arthur was extraordinarily asleep.
​Tucker Carlson is all tuckered out
Here's a doozy of an on-air doze: In an article inevitably titled "All tuckered out, Mr Carlson?" the Daily Mail noted that "conservative pundit" Tucker Carlson apparently nodded off in the middle of a 2013 Fox & Friends broadcast, and he was subsequently teased by co-hosts Clayton Morris and Alisyn Camerota. In fact, Camerota even taunts Carlson by handing him a Starbucks coffee. (Venti, naturally.) "You know what it is," Carlson groggily theorizes. "I sat in for Sean Hannity last night. It went late." He says he suddenly had all of "these happy thoughts" and then simply "dozed off."
So what exactly shook Carlson out of his sleepy spell? He blamed one of the program's "evil cameramen cackling in the background." Best of all, Carlson thought his nap had occurred during a commercial break. "I know we're not on television," he says, "so it doesn't bother me." Then, a spasm of anxiety crosses his face: "Wait, is this honestly on TV?" More evil cackling ensues.
Harry Belafonte allegedly slept, slept, slept, Señora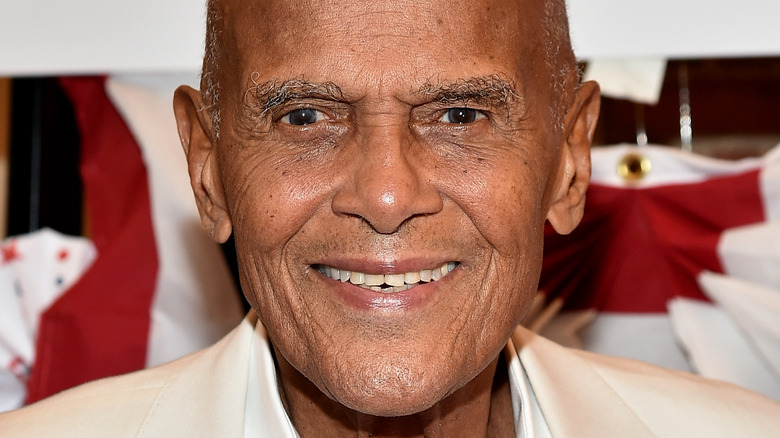 Mike Coppola/Getty Images
Since we're already on the subject of publicists earning their keep, let's turn our attention to this rousing rumor regarding legendary musician Harry Belafonte. In October 2011, Belafonte's publicist, Ken Sunshine, tried to convince the world that his client hadn't just fallen asleep during a broadcast interview on California's KBAK-TV station. According to the New York Post, a scheduled "live remote interview" found Belafonte looking far from lively when cameras cut to the supposedly slumbering songsmith, prompting anchor Layla Santiago to shout: "Harry, wake up. This is your wake-up call!" She also felt the need to tell viewers, "He's okay, he is okay," and then burst into the chorus of "Day-O (The Banana Boat Song)."
Following Belafonte's alleged on-air nod-off, Sunshine wrote an energetic statement to TMZ, blaming the musician's "literally hundreds of interviews" for the early morning meet-cute with the Sandman. Said publicist also pointed the finger at "a technical glitch in the feed" that amounted to a faulty "earpiece," which allegedly inspired Belafonte to "take the time to meditate." Perhaps sensing this excuse may be viewed as patently absurd, Sunshine doubled down, basically blaming all of us for our fast-paced, work-obsessed ways: "Maybe the world would be a better place," Sunshine said, "if more people took a moment to meditate."
We'll give that theory a whirl right now: Ommmmmmmmmmmmm.
Can someone check on Sir Desmond Swayne?
Here's another on-air snooze that made the news: In January 2018, a certain Sir Desmond Swayne was caught taking a little "Just Me" time at the House of Commons "during the 11th day of debate on the EU Withdrawal Bill," according to the BBC. Worse still, the whole unfortunate interlude was captured on the "parliamentary TV feed" (per the Daily Mail.) The "senior Tory MP" and Brexiteer was most dreadfully embarrassed, and his timing couldn't have been worse. He lost consciousness during a speech by fellow politician Ken Clarke, who was espousing the benefits of the European Union.
Sir Swayne subsequently told the BBC's Emma Barnett that he began to feel "woozy" at some point during Clarke's speech, chalking up the drowsiness to having woken up early for a morning swim. "I am annoyed I let it happen," he said. "It is embarrassing and annoying." Meanwhile, Bernard Jenkin, a "fellow Conservative MP," told the BBC that it's "pretty easy to feel droopy" after a long day on the job. 
Makes sense. Our eyelids are feeling heavy simply by writing about all these snoozy shenanigans. Zzzzz...
ESPN's Brian Windhorst: Checking notes, or checking out?
In March 2016, ESPN reporter Brian Windhorst was seemingly having a tough time keeping his eye on the ball — or keeping his eyes open at all. As the Mirror reports, SportsCenter co-anchor Cari Champion was quizzing Windhorst on live TV about Oklahoma City Thunder player Russell Westbrook. Despite his encyclopedic knowledge of all things sports-related, Windhorst apparently needed to dig deep in order to find the answers: He "shut his eyes, looked down, and appeared to nod off," according to the Mirror.
Windhorst eventually responded to his colleague's question, but not before unblinking Twitter users began to suspect the talking head had transformed into a sleepyhead. One viewer tweeted: "To be fair to Windhorst, most of ESPN's programming puts me to sleep too." Eventually, the powers that be alleged Windhorst was merely "looking at his notes," with Champion taking to Twitter to pooh-pooh the notion that Windhorst had pooped out. Finally, Windhorst tried putting the issue to bed on Twitter: "When @AdamSchefter looks at his phone on TV he gets endorsement deals," he tweeted. "When I do people think I have narcolepsy."
The Clintons have both had some snoozy doozies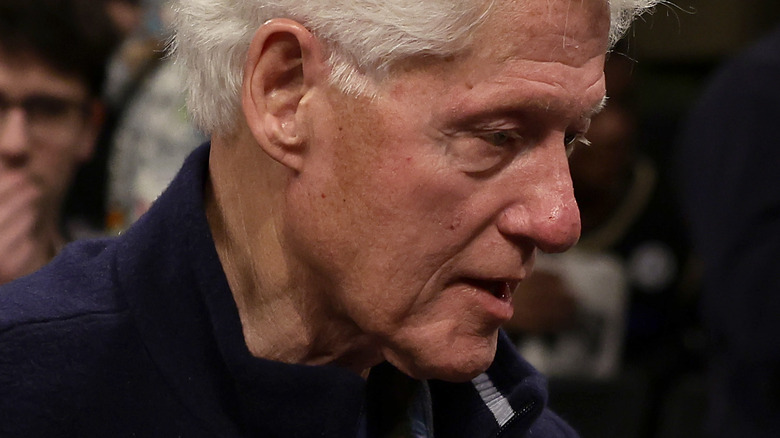 Jim Mcisaac/Getty Images
Throughout their long and varied political careers, Hillary and Bill Clinton have both reportedly fought losing battles with the Sandman. On Nov. 19, 2012, then-President Barack Obama gave a gripping speech at the University of Yangon that made history for two reasons. One, it marked the first time an American president had "ever visit[ed] Myanmar" (per the Daily Mail); and two, it presumably marked the first time Hillary had fallen asleep on live television.
Jet lag was likely the cause of Hillary's sleepiness, and it manifested in telltale symptoms like "struggling to keep her eyes open" during Obama's impassioned speech. ("You're taking a journey that has the potential to inspire so many people...") Seeing as she was Secretary of State at the time, we imagine Hillary had some explaining to do following her boss' speech, but her husband, Bill, must have been sympathized, considering he's also allegedly succumbed to slumber at inopportune moments. According to Time, Bill famously fell asleep at a Martin Luther King, Jr. memorial in 2008 and even pulled a "sudden 'I'm awake!' head-jerk." 
Actor Tony Goldwyn falls asleep at will
Relaxation is a skill, but the ability to fall asleep on live TV is a gift. During an April 2015 visit to The Ellen DeGeneres Show, actor Tony Goldwyn reportedly fell asleep both "in front of the live studio audience" and in front of DeGeneres, according to the Daily Mail. The sluggish scene unfolded after DeGeneres asked if the rumors were true: Was he really, truly able to just fall asleep at will? "I take, like, tiny power naps before I do a scene," Goldwyn confirmed. "I do it when I'm working in the theatre. I try to fall asleep before I go on stage."
DeGeneres immediately asked for a live demonstration of this phenomenon, and Goldwyn was all too happy to oblige. Next thing you know, the actor was seemingly out like a lamp, leading DeGeneres to creep backstage with an impish finger to her mouth, urging the crowd to stay mum. The Daily Mail reported that this engrossing piece of performance art ended "about a minute" later. That's when DeGeneres jostled Goldwyn back to the land of the living and announced: "We're going to cut out all the talking part and we're just going to have you sleeping the entire segment."
Bruno Mars didn't feel like doing anything
Bruno Mars did release "The Lazy Song," so what do we expect? According to Time, the pop star evidently bought a one-way ticket to Snoozeville during the June 2017 broadcast of the BET Awards. Meanwhile, viewers at home clearly kept their eyes wide open because fans wasted no time firing off tweets and memes poking fun at the usually sprightly crooner. One keen observer charitably theorized that Mars was "just resting" his eyes. Other tweeters empathized, like the fan who quipped that Mars "look[ed] like he just remembered he got bills due tomorrow but don't get paid til Friday." 
According to Cosmopolitan, Mars took his semi-scandalous siesta while Mary J. Blige was performing "Love Yourself" with A$AP Rocky, a fact that one Twitter user found particularly "disrespectful." To give Mars some credit, he opened the awards show with an unusually high-octane performance of "Perm," and he may have quite literally given it his all. Another pet theory: One fan accused the star of being "liiiiiit." Personally, we think the peanut gallery should keep its voice down, as this was clearly a classic case of the artist at rest.