Why Ariana Grande's New Japanese Tattoo Was One Big Fail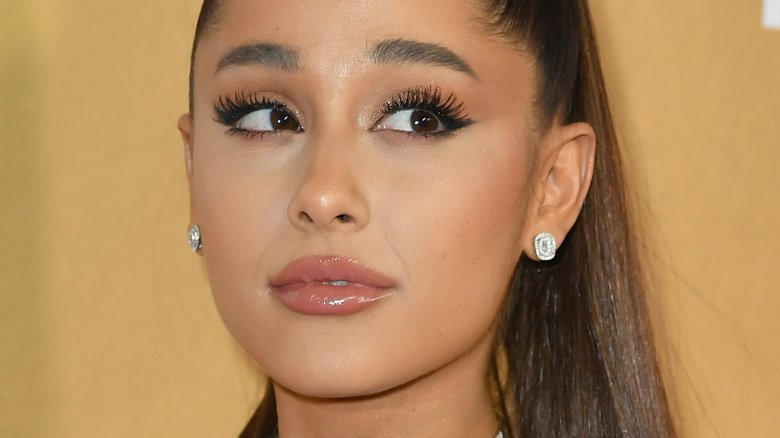 Getty Images
Pop star Ariana Grande made a serious mistake when she got what she thought was "7 Rings," the title of a recent single, tattooed on her hand.
In a since-deleted post on her Instagram page, Ariana Grande showed off her new ink — a tattoo in Japanese Kanji characters on the palm of her left hand. "This felt super good @kanenavasard jk," she wrote in the caption, poking fun at how painful the tattoo was to get, as reported by Entertainment Tonight. She also peculiarly added," Everyone thinks this is a fake hand but it's indeed.... my hand."
But, while Grande may have been expecting her fans to compliment her new tattoo, many instead pointed out that the ink doesn't actually mean "7 Rings," as the singer reportedly intended. As noted by ET, it actually means "shichirin," which is a "Japanese style barbecue grill." Yikes.
Responding to a fan who left a comment explaining her tattoo's real meaning, Grande reportedly admitted that she did actually leave out a few Japanese Kanji characters, which, she said, "should have gone in between." She continued, "It hurt like f**k n still looks tight. I wouldn't have lasted one more symbol lmao. But this spot also peels a ton and won't last so if I miss it enough I'll suffer thru the whole thing next time.
Grande also joked that she was a "huge fan of tiny bbq grills." Her response has since been deleted.
"7 Rings" is a track off of Grande's upcoming album, Thank U, Next. The song, which follows the tune of The Sound of Music classic "My Favorite Things," was reportedly inspired by a moment in Grande's real life when she went on "a champagne-fueled Tiffany's shopping spree" with six of her friends, buying herself and each of them matching rings, as reported by Rolling Stone. The moment notably came after Grande split from fiancé Pete Davidson.
"It was a... challenging fall day in New York," Grande told Billboard, recalling the day she purchased the rings. "You know how when you're waiting at Tiffany's they give you lots of champagne? They got us very tipsy, so we bought seven engagement rings, and when I got back to the studio I gave everybody a friendship ring." She continued, "That's why we have these, and that's where the song idea came from."
Since its release, "7 Rings" has broken several records, including Spotify's 24-hour streaming record, as reported by Forbes. The song's music video became the largest music video debut of 2019, snagging 23.6 million views in the first day of its release alone. With "7 Rings," Grande, 25, also became the youngest female artist to have two No. 1 hits on the Billboard Hot 100. So, it's pretty clear why Grande would want to commemorate her success with some permanent ink. After all, she's no stranger to getting tattoos.
Among her many tattoos, Grande has the pokémon Eevee on her upper arm, "Let's Sing" in Japanese on the inside of her arm, and a large crescent moon on her hand, as reported by Teen Vogue.  
And fortunately for Grande, she's not the first person to get the wrong words tattooed. Singer Ed Sheeran memorably got "Galway Grill" inked instead of the real title of his track "Galway Girl." While the event was initially thought to have been a prank by actress Saoirse Ronan, who starred in the song's music video, Sheeran later revealed that he knew about her joke before getting tattooed. "She was meant to write down Galway Girl, and then I was like, it's gonna be funny if you write something different and then she came up with Galway Grill," he explained in an interview in 2017 (via Metro). "And then we had it done."
While Sheeran may have known what he was getting into, let's be honest — no matter how you shake it, he still has "grill" tattooed on his arm. Just like Grande has the Japanese words for a type of charcoal grill tattooed on her hand.
And hey, if Grande doesn't want to wait for her palm tattoo to rub away over time, which it likely will, she can just pay to have it laser-removed. As she bragged in "7 Rings," if she wants something, she'll get it.