What Babydoll From Sucker Punch Looks Like Today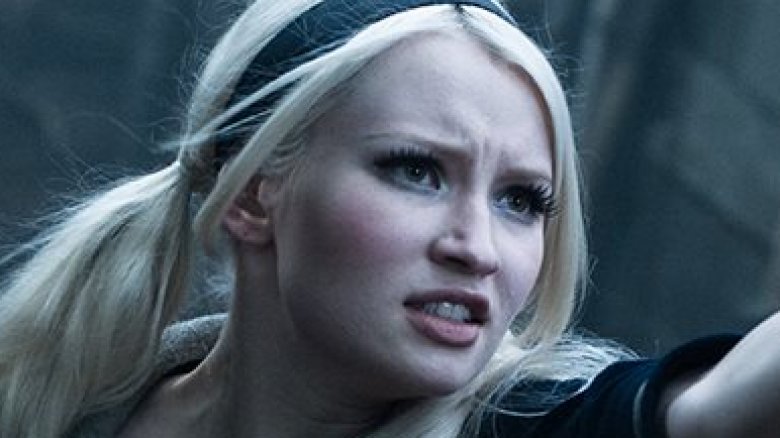 Warner Bros. Pictures
Movie buffs most likely remember Sucker Punch as a promising fantasy action flick that was about as controversial as they come, despite boasting impressive up-and-coming talent, like leading lady Emily Browning as Babydoll. 
In the 2011 film, the actress portrays a woman who's sent to a mental institution by her abusive stepfather following her little sister's untimely passing. Facing a lobotomy, Babydoll pictures herself within an alternate brothel reality to help cope with her situation, before joining ranks with her fellow asylum patients and planning her escape. While Browning has continued to find on-screen work since leaving the world of 1960s Vermont behind her, she's since flown largely under the radar.
According to her IMDb page, the Australian native got her start at the age of 10 in the 1998 Hallmark Channel movie The Echo of Thunder, and spent the majority of her childhood acting in various television and movie projects in her home country. Most notably, Browning appeared in the horror flick Ghost Ship in 2002, as Violet Baudelaire in the A Series of Unfortunate Events film adaptation two years later, and in 2009's The Uninvited, before landing what initially appeared to be her breakout adult role in Sucker Punch. Surprisingly, Browning nearly missed out on the role of Babydoll. According to Perth Now, she was only cast after Mamma Mia star Amanda Seyfried was forced to quit the production over a scheduling conflict.
Apart from starring in the mainstream, albeit unsuccessful, historical disaster movie Pompeii in 2014, Browning mainly spent the 2010s playing complex and varied roles in movies such as Julia Leigh's Sleeping Beauty, the British rom-com Summer in February, the musical drama God Help the Girl, the erotic thriller Plush, the psychological thriller Magic Magic, and the crime biopic Legend. If you've never heard of or seen these projects, chances are you're not alone. They mostly played the international and indie festival circuits. 
Meanwhile, 2017 saw Browning's return to the small screen in Showtime's The Affair and Starz's adaptation of the Neil Gaiman novel American Gods. In the latter gig, the actress notably portrays Laura Moon. "I've been fascinated by Emily Browning since A Series of Unfortunate Events," renowned British author Gaiman told Deadline. "She has a challenge ahead of her: Laura is a tricky character, and the Laura on the screen is even trickier and more dangerous than the one on the page. She's going to have a wonderful time bringing Laura to life."
Having strategically paved her own unique path in showbiz, Browning has largely kept her personal life under wraps. However, according her Instagram account, she's been dating writer-director Eddie O'Keefe for more than two years. The private pair collaborated on Shangri-La Suite in 2016.
It was initially believed that Sucker Punch had the potential to launch Browning's career into superstardom. However, it looks as though it became more of a dark mark among her dozens of acting credits. Despite the memorable performances of Browning and her co-stars, including the likes of High School Musical's Vanessa Hudgens as Blondie, Star Wars' Oscar Isaac as Blue Jones, and Mad Men's Jon Hamm as High Roller/Doctor, the movie failed to impress at the box office and among critics. 
According to Box Office Mojo, it was a total flop, grossing around $89 million worldwide against an $82 million budget. Many critics slammed the film for lacking substance over style. Scoring a low 23 percent on Rotten Tomatoes, the site's general consensus read: "It's technically impressive and loaded with eye-catching images, but without characters or a plot to support them, all of Sucker Punch's visual thrills are for naught." Meanwhile, others found fault with how the film portrays women and sexual abuse. The New York Times called it a "fantasia of misogyny" under the guise of a faux "feminist fable of empowerment."
For his part, director and co-screenwriter Zack Snyder defended the movie against the backlash, noting during an interview with Film School Rejects that it aimed to criticize sexist and misogynistic attitudes within the realm of geek culture. "I find it interesting, in a lot of ways, that this movie — of all the movies I've made — has been universally hated by fanboys," he said, adding, "It's like a fanboy indictment, in some ways. They can't have fun with the geek culture sexual hang ups."
We're glad to see that Emily Browning has been able to overcome the backlash against Sucker Punch by following up her starring role as Babydoll with a successful acting career and happy personal life — all on her own terms.