Jeff Lewis And Boyfriend Gage Edwards Call It Quits
Flipping Out star Jeff Lewis is single once again, as he and his partner, Gage Edward, have reportedly ended their relationship.
On an episode of his SiriusXM Radio Andy show, Jeff Lewis Live, Lewis announced to his listeners that he and Edward had parted ways. "This has been a long time coming," the famous interior designer and reality TV personality shared on Thursday, Jan. 30, 2019, as reported by Page Six. "We were in separate rooms a significant portion of last year, so it was kind of like a roommate situation."
Lewis revealed that Edward had officially moved out of their shared home the day before, though the two had apparently been having issues in their relationship back in 2018. Still, despite the pair weathering problems, Lewis admitted that he didn't realize just how bad their romance had gotten until he learned that Edward was searching for an apartment to move into on his own.
"For many, many, many months I was like, 'F**k it. It's happening. We're breaking up. It's a matter of time.' And I didn't help matters any at all," Lewis told listeners. He took some blame for how things ended between them, saying, "I didn't fight for the relationship. I didn't work for the relationship."
But Lewis and Edward didn't simply break up once they acknowledged that things were not working between them because they share a 2-year-old child together. Lewis and Edward welcomed daughter Monroe Christine via surrogate in October 2016 (via People). Opening up about how their role as parents influenced the way they handled their relationship, Lewis stated, "I think the reason we hadn't ripped the Band-Aid off and separated is because we had the baby and neither one of us want to leave the baby." Plus, Lewis noted, they weren't in the best financial situation, as he has three houses under construction.
And, making matters more confusing, was the apparent fact that Lewis and Edward were still intimate. Likening him and Edward to being "friends with benefits," Lewis shared that they would "hook up, inconsistently," leaving him to believe that maybe their relationship could continue on.
But, as we now know, that just wasn't the case.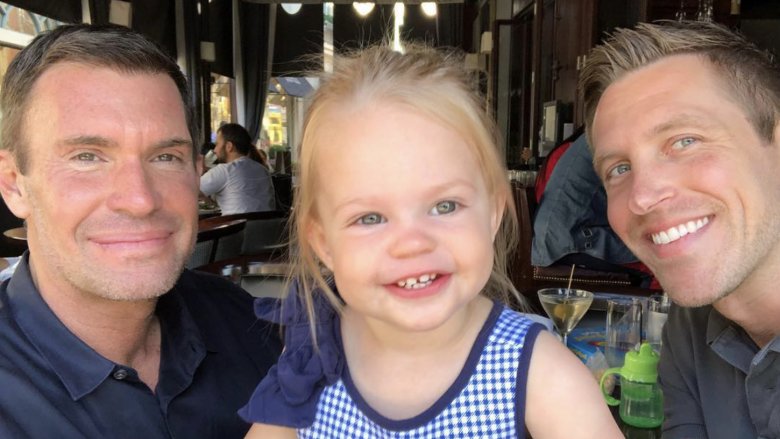 Instagram
So, where does Lewis and Edward's split leave baby Monroe? While Lewis did not reveal just how he and his ex will share custody of their daughter, a source told Us Weekly that, at the moment, she is living with Lewis, but Edward is allowed to see Monroe "anytime he wants."
The insider noted that Lewis and Edward, who were together for eight years, have "never fought in front of Monroe," as they're concerned about her long-term well-being. "She has been completely unaware of any tension between her parents," the source stated. "She is at such a young age to truly realize what is going on, which is also helpful. They are both fantastic parents [and are] completely devoted to their daughter."
And who knows what the future holds? Lewis and Edward could wind up getting back together — or, at least, Lewis seems to think it's possible. "I'm hoping that the guy wakes up," he said on his radio show, regarding Edward moving out, as reported by People. "I'm hoping that he sits in his hotel room, misses his family, starts focusing on the positive, and stops focusing on the negative. That's what I'm really hoping."
He later added that, according to his therapist, he and Edward would have to disregard their years-long relationship should they want to try to make things work between them and instead start fresh. "If this happens, I'm kind of excited about this courting process," Lewis admitted.
There's likely plenty of opportunities for Lewis and Edward to reconnect. Not only are they parents to little Monroe, but they're also both the targets of a lawsuit that stems from the day their daughter was brought into the world. The couple's surrogate, Alexandra Trent, sued them for causing her "incredible anguish, self-loathing, contempt and depression," as Variety reported in June 2018. In her lawsuit, she reportedly cited that they'd filmed her vagina without her permission for an episode of Flipping Out that had shared Monroe's birth and had made "disgusting" comments about her.
Trent reportedly "seeks damages for unlawful recording, invasion of privacy and fraud."
So yeah... Lewis and Edward might have to be around each other to deal with the lawsuit, especially if it goes to trial, as it reportedly will (via People). Maybe love can spring in court?