Adam Levine's Tank Top Sparks Criticism From Super Bowl Viewers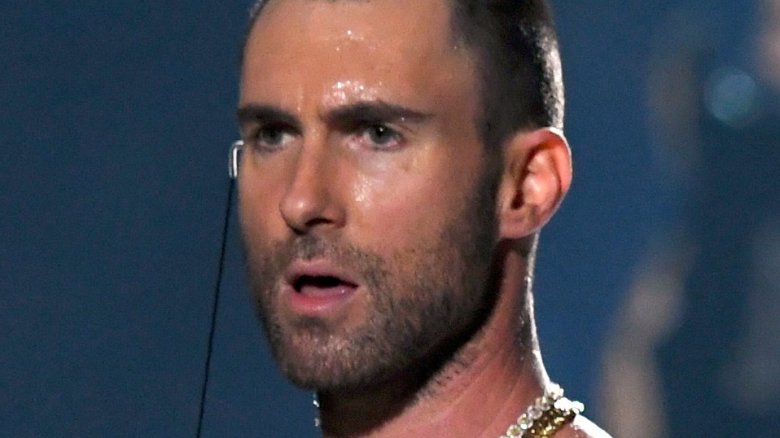 Getty Images
Maroon 5 frontman Adam Levine left some fans scratching their heads after he made a quick wardrobe change during the Super Bowl halftime show.
Toward the end of his band's halftime show performance at Super Bowl LIII on Sunday, Feb. 3, 2019, Levine took off his black jacket and revealed a brown '70s-style tank top. And, well, Twitter was not here for it, with many users bashing the outfit decision. "But like who helped Adam Levine pick out that tank top because they should be fired," one social media user posted. Another user tweeted, "My biggest issue with this half time performance is Adam Levine's tank top."
At least one person even called out Levine for his chunky gold necklace, asking Twitter, "What's more distracting? Adam Levine's necklace or tank top?" Yikes. Not exactly the comments Levine likely expected to hear regarding his on-stage wardrobe.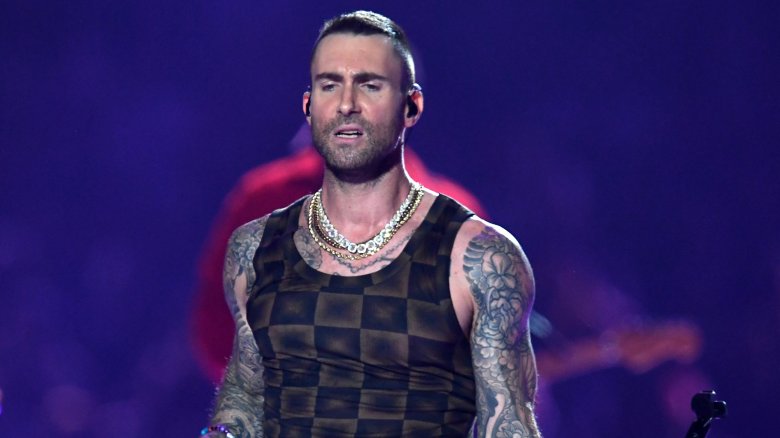 Getty Images
While some thought that Levine's tank was better than the tracksuits he sometimes wears when coaching on The Voice, others simply called out his shirt for looking like, well, furniture fabric. "Adam Levine's tank top looks like my futon," one person tweeted, posting a side-by-side of Levine's outfit and his futon, which did indeed look like the singer's top.
But Twitter, of course, wasn't the only social media platform where fans were going on about Levine's tank top. On Facebook, fans compared the shirt to various pieces of geometric-patterned home accents — specifically, pillows. "When Adam Levine matches your throw pillows during the Superbowl [sic] halftime show!" one person wrote, holding up their pillow next to the TV screen, on which Levine was shown. Another posted, "When Adam Levine is wearing your throw pillow," adding, "I'm dead."
According to HuffPost, at least one person compared their curtains to Levine's tank top. So, obviously, the pattern on his shirt must be popular in the home decor game.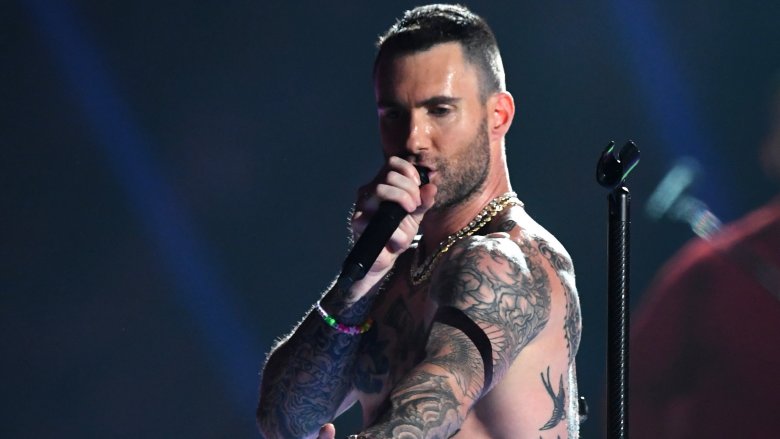 Getty Images
For all the complaints and jokes that social media users lobbied against Levine for his tank top, you'd think he showed off the shirt for more than a couple of minutes. But, in reality, he stripped of that top off after singing Maroon 5's hit song "Sugar." For the group's next performance of "Moves Like Jagger," Levine sang shirtless, showing off his tattooed chest.
While some Super Bowl viewers were pleased with Levine's unexpected show of skin, others thought that his move to perform shirtless was a direct contradiction to the National Football League's previous condemnation of singer Janet Jackson's infamous nip slip during her 2004 halftime show performance. The potentially accidental reveal of her breast led to her being blacklisted from the radio as well as from TV stations (via Rolling Stone). As noted by People, CBS was the network that aired the Super Bowl in 2004 and was also the network that broadcast this year's Super Bowl.
Actress Rosie Perez tweeted out, "Okay. Hold up. Are they going to go in and penalize #AdamLevine for showing his t*ts like they did @JanetJackson ? Just asking. @SuperBowl."
ESPN host Katie Nolan posted, "Super Bowl halftime nipple rules feel inconsistent."
Former The Talk co-host Aisha Tyler tweeted, "Why is it okay to see Adam [Levine's] boobs and not Janet Jackson's? Asking for a friend."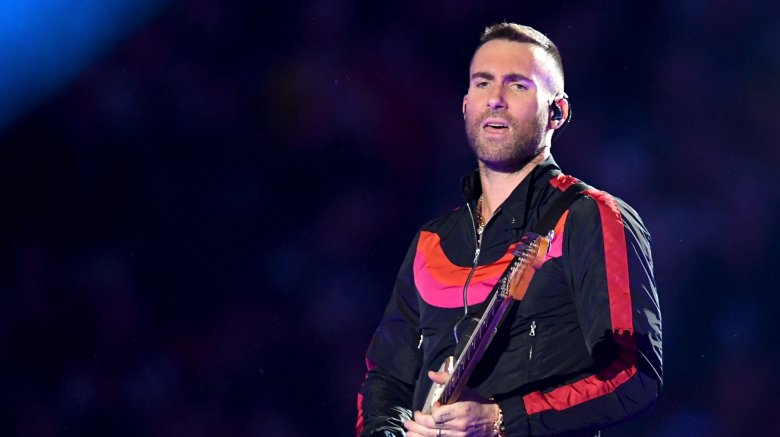 Getty Images
Adam Levine should be used to criticism by now, as he faced backlash after signing on to headline the halftime show. Many people were upset that he agreed to do the show, given how the NFL has treated football player and activist Colin Kaepernick, who peacefully protested police brutality of African Americans by taking a knee during performances of the National Anthem. As noted by NBC News, Kaepernick has accused the NFL of having "colluded to keep him out of the league."
The NFL also launched a new policy in May 2018, fining teams whose players don't stand for the National Anthem. According to The Washington Post, the policy was paused that July.
Due to the NFL's actions, some celebrities, reportedly including Rihanna (via Us Weekly), took a stand against the organization by declining offers to perform at the halftime show. Many others flat-out refused to watch the game, as reported by The Washington Post.
In an interview with Entertainment Tonight days before the Super Bowl, Levine shared that he'd thought a lot about taking the opportunity of performing at the halftime show. "No one thought about it more than I did," he said. "No one put more thought and love into this than I did. ... I spoke to many people, most importantly though, I silenced all the noise and listened to myself, and made my decision about how I felt."
Since performing at the Super Bowl, Levine has spoken out about the criticism he's faced, taking to Instagram to share photos from the show, featuring lanterns that spelled the words "one" and "love."
"When we accepted the responsibility to perform at the SBHTS, I took out my pen and just wrote. Some of the words that came to me in that moment eventually made their way onto the incredible lanterns that flew high and low tonight," he wrote in a lengthy caption. "We thank the universe for this historic opportunity to play on the world's biggest stage. We thank our fans for making our dreams possible. And we thank our critics for always pushing us to do better. One Love."
Whether those "critics" he noted had pushed him to consider the protests of others, reevaluate a show which some deemed "boring," or simply to change stylists, well... we'll let you be the judge.