Demi Lovato Deletes Twitter Following 21 Savage Controversy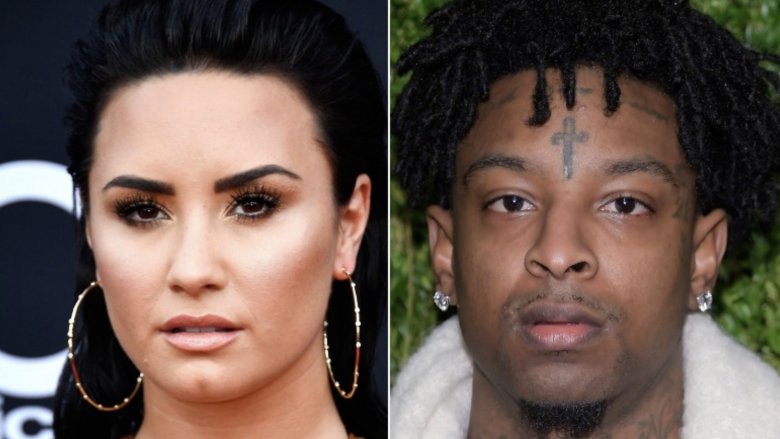 Getty Images
Singer Demi Lovato has said goodbye to Twitter after she faced backlash for posts about rapper 21 Savage, who was reportedly detained by Immigration and Customs Enforcement (ICE) for an expired visa.
Lovato deleted her Twitter account after she was criticized for tweeting on Sunday, Feb. 3, 2019, "So far 21 savage memes have been my favorite part of the Super Bowl," as reported by E! News. Many, including rapper Offset, spoke out in response, drawing attention to the frightening experience that Savage is likely going through. "ALL THE MEMES AND S**T AINT FUNNY WHEN SOMEBODY GOING THROUGH SOME," Offset tweeted out. "PRAYING FOR MY DAWG." He further said that the situation isn't "funny," especially since Savage's family is "depending on him."  
Lovato, who suffered an apparent overdose in July 2018, reportedly responded to people's angry tweets, writing, "If you're gonna come at me for making a joke, try coming at me with some original not involving drugs." She added, "F**k Twitter. This is why I don't tweet anymore."
The "Cool for the Summer" artist noted that she was laughing at memes that had poked fun at Savage's surprise status as a citizen of the United Kingdom — a fact that many did not realize prior to his detainment. She shared a picture of a person writing with ink and a feather pen with the caption, "This how 21 Savage be writing his verses." Lovato noted, "FYI this is the s**t I'm laughing at...not the fact that anyone is getting deported."
On Instagram, Lovato called out people leaving hateful messages about her addiction and explained that she wasn't trying to make fun of Savage for being detained. "Wasn't laughing at anyone getting deported. I know that's not a joke...not have I EVER laughed at that," she wrote in her Instagram Stories to her 70.9 million followers. "The meme I posted/was talking about was of him ... writing with a feather pen. Sorry if I offended anyone." She went on, "But it's no excuse to laugh at someone's addiction, let alone their OD."
In another post, she continued, "Lastly, I wasn't making fun on anything having to do with deportation or even anything against him. I was laughing at who the f**k knew 21 was British? Literally no one. That's it. It doesn't go deeper than that. I'm sorry if I upset people truly."
As NBC News reported, 21 Savage, whose real name is Sha Yaa Bin Abraham-Joseph, was arrested on Feb. 3. in a "targeted operation" by ICE. ICE spokesman Bryan Cox told NBC News that Savage was an "unlawfully present United Kingdom national," whose visa had allegedly expired in 2006 — a year after he reportedly entered the United States.