A Look At Rachel Zegler And Josh Andrés Rivera's Real-Life Romance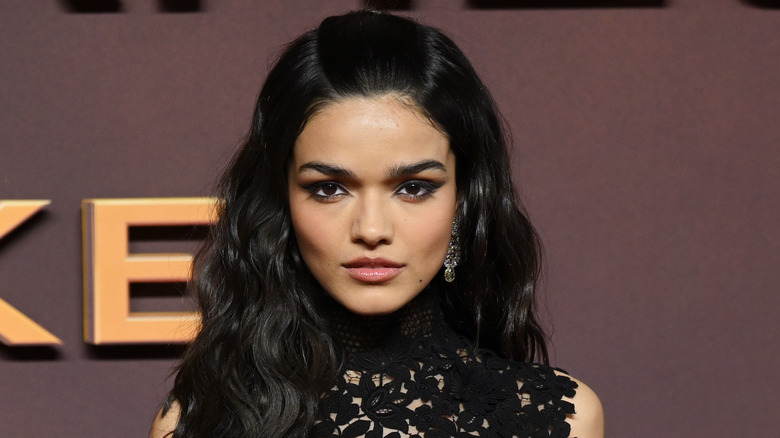 Karwai Tang/Getty Images
It's a love story that's practically oozing movie magic charm. Rachel Zegler and Josh Andrés Rivera first sparked a romance on the set of "West Side Story," although they didn't play each other's love interest. In 2019, Rivera was cast as the guy that Zegler's character had no interest in because she was in love with someone else. Although their love story on-screen didn't pan out, it did happen in real life.
While gearing up to promote the film, Zegler and Rivera began raising suspicion about a potential romance. It all started when the actor tweeted her admiration for her "West Side Story" co-star. She wrote, "I love josh andres rivera." Zegler shared photos of her and Rivera looking like a perfect couple in another tweet. The two continued to tease the potential relationship when they celebrated Christmas with one another in 2021. Zegler shared snaps from the fun-filled holiday to social media with the caption, "Spending christmas eve with a man i have never met before, maybe you know him, he seems pretty cool — like he could be the love child of iron man and john wick, idk though." 
It seemed all but confirmed that Zegler and Rivera had a romance blossoming, but it wouldn't be until Valentine's Day 2022 that the two would make it Instagram official. Since then, they have been attached at the hip, and it's been over four years since their romance first sparked as the couple's relationship continues to skyrocket.
Josh Andrés Rivera has helped Rachel Zegler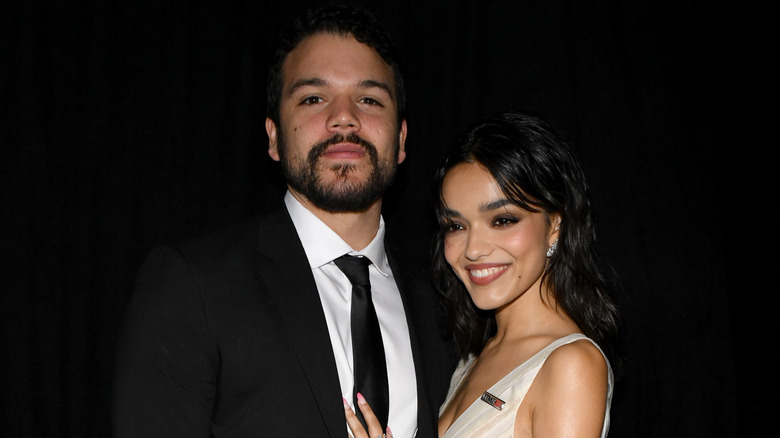 Craig Barritt/Getty Images
Rachel Zegler only has three acting credits to her name on IMDb, but that hasn't stopped her from catapulting to stardom. Zegler was one of 30,000 applicants to audition for the coveted role of Maria in "West Side Story," and her talent landed her the job. Appearing in the film completely changed her life, but she remains humble throughout it all. She shared with Allure, "I never imagined any of this happening in my life. So my prep is reminding myself who I once was, and that was a girl singing show tunes in her bedroom ... And I haven't forgotten her ever since." Although she has been able to guide her way through fame, Zegler admits that she hasn't done it on her own.
Josh Andrés Rivera, Zegler's boyfriend, has been there from the start of her acting journey and has been at her side throughout her newfound fame. She told Elle, "There's always this deep understanding of what I go through. Since [his experience was] on a different scale, he's able to bring me back to earth and tell me when it really doesn't matter." Zegler admits that when she gets caught up in the online chatter, Rivera will be her reality check to snap her out of it. Being in the acting world himself, Rivera understands what Zegler goes through and is there for her whenever she needs him.
Rachel Zegler and Josh Andrés Rivera have worked together twice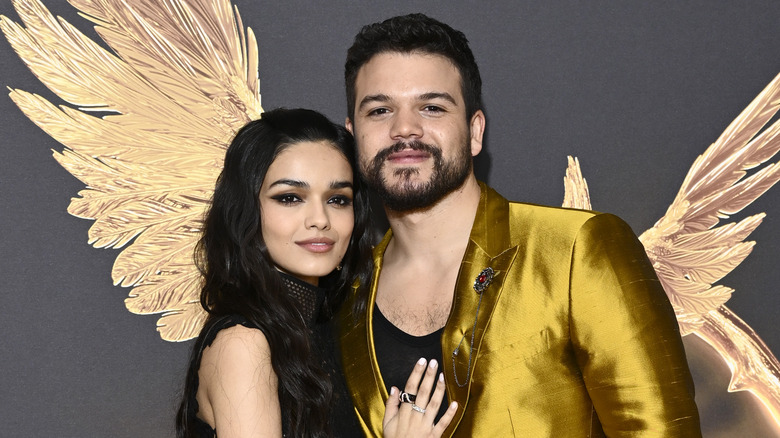 Gareth Cattermole/Getty Images
They say never mix business with pleasure, but it works just fine for Rachel Zegler and Josh Andrés Rivera. Zegler and Rivera met on "West Side Story," but that wasn't the last time the couple would work together. The two crossed paths again for the upcoming "Hunger Games" prequel, "The Ballad of Songbirds & Snakes." In the film, Zegler plays Lucy Gray Baird, a young Coriolanus Snow's love interest, and Rivera stars as Snow's close friend, Sejanus Plinth.
Zegler and Rivera had the time of their lives working together. Zegler told People, "Having a familiar face on any set, I think any young actor can attest, is the biggest form of comfort." But besides it being comforting to the "West Side Story" actor, it has also been exciting to see her boyfriend's career take off. She shared, "And also as [Rivera's] girlfriend, his friend, and his coworker, it's amazing to see the trajectory of his career, and to witness his rise to stardom. I love him so much."
Rivera also felt a sense of comfort with Zegler and even revealed the two would meet after a day on set. He explained, "We have debriefs at the end of the day and we talk about it ... It was nice. We were good support for one another." So, whether on-screen or off, Zegler and Rivera form the perfect partnership.