Cardi B Suffered A Wardrobe Malfunction On Grammys Stage But No One Noticed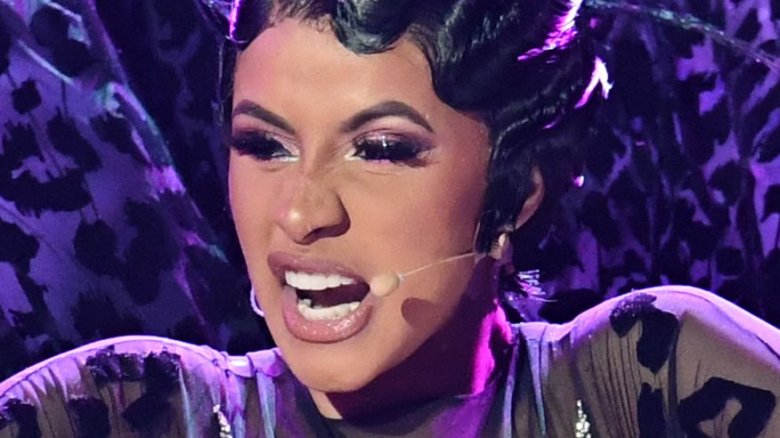 Getty Images
Rapper Cardi B's performance at the 2019 Grammys was a show-stopper, but it didn't exactly go off without a hitch.
On Sunday, Feb. 10, 2019, Cardi B took to the Grammys stage to perform her song "Money." With well over a dozen women dancing along with her to the song and a talented pianist centerstage, there was a lot for audience members and fans watching along at home to take in. Which was certainly a good thing, considering that Cardi suffered a wardrobe malfunction mid-performance, as noted by StyleCaster. Because, well, no one seemed to notice.
While her backup dancers added a black feathered peacock-like piece to Cardi's on-stage ensemble, the former Love & Hip Hop reality TV star continued to rap, gesturing with arm movements while cameras focused closely on her. At this time, Cardi's spiked choker must have come loose. When Cardi spit, "Wakanda forever," referencing Marvel's hit superhero movie Black Panther, and threw her arms across her chest like an "X" just as the film's characters do in support of their homeland, her necklace came off. The jewelry fell to the floor as Cardi quickly uncrossed her arms, but Cardi didn't stop to pick it up. Instead, like the pro she is, she kept on rapping, walking across the stage to continue on with her performance.
And no one watching really seemed to see it happen, including Cardi's husband, Migos rapper Offset. According to Insider, Offset was spotted licking his lips during his wife's performance, so clearly he was entranced by Cardi's on-stage presence.
It's unclear if Cardi's necklace boasted real diamonds, as it appeared to, but, considering that the song was all about having expensive taste, we have a strong suspicion that the choker cost a pretty penny. Hopefully, Cardi or a member of her team was able to snag the necklace from the Grammys stage floor after her performance. Wouldn't want to leave that behind!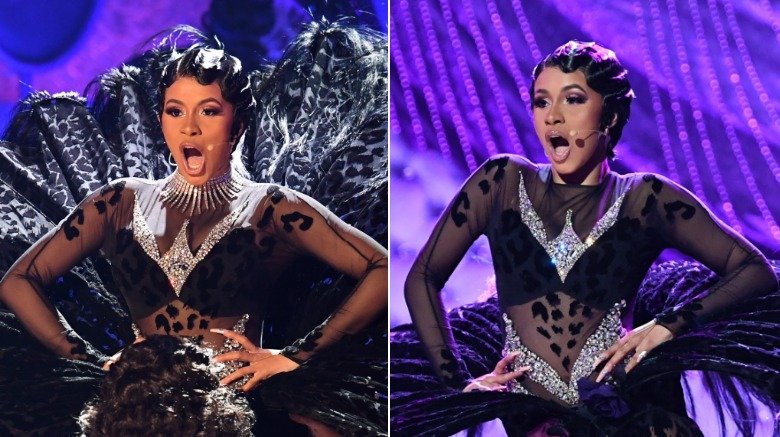 Getty Images
If Cardi had been thinking about her wardrobe malfunction after her performance, we doubt she had it on her mind for too long. Later on during the 61st Annual Grammy Awards, the 26-year-old won the award for best rap album for her 2018 LP, Invasion of Privacy, making history as the first female solo artist to win that category. The win also marked her first-ever Grammy. While accepting the award, Cardi appeared flustered, telling the crowd, "Ooh. The nerves are so bad." She joked, "Maybe I need to start smoking weed!"
Unfortunately, not everyone was too pleased by Cardi's win, as she beat out late rapper Mac Miller, who passed away from "mixed drug toxicity" in September 2018. Pop star Ariana Grande, who'd dated Miller, lamented on Twitter that the Recording Academy shouldn't have invited Miller's family to the event just so they could watch him lose, as reported by Complex. She noted that her feelings had "nothing to do" with Cardi, but thought that it was "trash" that Miller didn't win.
Cardi talked about her album's Grammy win over Miller's Swimming in a video on her Instagram page, as People magazine reported. "I read an article that Mac Miller's family said that if he don't win, they want me to win so I'm sharing this Grammy with you motherf***er. Rest in peace."
But sadly for Cardi, her acknowledgement of Mac Miller and his family apparently wasn't enough to satisfy upset music fans. The "Bodak Yellow" artist deactivated her Instagram account after people criticized her for receiving the Grammy (via People). Before she quit the social media platform, Cardi reportedly went on a rant, saying in a video, "It's not my style for people to put other people down to uplift somebody else." She explained that she was "being dragged" by people after her big win.
"I've been taking a lot of s*** today," she told her followers. "I'm seeing a lot of bulls*** today and I saw a lot of s***  last night, and I'm sick of this s***. I work hard for my motherf****** album."
Poor Cardi. We hope she's able to put aside all the hate and just enjoy this moment of major career success. And celebrate daughter Kulture learning to say, "Mama," as she did after the Grammys (via E! News). With her big win and her kiddo starting to talk, we doubt Cardi B even remembers her Grammys wardrobe malfunction — or what her haters have to say.