Cindy Lou From The Grinch Is Now 25 And Gorgeous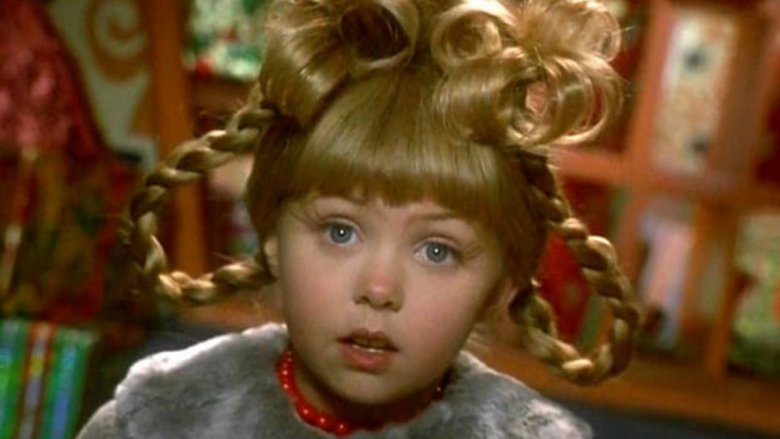 The 2000 film adaptation of Dr. Seuss' classic book How the Grinch Stole Christmas! tells the tale of a scandalous anti-Santa, who attempts to sabotage Christmas in Whoville until he's thwarted by the angelic Cindy Lou Who. The actress behind the character who helps convert the Grinch into a holiday hero was Taylor Momsen. And if you think the Grinch pulled an impressive one-eighty, just wait until you see how Momsen transformed over the years in real life.
Of course, everyone grows up and their features mature, but Momsen, who snagged the role of Cindy Lou Who at just seven years old, grew up to look nothing like the cherub-faced villager whose hairdo seemed to be inspired by a pretzel that came out of a soft-serve ice cream machine. And even though the reviews for the film were something of a mixed bag, for Momsen, the role was the perfect storm of exposure for a child star. Momsen essentially walked into a beloved classic with which millions were already familiar and got to chew up scenery with the film's enigmatic and then-unstoppable star, Jim Carrey, who played the Grinch. It's no wonder that by the time she was barely into adolescence, and with several more film credits on her resume, she was ready for a decidedly grown-up starring role on The CW's teen drama Gossip Girl.
Momsen played budding fashion designer/drug dealer Jenny Humphrey in the long-running series about a gossip blogger who terrorizes the tony ranks of Manhattan's boarding school elite. Although she logged an impressive 66 episodes and created an arguably iconic character while she was at it, Momsen's experience with the show effectively ended her acting career forever.
Speaking with The Daily Beast in March 2014 of her 2011 exit from the show to pursue her true passion, music, Momsen said, "I started modeling at 2, and then acting at 3, and then Gossip Girl when I was 12, so I wasn't really making my own decisions ... When I got to a place where I realized I was in control of my own life, and had found the right band, and everything was coming to fruition, it wasn't even a question: I was going to quit my day job. I came to set every day with a f***in' guitar. But I'm very lucky that the producers were nice enough to write me out, allow me to tour, and pursue my passion, because they very easily could have told me to go f**k myself and keep me on the show."
She was less diplomatic about the show a few months later in an interview with Riverfront Times that was intended to promote the tour of her band, The Pretty Reckless. "I'm not looking to go back to [acting]," Momsen said, adding, "Gossip Girl was a great experience, and it helped in one way and hurt in another, but it feels like forever ago. I've been around the world 7 billion times since then, and when we go to shows, the fans don't give a f**k about the TV show."
Momsen's attitude toward acting isn't the only thing that's evolved over the years. The gorgeous blonde replaced the lively Christmas pajamas from How the Grinch Stole Christmas! with a dark, rock-goth look that even seeped its way into Jenny Humphrey's wardrobe in that later seasons of Gossip Girl. Paired with her now-signature raccoon-eye mascara, Momsen may seem like she's trying to eschew traditional standard of beauty, but she doesn't see it that way. 
Speaking with Indie in 2017, Momsen said, "I'm sure there is a standard of a modern paradigm of what people consider beautiful. But I think originality and honesty is beautiful. So if you're being yourself in whatever incarnation that is, being honest and true to yourself that's the best and most beautiful person you can be. If you try to emulate anything then you're already not being true to yourself. The only way to figure out who you are is to go through all these incarnations."
Style tips aside, Momsen and The Pretty Reckless made history as "the first act to send its first four entries to No. 1 on Billboard's Mainstream Rock Songs airplay chart," putting them side-by side with musical peers like The Black Crowes, Collective Soul, and Three Days Grace.
Now, that's the kind of realization of one's dreams that could make any Grinch's heart grow three sizes. Rock on, grown-up Cindy Lou.