Lady Gaga Helped Rami Malek Avoid Oscars Wardrobe Malfunction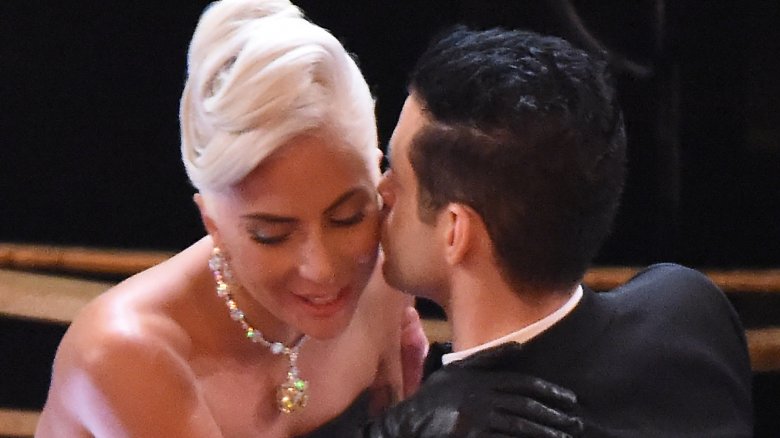 Getty Images
Singer Lady Gaga offered a hand to actor Rami Malek during the Oscars, helping him perfect his wardrobe.
At the 91st Academy Awards on Sunday, Feb. 24, 2019, Gaga lent help to her fellow Oscar nominee when she noticed that his bowtie was crooked, as reported by Refinery29. The publication added that Gaga fixed Malek's tie and afterwards gave the Mr. Robot star a thumbs up. The moment was particularly noteworthy considering Gaga fixed Malek's tie while wearing black elbow-length gloves. How glam!
Gaga, 32, and Malek, 37, were also spotted embracing, as Malek appeared to closely say something into Gaga's ear (via Mashable). According to E! News, this sweet moment occurred before the Oscars ceremony officially started when guests were still taking their seats at the grand event.
While Gaga and Malek's interaction at Hollywood's Dolby Theatre was seemingly small in the grand scheme of the night's events, fans tracking the Oscars at home were overjoyed at the simple niceties exchanged between the celebs. "Lady Gaga fixed Rami Malek's tie on the red carpet and it's too wholesome," one Twitter user wrote. Another social media user tweeted, "Lady Gaga fixing Rami Malek's tie and giving him a thumbs up at the #Oscars was such a cute moment. She's so pure."
As Refinery29 pointed out, it's refreshing to see A-listers interacting with one another in such a simple, kind way, as it's a reminder that they're "just like us," despite their celebrity status. Gaga straightening Malek's tie is also a reminder that there's a lot viewers at home may not see happening at the event. After all, it'd be near impossible to capture all the interactions between celebs at the high-profile event.
While we're sure Malek was thankful to Gaga for helping him neaten up his outfit, we bet that his tie would have been adjusted eventually during the night. After all, Malek attended the Oscars with his girlfriend, Lucy Boynton, with whom he starred in one of 2018's top films, Bohemian Rhapsody.
And though for most people having Lady Gaga help them with their outfit would make for a highlight of the evening, we wouldn't be surprised if we learned that Malek doesn't even fully remember their interaction, considering how he won big that night. Malek took home the coveted Oscar for best actor in a leading role for his portrayal of Freddie Mercury in Bohemian Rhapsody. We're sure that was a "pinch me" moment!
And Gaga certainly had enough going on to keep herself occupied, as well. While she might not have won the award for best actress in a leading role for playing Ally in A Star Is Born, she did have quite the night. Gaga — who attended the Oscars with her manager, Bobby Campbell, following her breakup with fiancé Christian Carino — won best original song with Mark Ronson, Anthony Rossomando, and Andrew Wyatt for her performance of "Shallow." She also performed that song live with her co-star Bradley Cooper during the night in what was, we'd assume, one of the most memorable moments of her professional life.
It's just too bad that Lady Gaga wasn't around when Rami Malek reportedly fell after the Oscars ended, according to USA Today. Malek, with his Oscar for best actor in hand, reportedly fell on the stage stairs and was helped up by people nearby. Malek was seen being treated by EMTs in the front row before being moved to a backstage area, though he didn't appear to be seriously injured (via People). Orange cones were reportedly positioned around the edge of the Oscars stage after the incident.
Malek's fall could be why he wasn't around right away to pose with the best actress, best supporting actress, and best supporting actor winners, Olivia Colman, Regina King, and Mahershala Ali, according to People. However, he did later take photos with the actors, as is Oscar tradition.
As noted by USA Today, Malek was later spotted in the engraving room at the Governors Ball, having his name etched into his award and popping open a bottle of champagne, which he reportedly sprayed "all over the room." So clearly, despite any minor injuries he may have sustained in his fall, Malek was feeling no pain.
Congratulations to both Rami Malek and Lady Gaga on their Oscars! We can't wait to see more work from them in the future and more adorable interactions between them at other Hollywood events.