Internet Explodes Over Lady Gaga And Bradley Cooper's Performance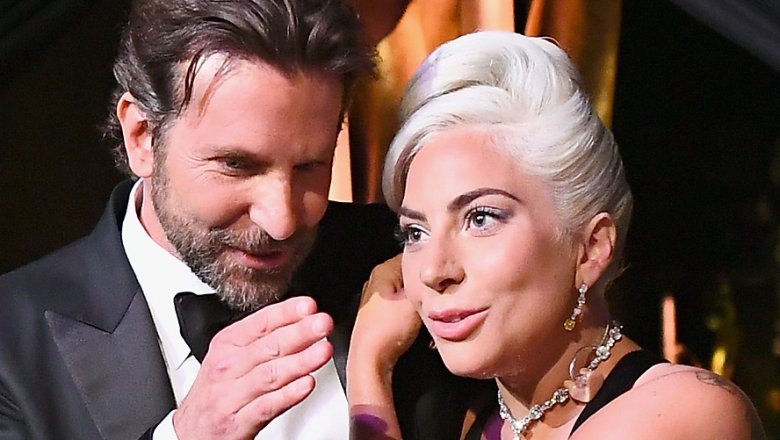 Getty Images
Lady Gaga and Bradley Cooper really brought the heat to the 91st Academy Awards on Sunday, Feb. 24, 2019.
The two celebrities took the Oscars stage to perform "Shallow" from their movie, A Star Is Born. Gaga led Cooper to a piano by hand, where they sang facing one another and Gaga played the ivories. Later in the song, Cooper joined Gaga at the piano, where they shared a mic, belting out the song's passionate lyrics together, eyes closed and cheeks brushing. As was no surprise, Gaga, 32, and Cooper, 44, received a standing ovation from the crowd following their performance.
And, as could be expected from the two celebs, who played lovers in the film, their performance made some viewers feel super emotional ... and apparently made some feel serious heat between the stars. "Raise your hand if you thought Lady Gaga and Bradley Cooper were about to make out," one social media user posted. Another person tweeted, "Okay, Lady Gaga and Bradley Cooper's performance was gorgeous. I've tried to resist the allure but god damn it. That was HOT."
Another tweet read, "And with those opening notes, Lady Gaga is now expecting Bradley Cooper's child."
Celebs even got in on the Gaga-Cooper talk online, with Pretty Little Liars star Lucy Hale tweeting out, "I wish anyone would look at me the way Bradley does at Gaga. Hot damn." Same, Lucy.
According to People, Gaga and Cooper retired to backstage after their performance, where the two embraced and were applauded. "Did I nail it?" Gaga reportedly asked. She's also said to have told Cooper, "I'm so f***ing proud of you!" They then quickly returned to their seats during the commercial break following their performance, and they were given another standing ovation from the audience, who, presumably, also felt the heat between the A Star Is Born co-stars.
But don't go thinking that Gaga and Cooper's on-stage chemistry is going to lead the two into a romance. While Gaga may currently be single after calling off her engagement from Christian Carino (via Just Jared), Cooper is, by all accounts, in a happy relationship with model Irina Shayk, with whom he shares a daughter. And Shayk doesn't appear to be threatened by Gaga's working relationship with Cooper, as, after the two celebs performed "Shallow," Shayk, 33, was reportedly among one of the first people in the audience to stand up and clap for the pair, as noted by People.
When Gaga and Cooper returned to their seats, Shayk hugged and kissed her longtime boyfriend and also congratulated Gaga. Shayk and Gaga were also seen laughing together and hugging during the night, as reported by Cosmopolitan. Clearly, there appears to be no weird feelings between them. So, Shayk likely understands that the chemistry between Gaga and Cooper is just for the big screen and for stage appearances — and that no sparks are flying in real life.
Gaga even commented on speculation that a romance could ever blossom with Cooper when speaking with radio shock jock Howard Stern back in October 2016, before A Star Is Born had started filming. "Absolutely not!" Gaga told Stern when asked if she and Cooper might get together in real life, as reported by Entertainment Tonight. "I already love everyone and the idea is, if you really love somebody, you put the most important thing first and that is the film." She continued, "The truth is, what's most important to me is that we tell a story that touches the hearts of millions of people that come to see it."
Of course, Gaga and Cooper seem to have become great friends since filming A Star Is Born, which Cooper also directed. "I don't know that I've ever had a closer artistic relationship than I have had with Bradley, a closer exchange," Gaga said at the Toronto Film Festival (via Elle). "It meant a lot to me, and I think to both of us, that at the beginning of making this film we kind of shook hands literally and he said, 'You are an actress.' I said to him, 'You are a musician.'"
While accepting the Oscar for best original song on Feb. 24, Gaga singled out Cooper, telling him, "There's not a single person on the planet that could have sang this song with me but you" (via CNN). Obviously, Gaga and Cooper were meant to be when it came down to one Hollywood movie, but they're just good pals in their personal lives. Hopefully their artistic connection can fuel other projects in the future!