Stars Who Fell Off The Stage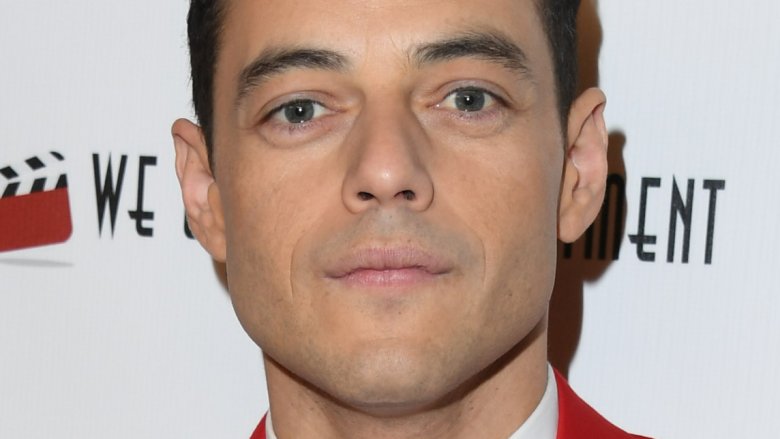 Getty Images
Stage-diving is a rock-and-roll rite of passage. Arguably the master of the art form is Pearl Jam frontman Eddie Vedder, who once told American Masters of the perilous body endangerment he endured for his fans, "We're gonna take this to some level that people aren't gonna forget. If that means risking your life, we're gonna do it." Well, the other celebs on this list didn't have such lofty (or perhaps reckless) intentions. Not by a long shot.
Instead, this hapless grouping finds itself assembled thanks to one shared trait: clumsiness. From Rami Malek's 2019 Oscars tumble, to Madonna's 2015 BRIT Awards cape malfunction, to just a handful of times when flossing gave way to a free fall, these performers simply fell off the stage. Let's revisit their big time blunders while finally answering the question every concert goer has pondered at least once: Why is that ambulance parked right next to the stage?
That's gonna be an ouch from me, dawg
After her surprising exit from American Idol in 2009, singer turned reality TV judge Paula Abdul didn't generate many headlines. Then, in October 2018, Abdul went viral for all the wrong reasons when she took two steps forward ... right off the stage during a concert at Hard Rock Live in Biloxi, Mississippi. Although MC Skat Kat was not there to catch her, Abdul shook the tumble off like a pro.
According to People, a fan in attendance said the "Opposites Attract" singer reassured the crowd that "she was a dancer, and falls and drops she has gotten used to over the years." The fan added, "She did not seem hurt at the time of the fall and still finished like a champ." Is anyone else imagining Simon Cowell rolling his eyes right now and saying, "Have your feet met? Well, you should introduce them, because they don't seem to work very well together."
Abdul never publicly commented on the flubbed footwork, although her rep confirmed to NBC News that she did "continue the show" and that she was "excited to continue the tour!" And that's why she's forever our girl.
Another Academy Award-winner bites the dust
After winning an historic award for Best Actor in a Leading Role for his performance as Freddie Mercury in the Queen biopic Bohemian Rhapsody, Rami Malek did what any good showman would do: He gave the audience an encore. Unfortunately, that came in the form of him tumbling off the stage of the 91st Academy Awards and into the front row, according to Cosmopolitan. And he would have gotten away with it, too, if it wasn't for that pesky internet.
You see, The Oscars telecast somehow missed Malek's fall, which was immediately followed by a check from a standby medic, at which point the shiny new Academy Award-winner reportedly "[pulled] a funny face, kiss[ed] the nice medic on the cheek, [and was] sent on his way." Thankfully, Malek seemed fine, and, as of this writing, has not commented on the fall. However, he previously told the crowd at Cinemacon in April 2018 (via People) of a different kind of danger associated with the award-winning role. "I thought, 'Oh my God, this could be a career-defining performance.' And about two minutes later I thought, This could be a career killer." Seems like he walked away from both in the best possible way.
Madonna should count her lucky stars on this one
Pop diva Madonna's fall from the stage during the 2015 BRIT Awards is more accurately described as her being yanked backwards by her neck thanks to a terrifying wardrobe malfunction. And if you think that description is a bit dramatic, click play above. We'll wait.
Ouch, right? The moment went viral, leaving Madge to defend herself in the aftermath of the glitchy garb. Speaking with British talk show host Jonathan Ross, the "Material Girl" singer explained that a last minute change to her stage direction required a "really tight" on her cape strings. When it was time for her dramatic de-caping, the knot wouldn't budge, but the dancers pulling the cape away didn't know that. When they pulled, Madonna said they "basically strangled me off the stage."
She went on to describe the incident as "a horror show," lamenting how her usually polished stage presence was marred by the mistake. Ultimately, she got away relatively unscathed, suffering only "a little bit of a whiplash" from "smack[ing] the back of [her] head." Ross then cited wide speculation that the whole thing was "a stunt," citing the song's eerily paired lyrics, including the lines "Took me to heaven and let me fall down / Now that it's over I'm gonna carry on / Lifted me up and watch me stumble."  
Madonna laughed off the suggestion, but acknowledged the coincidence: "The universe was, I dunno, trying to teach me a lesson, I guess."
Luke Bryan did not learn his lesson
2014 was a rough year for country music star Luke Bryan — at least in terms of gravity. The "Kick the Dust Up" crooner actually bit the dust not once, but twice that year, first in May at a Charlotte, N.C. show, then again in September at an Indiana gig, where he admirably made his unplanned plummet while trying to catch a beer behind his back.
Tragically, Bryan didn't seem to save the beverage, but he wasn't hurt, which we suppose is just as good of an outcome. He couldn't say the same for the May mishap, which resulted in him having to get a "few stitches," according to a Twitter update he kindly left for fans after getting doctored up. Brian O'Connell, an executive with the touring company that staged the show, Live Nation, also provided some helpful updates on Bryan after the fall, like a slightly gruesome photo of the singer's banged up legs. He followed that up with the this tongue-in-cheek plea to Bryan's fans: "Currently installing foam pit around thrust for tonight's @LukeBryanOnline show in DC, Pit fans, please catch him next time
." Seriously though, it's not a bad suggestion.
Now you see the Biebs, now you don't
Justin Bieber has fallen in shows and in public so many times there are multiple YouTube compilations documenting his tendency to take a tumble. But one of the most memorable (and frightening) times was when he fell through a trapdoor on stage in Saskatoon, Canada during a stop on his 2016 Purpose tour.
The "Sorry" singer seemed to be adjusting the shirt he had tied around his waist while he walked across the stage, apparently unaware that he was about to put his foot where nothing was. He then dropped like a principal in a dunk tank at a high school fair, complete with a thud that sounded like seriously bad news for Canada's finest musical export.
But then the Biebs emerged from below, unharmed and ready with jokes, according to People. "Good thing I'm like a cat and I landed on my feet," he said, adding, "That scared the f*** outta me." Us too, Justin. Us too.
Iggy Azalea goes down, and drags JLo with her
She may be so fancy, but Iggy Azalea's situational awareness could use some work. While performing during a pre-VMAs show in 2014, the "Mo Bounce" rapper proved she had a healthy dose of just that when she stepped backwards off the stage, fell into the crowd, and was hoisted back up, all without missing a rhyme. The only thing that would have been more impressive would have been if she, you know, remained vertical throughout the performance.
The good news is Azalea's sense of humor is apparently as healthy as her tuck-and-roll game, which she proved by posting a video of the unfortunately tacit trust fall to Instagram. The post is gone, but US Weekly reported the caption at the time as "Sorry but it would be a crime not to share this with you all, I know I laughed. #StillFinishedtheSongTho #KeptOnRapping #TheShowMustGoOn."
Azalea later blamed the blunder on her "Booty" collaborator Jennifer Lopez, telling ET that during a show they did together, her "microphone wasn't switched on." When Azalea quipped to Lopez, "At least I didn't fall over," Lopez reportedly said, "It'll happen to you one day." Azalea continued, "And then I invited her to watch that show and I fell off the stage! I was like, 'You're bad luck!'" How dare Jenny from the block forget to bring that two extra feet of floorboards with her?
Seems like someone needs to ... learn to fly
Foo Fighters frontman Dave Grohl is the undisputed champion of this list of falling famous folk for several reasons. First, he sustained one of the most serious injuries with his performance plunge: a broken leg. Yeah. Second, the fan-witnessed fracture happened during the band's June 2015 show in Gothenburg, Sweden, where, according to People, Grohl was patched up backstage, downed some whiskey, and returned to finish the show. Does it get anymore rockstar than that? We're glad you asked.
Four years later, Grohl kicked off 2019 by falling off the stage again during the band's first show of the year, according to Independent.ie. During a gig at the Hard Rock Hotel in Las Vegas, Grohl admirably attempted to drink a beer while playing a guitar solo. When that didn't work, he paused his shred session to slam a different beer, but then almost immediately fell off the stage right afterwards. However, we would like to point out that unlike his klutzy contemporary, Luke Bryan, Grohl prioritized that brewski over an attempt at flashy showmanship. Are the lyrics to the Foo Fighters smash hit song, "Hero," suddenly come into focus for anyone else right now?
Do not mess with Joe Perry — that's the lesson here
Steven Tyler gets a very close second to Dave Grohl thanks to the broken shoulder he suffered when he fell off the stage during a 2009 show in Sturgis, South Dakota. According to Reuters, the show was only half over when Tyler "stepped backward off a catwalk while performing 'Love in an Elevator.'" Unfortunately, the universe was apparently in more of a "Dream On" mood, and Tyler went down. In addition to the busted wing, the "Sweet Emotion" crooner also required "stitches in his head and back." It's unclear whether his usual onstage dance partner, a paisley scarf-clad microphone, was also injured.
But every great band gives an encore, right? Aerosmith is no different, and almost exactly one year later, while performing the same song, no less, Tyler exited the stage the wrong way again — face first into the crowd. This time, Tyler had an assist from guitarist Joe Perry. Speaking to interviewer Sam Roberts, Perry said he "hip-checked" Tyler, because of Tyler's annoying habit of "nudging" the other band members while they play dangerously close to the edge of the stage, which Tyler had allegedly just done to Perry in this instance. "I didn't want to hurt him," Perry said. Luckily, Tyler seemed fine and the show went on, but it sure seems like some of the emotions between these guys aren't so... sweet.
Teyana Taylor keeps on trucking no matter what
Singer Teyana Taylor is perhaps best known for another talent — dancing. Though she was already well-known at the time, her profile raised significantly after the scorching routine she performed for Kanye West's "Fade" video. But she somehow lost her step during a 2018 show at Playstation Theater in New York City. According to TMZ, the multi-hyphenate performer seemed to narrowly escape a horrific injury when her left foot slid off the stage, causing her right knee to seemingly "bend like no knee should ever bend." But Taylor channeled her inner Iggy Azalea and kept the show right on going.
The fall was the latest incident in a string of tour mishaps, which also included Taylor losing her wig onstage, and beefing with tour headliner Jeremih. Taylor, of course, treated the wig incident exactly like the fall by plowing right through it. She even shared a video the moment on Instagram with the caption, "No wig formed against me shall prosper ... WE ALL KEPT THAT SAMEEEEE ENERGY!!! Yesterday was tooo litttttttt!!!! The show must go on ALWAYS!!!!!" You can't argue with 19 exclamation points, right?
Del the Funky Homosapien got seriously funked up
The rap crew Gorillaz knows how to end a show — and we're not talking about a big finale. We're talking about emcee Del the Funky Homosapien vanishing into the void mid-verse, effectively truncating both the group's biggest song, "Clint Eastwood," as well as their overall set. According to Rolling Stone, Del took an untintentional dive during the band's "final song" at Denmark's Roskilde Festival. Announcing the abrupt wrap-up, bandmate Damon Albarn told the crowd, "Unfortunately, we've had a ... I don't know yet."
Albarn's uncertainty over Del's condition was later put to rest when Del tweeted the next day, "I'm doing alright but will be in the hospital for a bit, the care here is outstanding though. ... I'll be back soon yall."
So, just how serious was it? Del suffered "seven fractured ribs, and he punctured his lung on one side, lacerated it on the other," Albarn told Beats 1 (via Pitchfork) several days after the fall. He went on to say that he initially thought Del would bounce right back from the fall and be able to finish the show, but he quickly realized that wasn't the case. "It's an awful, awful thing that I can't quite believe," Albarn continued. One month later, Del told The Hype Magazine that he was still "basically bed-ridden," and that he recently "got a cat to help" with the lingering "trauma and anxiety." Yeesh.
The time Pink turned black and blue
For years, a big part of singer Pink's live show has been her dazzling trapeze act — the most notable example of which was her stunning aerial performance of "Glitter in the Air" at the Grammys in 2010. However, that same year, the "So What" singer had a truly scary moment when she was gearing up for a similar stunt during the Nuremberg, Germany stop on her Funhouse tour.
According to Rolling Stone, a miscommunication between Pink and her harness crew somehow occurred, even though she apparently signaled to stop. As a result, she was yanked offstage and into a barricade before she was properly secured into the safety device. Pink's mic picked up the audio of the aftermath, which included Pink pleading to be released from the harness and excoriating her safety handlers, asking, "Who the f*** was watching?" The most cringeworth part, however, came when she said, "I can't feel anything in my back."
Fortunately, her injuries weren't anywhere near as serious as that sounds. In fact, she even tweeted from the ambulance that she "will b fine," adding in a follow-up tweet, "nothings broken, no fluid in the lungs, just seriously sore. I made that barricade my b*tch!!!!"