The Real Reason Lady Gaga And Christian Carino Broke Up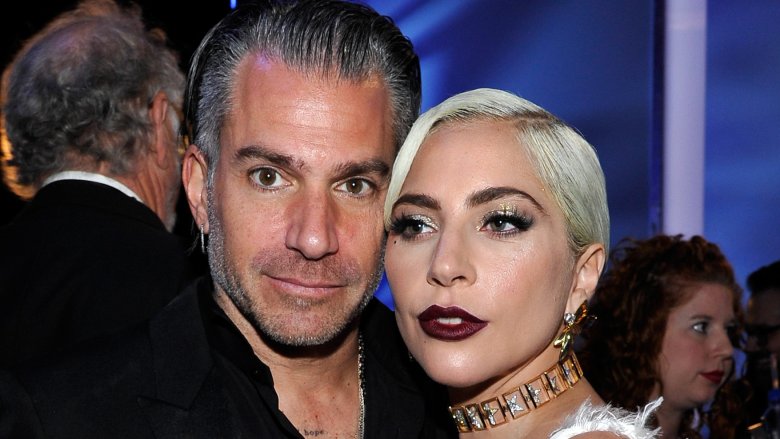 Getty Images
Lady Gaga fan or not, there's no denying that her career is on fire. Not only is the "Million Reasons" performer a bonafide superstar in the music scene, but she also slayed the 2019 award show season for her starring role in A Star Is Born. Lady Gaga — real name Stefani Germanotta — has become the first woman to win Oscar, Grammy, Golden Globe, and BAFTA awards in a single year. Dang. Mother Monster's love life, however, hasn't been as shiny. Less than a week before the 2019 Academy Awards, Gaga and her fiancé, talent agent Christian Carino, called it quits. The breakup — which took many people by surprise — came two years after the pair started dating in 2017, and five months after they confirmed their engagement in October 2018. 
Considering this isn't Lady Gaga's first broken engagement, it's reasonable fans have some concerns about her seemingly sudden split from Carino. If you came here with questions in mind, you're in luck. We're ready to spill the beans on the real reasons why Lady Gaga broke up with Christian Carino. 
Her growing success creates 'turnover'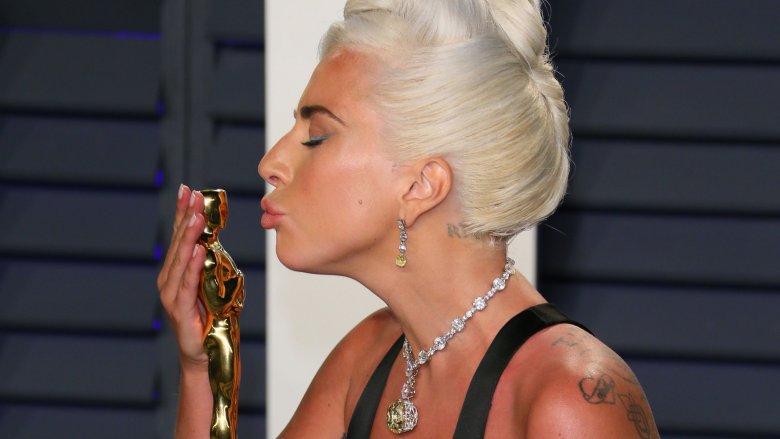 Getty Images
After A Star Is Born opened to widespread acclaim in October 2018, Lady Gaga's fame skyrocketed to new heights. Although Christian Carino publicly supported his fiancé as she navigated her increased levels of notoriety, it's possible that behind the scenes, he may not have been thrilled with the overwhelming attention. Our theory rests on a possibly telling comment Lady Gaga made in the September 2017 documentary, Gaga: Five Foot Two, in which she discussed her previous breakups. Talking about how her career has negatively impacted her past relationships, she explained (via Teen Vogue): "My love life has just imploded. I sold 10 million [records] and lost Matt. I sold 30 million and lost Luc. I did a movie and lose Taylor. It's like a turnover. This is the third time I've had my heart broken like this."
Here's a quick dating history refresher (via People): "Matt" is producer Matt "Dada" Williams; "Luc" is bar owner Luc Carl; and "Taylor" would be her former fiancé, actor Taylor Kinney of Chicago Fire. Given Lady Gaga's bad luck mixing fame with romance, it's reasonable to wonder if Carino couldn't handle the accolades she received for her role in A Star is Born. It isn't easy living in someone's shadow. Of course, this is a just a theory. Carino has never publicly expressed resentment toward Gaga, and he congratulated her after she won best original song at the 2019 Golden Globes.
About those Bradley Cooper rumors...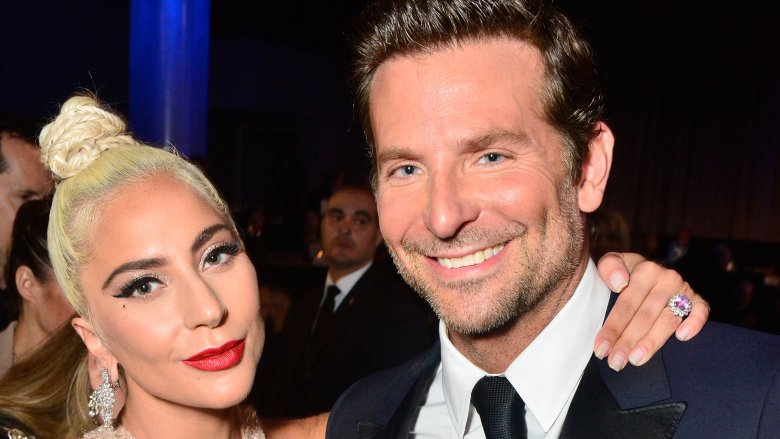 Getty Images
Given Bradley Cooper and Lady Gaga's epic connection in A Star Is Born, it's no surprise some fans have speculated about a possible romance between the two. Naturally, some of these rumors were fueled by folks can't get enough of Ally and Jack Maine's love story, but the harmless fun among fans creeped into uncomfortable territory as award show season progressed. It seems each and every time the co-stars were together, a new article would emerge about their chemistry together. Making matters even more intense? One of Cooper and Gaga's co-stars, comedian Luenell, insinuated that a love connection was very possible. "I'm just sayin' — it happened with Brad [Pitt] and Angelina [Jolie]," she told Us Weekly. "I don't see how you do not fall in love with your costar." Of course, that set tongues wagging. 
Even though there's no evidence to date that suggests the co-stars are anything but friends and colleagues, we imagine Christian Carino probably didn't feel amazing listening to all of the chatter about the powerful bond between his future bride and her co-star. The rumor mill can put a strain on any relationship, no matter how strong it might be.
Life in the spotlight is hectic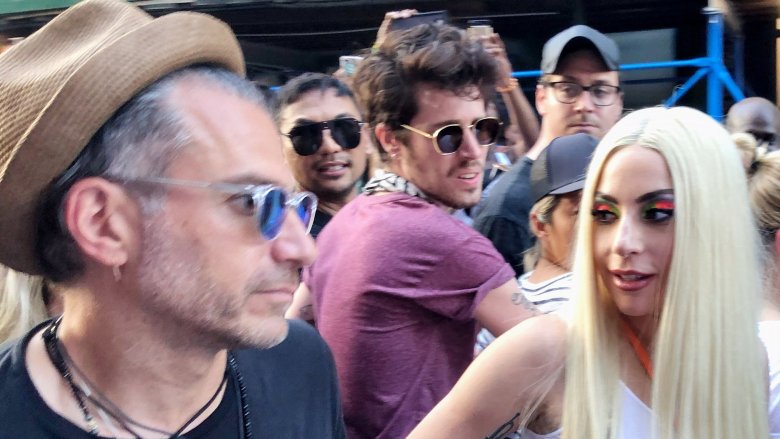 Getty Images
There's no denying that Lady Gaga and Christian Carino live hectic lives. He's preoccupied with his own career working as a talent agent at the Creative Artists Agency (CAA), and Lady Gaga hasn't had a moment to breathe in years. If you're still not sold on this possible reason for their breakup, take a moment to consider what a source said about Lady Gaga's mindset after splitting from the man she was planning to marry. "Gaga has been in such a focus on her career right now and has not even had time to address what has been happening between her and Christian, emotionally," the insider told Us Weekly in February 2019. "She has been telling those around her, 'Let's stay focused.'"
Hmm. If Lady Gaga was actually too busy to think about her broken engagement, then there's a good chance she was too absorbed in her work for the relationship to thrive. We're not blaming Gaga for prioritizing her career — landing an Oscar requires a lot of hard work — but if a relationship slips too far down on one's to-do list, it's probably not going to thrive.
Delayed wedding bells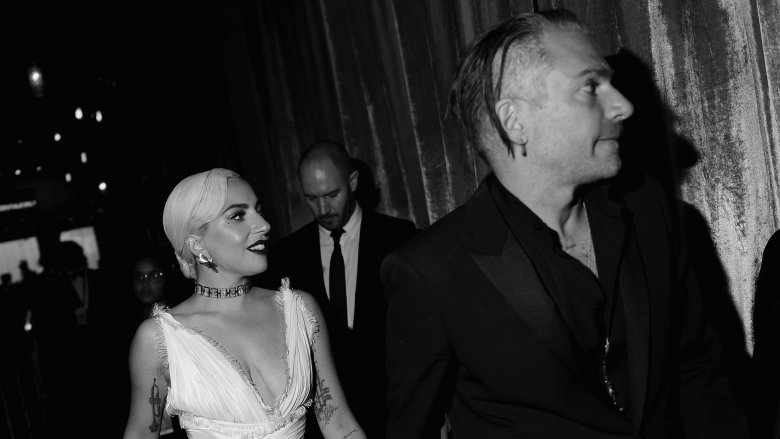 Getty Images
What's particularly strange about Lady Gaga and Christian Carino's engagement is that they never (at least publicly) set an actual wedding date. Although it's normal for couples to get swept up in the planning process and the hustle and bustle of everyday life, we can't help but wonder if there was something more to the delay. 
"Gaga is incredibly elated about her engagement, but because of how busy she's been with [A Star Is Born], she can't even begin to think about a wedding," an insider told Entertainment Tonight. "She had no idea the film would be this successful, and she is completely taken aback by the public's reaction." Call us cynical, but we find it a little hard to believe that Gaga had no inkling that her film would generate a lot of buzz. There was talk of this movie making it to the Oscars before it even hit theaters. We don't know about you guys, but that claim sounds like a big excuse to us.
Their flame lost its fuel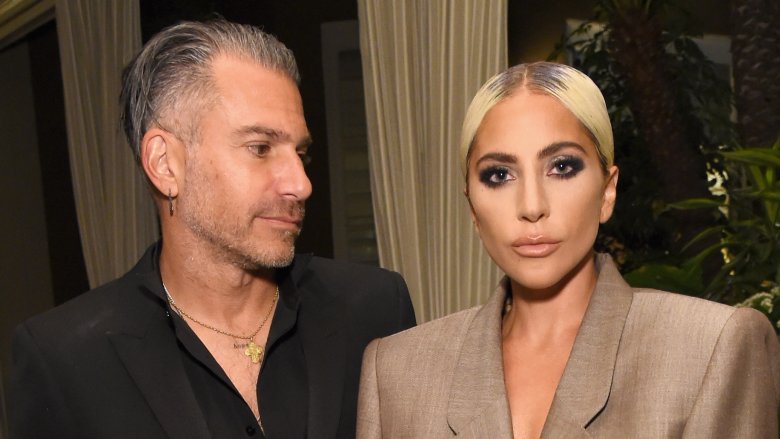 Getty Images
It's not the juiciest of reasons, but it's possible Lady Gaga and Christian Carino called it quits because their passion for one another simply faded over time. "Gaga has been overwhelmed with emotion the last several months, and ultimately, she felt like she and Christian were no longer on the same page romantically," a source told Hollywood Life. The insider claimed the actress still has a special place in her heart for her former flame. "She still loves him, but Gaga feels some of their spark faded."
Considering all the traveling Lady Gaga did in 2019, we can't say we're too shocked by this claim. Long-distance relationships can be rough, and many celebrity couples break up because it's too difficult to foster intimacy via FaceTime and text messages. Hey, at least these two realized their romance was doomed before they walked down the aisle, right?
Was their love equal?
Sometimes relationships aren't balanced, especially if one partner is more famous than the other. Someone who supposedly knows this all too well is Lady Gaga, who reportedly held most of the power in her dynamic with Christian Carino. "Their friends knew they weren't going to work out in the long run," a source supposedly close to Carino told People. "It always seemed Christian was more into the relationship than Gaga was."
Although we wouldn't put all our faith in an unidentified source, the exes' respective Instagram accounts do seem to back up this claim. Carino, for instance, had upwards of 20 adoring posts about Lady Gaga on his Instagram page as of Feb. 26, 2019. As for the Oscar-winner? We can't find one tribute to Carino on her page. It's possible Lady Gaga deleted any evidence of her ex immediately after the breakup, but that's still a difference worth noting. It's also important to recognize that social media doesn't always paint an accurate picture of a relationship —  there are plenty of happy couples out there who don't post about their S.O. on the 'gram.
Her movie role changed her
Massive success and critical acclaim can change a person, which could explain why Lady Gaga and Christian Carino's relationship ended before it reached the altar. The New York native addressed these changes in a November 2018 interview with Variety, talking about the lasting impact of her role in A Star Is Born. "I feel Ally inside of me," she said about her character. "I wonder how long she'll stay. Or if she'll be in there forever." Wow, it sounds like Gaga took method acting to a whole new level.
Taking things a step further, the entertainer admitted that she discovered a life-altering "truth" in the months after the film wrapped. "This has been a very transformative time for me," she said. "As an artist, there's always a feeling of 'Am I good enough? Am I making something honest? Am I making something true?' There is a sort of stagnant sadness in me, wondering if I'm enough. Today I did not see that. I saw something different. I saw a clarity. I saw a truth."
We can't help but wonder if that "truth" played a role in her breakup from Carino. Whatever happened, it sounds big.