The Problems Luke Perry Suffered Before His Massive Stroke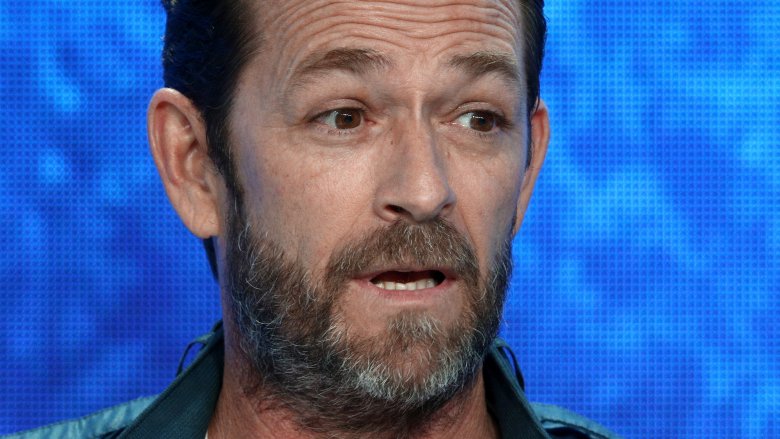 Getty Images
Following Riverdale star Luke Perry's hospitalization for a reported stroke, more information about his health has been released.
Perry was said to be experiencing "bad back problems" before his major health scare, which had to be "surgically fixed," according to the actor's neighbor who spoke with Radar Online. But, besides any issues he had with his back, Perry otherwise appeared to be in good health. Those who lived nearby claim that Perry could often be seen doing "regular exercise routines" and walking his dogs. He also reportedly frequented a gym "down the street" from his house in Sherman Oaks, Calif. And, according to SheKnows, Perry, 52, had no known health problems.
PopCulture.com notes that Perry's last big health scare was in 2015, when "precancerous growths" were found in his body after he underwent a colonoscopy. Perry later spoke out about checking for colorectal cancer in a 2017 interview with Fox News. "Right now, there are 23 million Americans who haven't been screened who need to be screened," Perry stated. "If I had waited, it could have been a whole different scenario."
As a result of his doctors discovering the growths, Perry changed his diet to decrease his risk of colorectal cancer. "I have significantly cut down on the amount of red meat I eat," he revealed. "I used to be a steak and potatoes kind of guy — now it's just for special occasions. I eat a lot more fish, natural grains and fiber."
At the time of this writing, there doesn't appear to be any link between his past finding of "precancerous growths" and his reported stroke.
TMZ reported that Perry was hospitalized on Wednesday, Feb. 27, 2019, after he suffered a "massive stroke" in his home. According to the celebrity gossip site, EMTs arrived to his residence around 9:40 a.m., after a call was made to the fire department. Perry was said to be able to communicate with the paramedics and was "responsive," but his condition reportedly worsened before he arrived at the hospital.
While some reports indicated that Perry may have been placed in a medically induced coma, TMZ noted that Perry was not and was actually just sedated.
On Thursday, Feb. 28, Perry's representative, Arnold Robinson, told The Hollywood Reporter that Perry "is currently under observation at the hospital."
Offering insight into what Perry may have experienced, Dr. Armand Dorian, who works as the chief medical officer at USC Verdugo Hills Hospital, told Extra, "A massive stroke basically means that the debilitation of the patient is high. What that means is they have difficulty speaking, moving. Usually it's one side of the body."
Strangely, Perry's hospitalization occurred on the same day that Fox announced that it will reboot the show Beverly Hills, 90210, the popular teen soap on which Perry starred as Dylan McKay in the '90s. According to USA Today, several of the series' original stars — including Jason Priestley, Jennie Garth, Ian Ziering, Gabrielle Carteris, Brian Austin Green, and Tori Spelling — have signed on to play "heightened versions of themselves in a brand-new serialized drama ... inspired by their real lives and relationships." So while the show is being called a reboot, it's more of a meta series based on the cast trying to get a reboot made.
Neither Luke Perry nor actress Shannen Doherty, who played his former on-screen love interest, will reportedly appear on the show. According to ABC News, Perry couldn't join the 90210-related series because of his commitments to the show Riverdale, on which he plays main character Archie Andrews' father, Fred Andrews.
Since Luke Perry's hospitalization, many of his famous castmates — both past and present — have taken to social media to share messages of support for the actor. Posting a picture of them from their 90210 days, Shannen Doherty wrote on Instagram, "My friend. Holding you tight and giving you my strength. You got this."
Ian Ziering posted, "No words can express what my heart feels hearing today's shocking news. Let us all say a prayer for his speedy recovery."
Molly Ringwald, who plays the ex-wife of Perry's character on Riverdale, tweeted out, "Sending my love to Luke Perry." Fellow Riverdale star Lili Reinhart wrote on Instagram, "Thinking of you, Luke. And praying for your safe recovery."
Clearly, everyone is rooting for Perry and hoping he gets well soon.