What Lori Loughlin Has Said About Her Kids' Education Before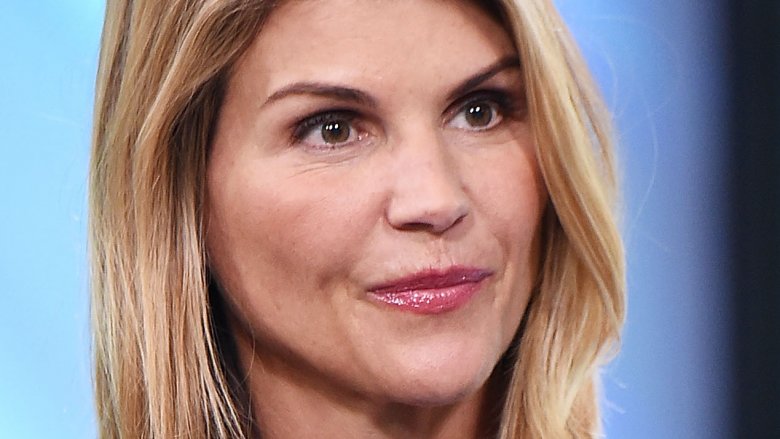 Getty Images
Lori Loughlin stands accused of bribery in a college admissions scandal, as, according to reports, she allegedly paid $500,000 to get her two daughters, Isabella and Olivia Giannulli, into the University of Southern California. But while you might think that, if Loughlin had any involvement in illegal activities, she'd keep her kids' college admission on the down low, well, you'd be wrong. She apparently spoke with the Today show about daughter Isabella's acceptance into college back in 2017.
Sitting beside Isabella in an interview with Kathie Lee Gifford and Hoda Kotb, Loughlin shared that Isabella would soon be heading off to college. "She's not going too far, but my husband [designer Mossimo Giannulli] keeps saying, 'Lori, you're not gonna see her, so just be prepared,'" the former Full House star shared. When asked if she was "preparing" for her daughter going off to university, Loughlin stated that she was in "complete denial." She explained, "When I think about it too much, it will make me cry."
In the same interview, Isabella told the show's co-hosts that she hoped to pursue a career in entertainment. "Probably movies or TV," she said when asked about what she wants to do. "I just love all of it. It's so fun. Like I'd be happy to do anything."
Loughlin also discussed Isabella's continuing education in an interview with Salon in August 2018. "She is in school and I'm glad. She just finished her first year of college and she really enjoys it and I think she'll get her degree," Loughlin stated when asked about Isabella's dreams of becoming an actress. "And I just said to her, 'Look, have some back up plan. Get a degree and something else. You can study theater [and] whatever you need to also at school.' I think I've shown her and presented all the pitfalls that there might be."
Regarding her and her husband's take on their children's schooling, Loughlin revealed to Page Six in 2017, "We were never like, 'At school you got to get straight A's.' We were never those parents. We were always like, 'You know what? Give it your all. Do the best you can 'cause in life if you give it your all and you do the best you can, that's it. That's all you can do.' And that's enough, in my opinion, especially with kids."
She added, "I think we've put so much pressure and stress on them. A lot of it is unnecessary and I think it's important to just have downtime, free time. I never over-scheduled my kids. Never. I always gave them plenty of time to just sit in their playroom and, you know, use their imaginations."
Given the allegations against Loughlin and her husband, clearly these interviews have not aged well.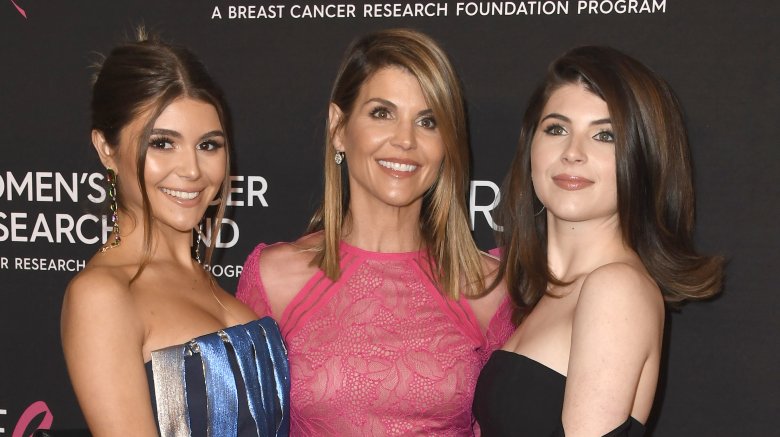 Getty Images
According to Radar Online, Lori Loughlin is expected to turn herself into the authorities on Wednesday, March 13, 2019, one day after the reported college admissions bribery scandal made headlines. While several other people who were indicted on the same or similar charges related to the alleged scheme were arrested on March 12, including Desperate Housewives star Felicity Huffman, Loughlin was reportedly out of the country at the time. Fox News noted that Loughlin had been filming a movie in Vancouver.
However, Loughlin's husband, Mossimo Giannulli, was reportedly arrested on March 12 on charges of "conspiracy to commit mail fraud and honest services mail fraud." Radar Online reported that Mossimo appeared in court that same day and was ordered to be released on a $1 million bond.
It's been reported that Loughlin and her husband had paid for their daughters to be "designated as recruits for the crew team" at USC, according to TMZ. However, neither Isabella nor Olivia reportedly participated in the sport.
TMZ noted that Mossimo once sent an email that read, in part, that he wanted to "make sure we have a roadmap for success as it relates to [our daughter]."
As reported by Today, this nationwide college admissions cheating scandal, which has reportedly resulted in kids being accepted to prestigious universities like Yale, Stanford, and Georgetown, is the "largest college admissions prosecution by the Justice Department in history." While parents, exam administrators, and sport team coaches have all reportedly been connected to the apparent scam, feds reportedly believe "schools were not involved" (via Radar Online).
Regarding the scandal, FBI special agent John Bonavolonta said in a statement (via Today), "We believe everyone charged here today had a role in fostering a culture of corruption and greed that created an uneven playing field for students trying to get into these schools the right way through hard work, good grades and community service."
Since the scandal made news, Lori Loughlin has reportedly deleted her Twitter and Instagram accounts (via People).