What Lori Loughlin's Fuller House Co-Stars Have Said Since Her Scandal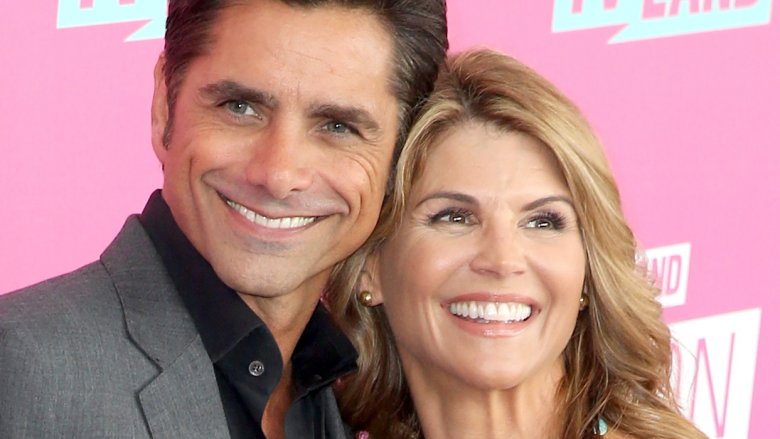 Getty Images
Lori Loughlin has been making headlines for her alleged involvement in the nationwide college admissions scheme, and, while she hasn't spoken out about the allegations brought against her, some of her Fuller House co-stars have.
The public has been pretty clear about just how they feel about Loughlin's alleged $500,000 bribery to get her two daughters into the University of Southern California via faked sports profiles, but Loughlin's colleagues have mostly kept mum on the subject. Still, that doesn't mean they've all been silent — they've simply been less outspoken than Loughlin's angry former fans and have been perhaps more subtle in their messages.
On Friday, March 15, 2019, John Stamos, who plays Loughlin's on-screen husband Jesse Katsopolis, posted a video of himself with his baby boy Billy, whom Stamos welcomed with wife Caitlin McHugh in April 2018, on Instagram. In the video, Stamos pretends to spit, saying, "Look, I've got something caught in my teeth," prompting his kiddo to break out into giggles. "The funniest things make you laugh," Stamos said to baby Billy.
In the caption, Stamos wrote, "For those of us who just need a good smile right now. Xo."
While the message may have been for all of his 3 million Instagram followers, it's possible he also meant to give Loughlin a reason to smile, should she have seen his post. After all, despite how he may personally feel about her alleged part in the now-infamous college admissions scam, he and Loughlin have known each other for years, and friendly feelings don't just go away overnight. But, of course, that's all just speculation, although Loughlin definitely could peep Stamos' Instagram for a peek at his adorable son.
While Loughlin couldn't have commented on the Instagram video (she's deleted her Instagram account), other Full House stars did leave messages in the comments section, as reported by TooFab. "I definitely needed this right now," Candace Cameron Bure, who plays DJ Tanner, wrote. Bob Saget — aka Tanner family patriarch Danny Tanner — joked, "Wait, was I there and said something hilarious?"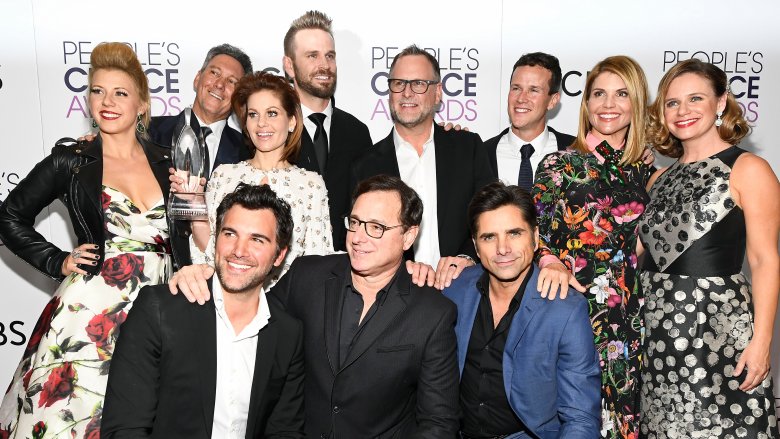 Getty Images
Prior to posting the video of his son on Instagram, John Stamos had remained tight-lipped about Lori Loughlin's current legal situation. When TMZ caught up with him earlier in the week and asked him for his thoughts on Loughlin's alleged part in the college admissions scam, Stamos quickly said, "No comment."
Similarly, Loughlin and Stamos' co-star Jodie Sweetin, who plays Stephanie Tanner on Fuller House, didn't comment on the allegations against Loughlin when approached by TMZ. When a reporter asked Sweetin if he could ask her a question, she wasted no time in telling him, "No."
Actress Andrea Barber, who plays Kimmy Gibbler, hasn't remarked on Loughlin's situation herself, but she has liked one tweet regarding the news. The tweet in question was directed at her and read, "I am not gonna say much and you know what I am referring to, but I am thinking about you and the rest of the Fuller House cast and crew as we try to process the unfolding events of today. ((Hugs!))."
Though she hasn't mentioned Loughlin by name, Candace Cameron Bure may have posted Instagram messages about the situation. In one post, she shared a bible verse that read, "I have asked one thing from the Lord; it is what I desire: to dwell in the house of the Lord all the days of my life, gazing on the beauty of the Lord and seeking Him in His temple."
In another post, Bure shared, "If you can't get someone off your mind, pray for them. You may be the only one that cares enough to do so." Comments were deactivated for both posts. She's also reportedly posted on her Instagram Stories about being "merciful," Page Six reported.
Sounds like Bure may be worried about Loughlin and is turning to her faith for wisdom and comfort. But that's just our opinion, of course.
But while Lori Loughlin's Fuller House co-stars may not be publicly condemning her alleged actions to bribe her daughters' way into college, her Fuller House bosses seem to have made it clear that they don't approve of her alleged illegal behavior. According to The Hollywood Reporter, Loughlin will not appear on the fifth and final season of Netflix's Fuller House. Production of the show reportedly won't be impacted by Loughlin's absence, as the series hadn't started filming yet and Loughlin's Aunt Becky character wasn't a series regular.
A source told People that Fuller House bosses are worried about how Loughlin's arrest could impact the children on the show. "There is a concerted effort to protect the kids on the show from all this news," the insider noted. "Lori isn't on every episode, but there is a lot of affection on the set. She is great with the kids, and they all love her."
The source continued, "There's a group text, and everyone is calling each other. It's not really gossip, it's more trying to come to terms with it. No one saw this coming with her."
Following her arrest on March 13, Loughlin was released from police custody on $1 million bail. She's reportedly scheduled to appear in court on March 29 (via TV Insider).