Lori Loughlin And Daughter Olivia Jade Lose Brand Deals Amid Scandal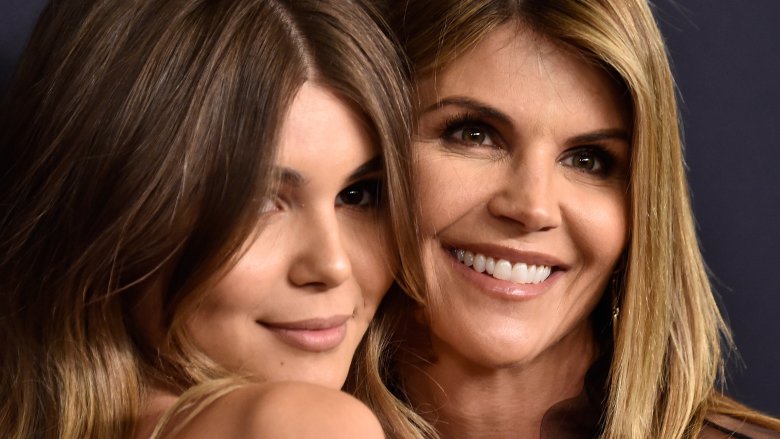 Getty Images
Actress Lori Loughlin and her teenage daughter, Olivia Jade Giannulli, have already faced some serious repercussions following their alleged involvement in the headline-making college admissions scam that's rocked the nation.
While Lori Loughlin has not gone through a trial for the allegations that she and her husband, fashion designer Mossimo Giannulli, paid a total of $500,000 to bribe their two kids into college, she is already being judged by the public. And, as could be expected, she's been dropped by TV shows and networks who apparently no longer want anything to do with her. On Thursday, March 14, 2019, just days after the college cheating scheme made news, The Hollywood Reporter reported that Loughlin was booted from Hallmark, where she'd previously established a lucrative deal starring in their TV show When Calls the Heart and TV movie series Garage Sale Mystery.
"We are saddened by the recent news surrounding the college admissions allegations," a statement released by Hallmark read. "We are no longer working with Lori Loughlin and have stopped development of all productions that air on the Crown Media Family Network channels involving Lori Loughlin, including Garage Sale Mysteries, an independent third-party production."
According to People, Hallmark also noted that it would not aired past made-for-TV movies in which Loughlin had starred.
Hallmark also reportedly pulled When Calls the Heart, on which Loughlin starred as widow Abigail Stanton, from airing on Sunday, March 17, and the network was allegedly "evaluating all creative options," regarding the popular program. On March 18, it was announced that When Calls the Heart would continue on without Loughlin in the cast. "Let us reassure you, When Calls the Heart has always been bigger than the sum of its parts, and it HAS NOT BEEN CANCELED," a statement from the show's producers read. "With the full support of the network, we have gone on a creative hiatus to do some retooling on the remaining Season 6 episodes. That process has already begun. Hope Valley will return to your TV screens as soon as we can bring the episodes to you."
Besides Hallmark, Loughlin has also reportedly lost her gig with Netflix's Fuller House, on which she'd guest starred several times as Aunt Becky. Sources told The Hollywood Reporter that Loughlin's absence wouldn't affect filming, as there weren't any concrete plans for her to return for the series' fifth and final season.
Lori Loughlin, who was arrested and later released on $1 million bail for the allegations against her, isn't the only one losing out on money-making opportunities since news of the college admissions scam first broke. Her 19-year-old daughter, Olivia Jade Giannulli, has also been hit hard. Notably, the young YouTuber lost a big deal with Sephora. "After careful review of recent developments, we have made the decision to end the Sephora Collection partnership with Olivia Jade, effective immediately," Sephora said in a statement made on Thursday, March 14, as reported by Page Six.
As Page Six noted, Giannulli had previously enjoyed getting paid for Instagram advertisements to promote Sephora — having potentially earned as much as $50,000 per sponsored post — and had collaborated with the company to release the Olivia Jade x Sephora Bronze & Illuminate Palette in December 2018. The palette has reportedly been taken off of Sephora's website.
Lulus, a fashion retailer, has also distanced itself from Giannulli following the college admissions scandal. "Lulus has not worked with Olivia Jade since August 2018 and we have no plans to do so in the future," the company's co-founder and CEO, Colleen Winter, stated, as Variety reported.
And it wouldn't be surprising if other companies soon cut ties with Giannulli, who's worked with the likes of Amazon, Smashbox Beauty Cosmetics, Smile Direct Club, Too Faced Cosmetics, and Boohoo. Giannulli's days of sponsored social media posts might just be over.
Oh, and did we mention that Giannulli's college days may be behind her as well? Giannulli, who's said she doesn't "really care about school" in the past, has reportedly dropped out of USC. A source told People that Giannulli has "no plans to return to USC." The insider explained, "She can't handle anything right now. She seems more and more upset every day. She just wants to stay home."
As noted by People, it's unclear if Giannulli knew about her parents' alleged bribes to get her and her older sister, Isabella, into USC. But, even if she had no idea about their alleged actions, she's facing consequences nonetheless.