Celebs Who Destroyed Their Interviewer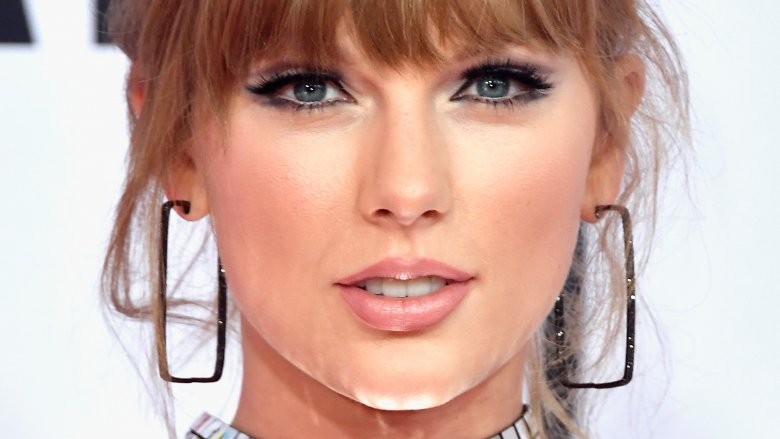 Getty Images
Celebrities aren't machines, as much as their Instagram accounts are Face Tuned to perfection. Sometimes, they're rubbed the wrong way by an interviewer asking a tough (or really, really dumb) question. Where our quick eye-roll would pan out in a flash to be forgotten forever, theirs is inevitably GIF-ed into oblivion (which by all accounts is permanent unless some sort of Y2K 2.0 actually happens). 
These celebrities are all masters at shutting down their interviewers — but the techniques vary. For some, a well-placed "Do you know who I am?" does the trick. For others, it requires a table flip and body slam (though, really, we can't condone violence). Other times, they simple disconnect the line after balking at the screen.
From Jerry Seinfeld, whose Larry King burn went down in history, to Taylor Swift, who's sick of being labeled boy crazy, these celebs have mastered the art of destroying journalists who dare to ask unfavorable questions.
When Seinfeld slayed Larry King
Larry King's 2007 interview with Jerry Seinfeld has gone down in infamy. Basically, the only way it could have gone worse is if someone dropped a Junior Mint into an open chest cavity during surgery. Trust us, this was probably just as painful for the talk show host. 
King's big mistake was ambiguously asking if Seinfeld's long-running, eponymous series had been cancelled. As fans of the show have long known, the star chose to end things on a high note and reportedly turned down a $5 million per episode offer from NBC. "You think I got cancelled," Seinfeld balked. "Are you under the impression I got cancelled?"
"Have I hurt you, Jerry?" King asked. "I thought that was pretty well-documented. Is this still CNN?" he replied. "I was the No. 1 show on television, Larry. Do you know who I am?"
King tried to laugh off his mistake, but it was clear Seinfeld was annoyed. The talk show host addressed the disastrous exchange years later during an interview on The Young Turks. "He later said he wasn't mad, but he was mad," King said, adding, "I thought he was dropped. ... When he took it off, I didn't know that he took it off. But that was, I should have known that, but I was stupid."
How Gayle King kept her cool
R. Kelly's 2019 CBS interview with Gayle King was so unbelievably unhinged that it sent shockwaves across the Internet. It's still unclear why his publicist told CNN that the televised breakdown was actually helpful in some way. In case you're wondering just how bad we're talking: it warranted a spoof on Saturday Night Live. The Trapped in the Closet star, who's been charged with 10 counts of sexual abuse, according to The New York Times, denied all of the claims of against him. Things began to fully unravel when King asked if he ever held girls against their will.
"I don't need to. Why would I? How stupid would that be for R. Kelly ... to hold somebody — let alone four, five, six, 50 you said — how stupid would I be to do that?" he aked.
That's around the time that Kelly started screaming, "I'm fighting for my f***ing life. You're killing me with this s**t," as he got out of his chair and pointed in King's face. At one point, his publicist even emerged from the shadows in an attempt to calm him down. The journalist never lost her composure, despite how scary it looked from the outside.
"I did worry at some points that he might accidentally hit me," King later told O: The Oprah Magazine, adding, "Because he was so angry that he was flailing. But I knew that I wasn't in any real danger." 
Taylor Swift's death stare
Taylor Swift is so obviously sick of having her love life slapped across tabloids. Do you really blame her? Someone even wrote an article about reasons not to date her (though, she was good enough for Harry Styles and Jake Gyllenhaal, just saying). In 2013, Swift told Vanity Fair about her extreme distaste for the way she's portrayed as positively boy-crazy in the media.
"Everybody in these tabloidy gossipy blogs," she said, "they think they have you pegged, like 'Taylor's boy-crazy.' And it's why I have to avoid the tabloid part of our culture, because they turn you into a fictional character."
This is hardly the first time Swifty has said something of the sort, so Nancy O'Dell should have probably known better before asking the star whether she'd be going home with "lots of men" after the 2015 Grammy Awards. The Entertainment Tonight reporter received what can only be described as a death stare.
"I'm not going to walk home with any men tonight. I'm going to go hang out with my friends, and then I go home to the cats," Swift replied. "Men get me in trouble." Burned.
Rashida Jones owned this TNT reporter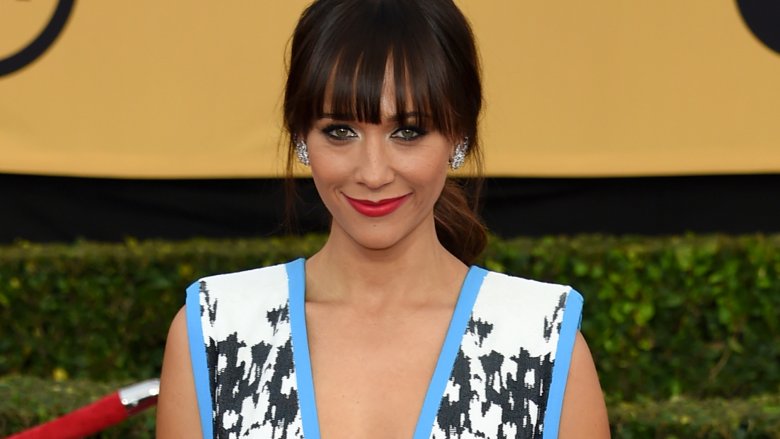 Getty Images
Rashida Jones had an epic quip when a reporter made a major flub — neglecting the fact that the star is, indeed, biracial. Embarrassing. TNT's Danielle Demski, for some reason, must have forgotten that the Parks & Recreation star's famous parents are legendary music producer Quincy Jones and Golden Globe-winning actress Peggy Lipton. Whoops!
The incident occurred at the 2015 SAG awards when Demski was commenting on Jones' red carpet look. The actress was wearing a blue-trimmed, Emanuel Ungaro gown with a plunging neckline and black and white print. Her hair was pulled back in a low ponytail.
"You look like you've just come off an island or something. You're very tan, very tropical," Demski said. Jones, a Harvard graduate, dryly replied, "I mean, you know, I'm ethnic."
Honestly, the only person who probably didn't cringe at this interview was Giuliana Rancic, who undoubtedly was glad that someone else made a racially oblivious comment on camera. Breathe easy, girl! It was someone else's time to shine.
Rihanna won't stand for gossip
B***h better not have the tea. Rihanna is absolutely no stranger to shutting down an interview if the questions steer towards "tabloidy" gossip. The girl is here to work, work, work. 
In 2012, RiRi was promoting her upcoming flop Battleship (don't worry Ocean's 8 fared much better) when she completely derailed an interview on the Australian morning show Sunrise. What was the interviewer's crime? She asked the singer how she feels being romantically linked to other stars. At the time, this included rumors about a fling with Ashton Kutcher and her ex-boyfriend Chris Brown (who, by the way, was charged with assaulting the star in 2009).
"[It's] very frustrating. Almost as frustrating as being asked about it. ... I mean, what's the point?" Rihanna shot back. She then cut off the interview, which wasn't shown live, by saying, "[People] are interested in a lot of things that don't matter — or shouldn't." 
Rihanna certainly didn't name her lingerie line Savage for no reason. 
Cara Delevingne wasn't having a good day
Cara Delevingne's 2015 interview with Good Day is the visual equivalent of some creepy dude asking a pretty girl to smile when she's clearly annoyed. The whole thing was completely uncomfortable, and Delevingne wasn't here for it, like at all. Things were dicey from the get-go when one interviewer asked the star, who was promoting Paper Towns, if it was easier to focus on work because she's busy. Delevingne replied, "No, I don't know where that comes from." When she's asked what she likes about her character, she snapped back with a sarcastic, "No, I actually hate her."
The interview finally came to a disastrous halt when a host asked her why she didn't seem more excited. "Are you just exhausted?" he asked. Delevingne has clearly mastered Taylor Swift's death stare (they were, after all, part of the same squad). "Oh, uh, no. I mean, I'm still very excited. The premiere was last night. It was an emotional night ... but I'm not any less excited than I was a couple of weeks ago. Maybe I had a bit more energy. It's the morning," she said.
The hosts kept pushing, and one even claimed the star seemed "a bit irritated. Perhaps it's just us."
"Yeah, I think it's just you," Delevingne snapped before the control room seemingly muted her microphone, leaving her awkwardly staring into the distance as the Good Day hosts chuckled away. 
Anne Hathaway doesn't care about your diet questions
Anne Hathaway goes through great lengths to master every role she takes on. For Les Miserables, the star told Vogue that she adopted a "near-starvation" diet and consumed just "two thin squares of dried oatmeal paste a day" in order to look "near death." She had a similar work ethic while filming The Dark Knight Rises, and reportedly went vegan, learned martial arts, picked up yoga, and weight trained for 10 months. Yet, all this one Extra interviewer wanted to talk about was the star's figure and tight costume.
"You're always in great shape, but you had to make sure you were in perfect shape for this one, didn't you?" He asked.
"Eh," she said, highlighting her stunt work. The interviewer followed up by asking whether or not her catsuit was "form-fitting," which anyone with eyes could clearly see. It wasn't like Catwoman wore JNCOs. After a third question about her body and diet, Hathaway finally asked the interviewer, "Are you trying to lose weight? What's the deal man? You look great. No, no, seriously. We have to talk about this. What do you want? Are you trying to fit into a catsuit?"
According to Jezebel, Hathaway got a ton of hate during this period in her life, but how could you not love the way she handled herself in this objectively awkward moment?
Don't call this NFL star Chris
This 1994 ESPN2 interview with former New Orleans Saints quarterback Jim Everett makes The Maury Show look tame. According to The Washington Post, even host Jim Rome admitted he went too far, but ESPN didn't take disciplinary action against him. Apparently, getting smashed to the ground on live TV is punishment enough (though Everett should have kept his cool).
The issues began when Rome called the NFL star "Chris Everett," a apparent reference to a female tennis player (Rome was apparently not above gendered, school yard insults). This was the first time the Talk2 host ever said the long-running slight to the QB's face.
"If you call me Chris Everett to my face one more time, you better ... take a station break," Everett sternly said. " ... It's good to be here with you, though, you know, because you've been talking like this behind my back for a long time." The final straw was when Everett said, "You probably won't say it again," and Rome replied, "I bet I do ... Chris." Everett ended up flipping the table and shoving Rome to the ground.
Everett later said in a teleconference (via The Washington Post) that he has no regrets. "I really don't condone my actions, but I was put in a position that I thought was going to be in a journalistic-type interview and, instead, I was put into what I felt was a taunting attack," he said.
No friend request for Jesse Eisenberg
Perhaps The Social Network star Jesse Eisenberg got a little bit too meta in his portrayal of the infamously smug Facebook founder, Mark Zuckerberg. Honestly, it's hard to tell exactly what he was thinking when he used an entire Univision interview to roast a younger blogger while promoting his film Now You See Me (which likely made would-be moviegoers, coincidentally, not want to see him at all).
In between railing on Say My Name host Romina Puga for referring to Morgan Freeman by his last name and mocking her for writing interview questions on her hand, Eisenberg's sense of humor clearly went from sarcastic to caustic. We've pulled this little highlight, which proves Eisenberg has no clue how to read a room: 
Eisenberg: "You know the comedian Carrot Top?"
Puga: "Yes, horrible"
Eisenberg: "Well, you are like the Carrot Top of interviewers."
Puga: "Ooh...
Eisenberg: No, and it's a good thing. It's a good thing.
Puga: ... I'm going to go cry now."
Eisenberg: "No, don't cry now. Cry after the interview is over 'cause otherwise, I'll look like I'm responsible for it."
In a now-deleted Tumblr post titled "Jesse Eisenberg isn't very nice" (via The Daily Mail), Puga claimed she was "humiliated" by the star.
Tom Cruise's psychiatry showdown
You might think the last time any human has ever uttered the world "glib" was during an SAT practice test, but in 2005, the universe gifted us with a very sour Tom Cruise. In an interview with Matt Lauer on NBC's Today show, we got to see the rare word roam around in the wild as Cruise rattled off his knowledge of the pharmaceutical industry (we use the term knowledge loosely).
Scientologists don't believe in taking what they call "mind-altering psychotropic drugs," prescribed by a licensed professional or not. That's probably why Cruise's conversation with Lauer slowly devolved into name-calling. The TV host kept talking about people he knew who were helped by medication, including Brooke Shields, who took antidepressants for postpartum depression, but Cruise kept shutting him down. The highlights consist of Cruise calling Lauer "glib," claiming Lauer didn't "know what Ritalin is," accusing Lauer of not knowing "the history of psychiatry," like Cruse does, and suggesting people take vitamins and exercise instead of using a "pseudoscience" that requires doctors to attend years of medical school.
Years later, Lauer recreated the interview on Watch What Happens Live and claimed the incident was "one little moment" in his very "good friendship" with Cruise.
Quentin Tarantino's Kill Bill screaming match
It's no secret that the heroines in Quentin Tarantino's flicks are habitually — and graphically — abused and injured. Mic went as far as calling Kill Bill a "rape revenge movie," and The Daily Beast dedicated an article to highlighting disturbing behavior the filmmaker allegedly directed towards female actors. Despite the fact that violence seems to string together all of this films, the director wasn't so thrilled to be asked about it on KRON 4 News while promoting Kill Bill: Vol. 1.
During the interview, Tarantino insisted that 12-year-olds (accompanied by their parents) should see his (R-rated) film, and it's empowering to girls. The interviewer strongly disagreed, claiming that Kill Bill encouraged real-life violence. "Why the need for so much gruesome, graphic violence. Why not let us imagine a little of it?" she asked. "Because it's so much fun, Jan. Get it!" Tarantino yelled. "You're all messed up because you're talking about real-life, and I'm talking about the movies."
The whole thing devolves into a screaming match, where Tarantino yells that kids should be able to tell the difference between fake and real violence. Despite this, Tarantino's violence and suffering isn't always pretend. In a New York Times interview, Uma Thurman claimed the director "persuaded" her to do a stunt in a car that she felt was too dangerous. She ended up crashing and permanently damaging her neck.
Don't ask Robert Downey Jr. about his past
Robert Downey Jr. wanted absolutely nothing to do with the personal questions asked by Channel 4 News' Krishnan Guru-Murthy during the press rounds for Avengers: Age of Ultron. After all, he was there to promote a superhero movie, not dig into his past. Nonetheless, Guru-Murthy decided to ask the ask the actor about his "dark periods." Although he did ask permission to get personal first, but you could tell RDJ only hesitantly obliged. As soon as the interviewer brought up the actor's father and his past relationship with alcohol and drugs, RDJ flew out of there faster than Iron Man.
"I'm sorry. I really don't — what are we doing?" asked the star, before abruptly saying, "Bye," and walking off camera.
In an interview with Howard Stern, Downey Jr. admitted he wished he left the interview even sooner, which would have been a super hero-like speed.
"This has nothing to do with your creepy, dark agenda ... all of a sudden I'm feeling ashamed and obligated to accommodate your weirdo s**t," the actor said, openly addressing the Channel 4 News host. "What I have to do in the future is give myself permission to say 'That is more than likely a syphilitic parasite and I need to distance myself from this clown.'"