Jennifer From Back To The Future Is In Her 50s And Absolutely Gorgeous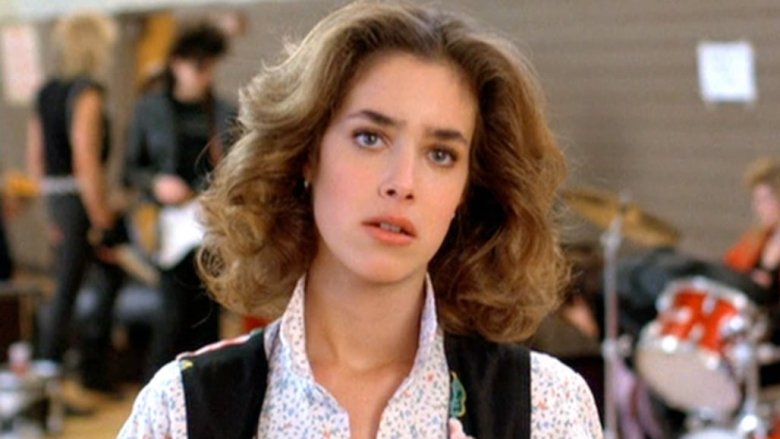 Universal Pictures
Because she played Jennifer Parker in 1985's Back to the Future, actress Claudia Wells will forever have a place in pop culture history, but things could have turned out quite differently for her. After she was cast as the girlfriend of Marty McFly (who at this stage was to be played by Eric Stoltz), ABC picked up a TV pilot Wells had filmed and forced her to quit the movie. "ABC wouldn't share me with Stephen Spielberg, so they ended up recasting," she told Australian outlet News.com.au. "Around that time they also let go of Eric and hired Michael [J. Fox]." Fortunately for Wells, the girl they hired to replace her was too tall to act opposite the diminutive Fox. "At that point I had done about seven or eight episodes of the show, so I was able to commit," Wells (who stands at "5ft 3 and a half") said. "I ended up getting my part twice!"
Wells was fresh out of high school when Back to the Future was made. The young actress was still "very shy and inexperienced around boys" at the time, but Fox had a way of putting her at ease. She revealed that the pair used to sit in a car and listen to music between takes, moments that she still cherishes. "I grew up living with my mom listening to her music — opera, the symphony, Simon and Garfunkel — so when he was playing this popular music it was a real discovery," Wells said. "Michael really did teach me about being cool. I still don't know if he has any idea about the role he played."
Wells was born in Kuala Lumpur, Malaysia, but raised in San Francisco. At 14, she moved to Los Angeles to pursue a career in acting. She managed to land various minor parts in TV shows throughout the early '80s, but the first Back to the Future film propelled her to all-new levels of fame. Sadly, she was unable to return for the two sequels because of a family tragedy. "When the time came to shoot the sequels, my mom was dying from breast cancer, so reprising my role was the last thing on my mind," Wells revealed to News.com.au. "I just wasn't able to think about my career." She's never regretted the decision, but Wells did admit that she had a hard time watching Elisabeth Shue play Jennifer in Part II (1989) and Part III (1990). "It was odd watching her on screen in the role I'd created," she recalled. "It was a sort of like having an out of body experience. I remember just slumping in my seat in the cinema and hiding behind my popcorn."
Wells did get the chance to do a bit more acting before she stepped away from the industry to be with her mother, taking on the role of Linda Barrett in Fast Times, the short-lived TV adaptation of '80s classic Fast Times at Ridgemont High. The character was portrayed by Phoebe Cates in the movie, someone that — like her Back to the Future replacement Elisabeth Shue — Wells encountered on multiple occasions. "Almost every movie in the 1980s came down between the three of us and Sarah Jessica Parker," Wells told Under The Radar. "No matter how many people auditioned, it was almost always the same people it came down to, just switching up who got it." Fast Times ended in 1986 after a single season, and Wells vanished from Hollywood soon after.
She made a fleeting return to acting in 1996 when she popped up in an independent film called Still Waters Burn (which wasn't actually released until 2008), but then Wells went on another lengthy hiatus. Out of nowhere, she bounced back in 2011, appearing in an episode of CBS crime drama The Mentalist as well as a sci-fi action flick named Alien Armageddon. Wells played a TV reporter who becomes the leader of a resistance movement following an alien invasion. "I was Linda Hamilton reincarnated," she said, but, despite her clear enthusiasm for the film, it was trashed by the few critics who bothered to review it. Regardless, it was great to see Wells in front of the camera again, though she actually gave her biggest performance of 2011 from a sound booth.
25 years after she played Jennifer in Back to the Future, Wells finally reprised the role, voicing the character in a tie-in video game. In the game, Marty finds himself in an alternate timeline in which he isn't dating Jennifer. In this universe, she's a rebellious Joan Jett-type who isn't afraid to give Marty what-for. "Jennifer is a slightly mean version of her sweet self," Wells explained. "I like being the different versions — the sweet Jennifer that she was, plus kinda the rock-n-roll Jennifer."
Wells has appeared in a handful of shorts and low-budget genre movies since she returned to acting, but she's dedicated most of her time to her store and her charity. After quitting acting, she opened up a high-end re-sell shop named Armani Wells, which sells designer clothing for men at discounted prices. "I love giving men the opportunity to uplift themselves and feel good about what they wear and how they look," the actress-turned-business owner told HuffPost in 2017. She's also an original board member of Kids in the Spotlight, a non-profit organization that teaches filmmaking to foster kids.