Meghan Markle, Prince Harry Reveal Royal Baby's Name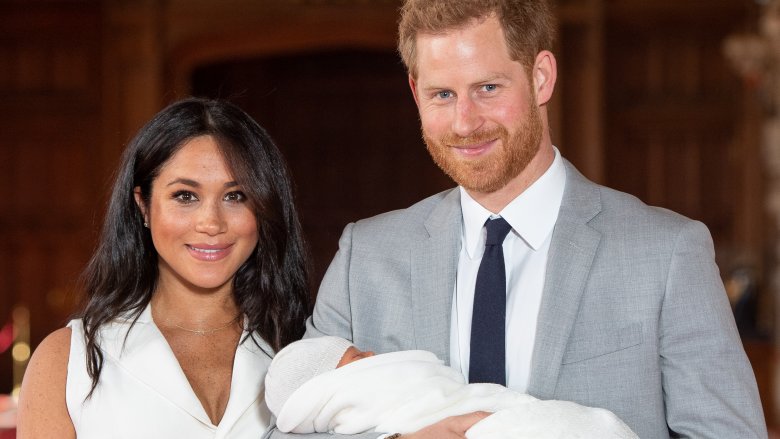 Wpa Pool/Getty Images
Meghan Markle and Prince Harry's royal baby is here, and the proud new parents have finally announced their son's name days after his birth.
On Wednesday, May 8, 2019, Meghan and Harry took to Instagram to share their baby boy's moniker. Alongside a photo of the Duke and Duchess of Sussex introducing their newborn son to Harry's grandparents Queen Elizabeth II and Prince Philip and Meghan's mother, Doria Ragland, the post's caption read, "The Duke and Duchess of Sussex are pleased to announce they have named their first born child: Archie Harrison Mountbatten-Windsor."
The caption continued, "This afternoon Their Royal Highnesses introduced Her Majesty The Queen to her eighth great-grandchild at Windsor Castle. The Duke of Edinburgh and The Duchess' mother were also present for this special occasion."
According to TMZ, the royal baby's full first name is Archie — not Archibald. And it wasn't a popular guess for many who'd placed bets on just what Meghan and Harry were going to name their first child. Ladbrokes, a betting site, reportedly had the odds of Archie being selected as the name at 100 to 1. Prior to Meghan and Harry announcing their kiddo's name, Forbes had reported that Alexander and Arthur were top guesses, with five-to-one odds and six-to-one odds, respectively. Other popular guesses for the baby's name were Albert and James.
At the time of this writing, it's unclear just what influenced Meghan and Harry to name their son Archie, but we can't help but think the prince was inspired by a fellow red headed icon — Archie Andrews of Archie Comics fame. You know, who actor K.J. Apa plays on The CW's teen drama Riverdale. Archie Comics' official Twitter page even responded to news of the royal baby's name, tweeting out, "I'm baby."
But of course, there's more to the Archie name than the famous comic book character. According to Baby Center, the name, which is historically a form of the name Archibald, means "very bold." Babble noted that the name is English in origin — fitting then for a member of the British royal family — and also means "genuine." We wouldn't be surprised to learn that Harry and Meghan picked the name purely because of its meaning — it's a good one!
As for the child's middle name Harrison, it's a pretty amazing choice considering that the name literally means "son of harry," according to Baby Center. Can't get more accurate than that!
Meghan and Harry's son, Archie, was born on Monday, May 6, 2019, weighing in at 7 lbs., 3 oz., as the duke and duchess shared on social media. Meghan and the couple's newborn, who is seventh in line for the throne, were both said to have been "healthy and well." Soon afterwards, Harry, appearing happier than ever, spoke to the press about his son, calling the birth of his child "the most amazing experience" he could've "ever possibly imagined," as reported by Sky News. He also paid his wife — and all mothers who've given birth — a compliment, saying, "How any woman does what they do is beyond comprehension."
Just a couple of days later — before they announced the name of their baby boy — Meghan and Harry showed off the newest addition to their family to the world, posing for photographs at Windsor Castle, as reported by CBS News. During this photo op, Meghan shared that the whole experience thus far had "been a dream." She also stated that their baby has the "sweetest temperament," adding that "he's really calm." His "calm" temperament was quickly proven as CBS News noted that the newborn slept through his very first moment with the press.
Regarding her now-family of three, Meghan told reporters, "It's magic, it's pretty amazing, and I have the two best guys in the world, so I'm really happy."
Harry also commented on his son, telling the press that the baby's appearance is "changing every single day," joking that the kiddo "already got a little bit of facial hair."
Congratulations to Meghan and Harry on the birth of their firstborn! We can't wait to see more of baby Archie, the very first multiracial, British-American prince born into the British royal family, as noted by The New York Times. He's certainly a special one.