We Finally Know Why Cersei And Bronn Have Never Shared A Scene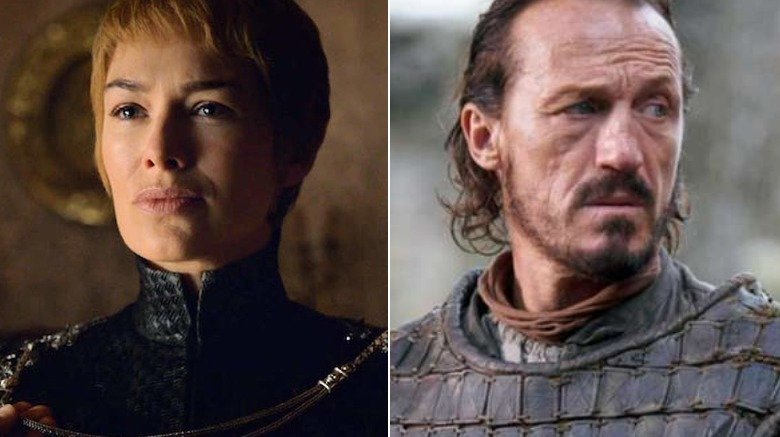 HBO
Fan reactions to the Game of Thrones series finale were nearly as dramatic as what happened on screen. However, both may pale in comparison to what went on behind the scenes of HBO's fantasy epic ... particularly between the actors who long-portrayed Cersei Lannister and Bronn of the Blackwater.
Lena Headey and Jerome Flynn are perhaps respectively better known to GoT fanatics as an evil queen and the bodyguard who protects her twin brother (and not-so-secret lover), Nikolaj Coster-Waldau's Jamie Lannister. However, despite their seemingly close proximity in Winterfell, these two surprisingly never spoke a word to one another on screen — albeit for an alleged good reason. 
According to an exclusive report published by The Sun on Saturday, May 18, 2019, Headey and Flynn reportedly used to date in real life, but apparently went through such a brutal split that they allegedly flat-out refused to shoot scenes together.
"Lena and Jerome have not filmed together due to a bad breakup," claimed a source cited by the British gossip rag. "They kept the full extent of it secret but it was a very turbulent relationship and it has been very awkward on set." The insider went on to claim, "Lena has opened up to her trusted friends. She appears to have a genuine hate towards him." Yikes.
While the former private pairing's actual relationship timeline has remained uncertain, they most likely first met back in the early '90s. Readers may be aware that Headey appeared on the British drama series Soldier Soldier in 1993, on which Flynn himself starred from 1991 to 1995. While the duo was initially romantically linked nine years later, The Sun reports that Flynn denied this dating speculation in 2003. "We're not a couple right now, people have seen us together and jumped to conclusions," he reportedly said at the time, but added, "I can't rule out a relationship with her." 
While it's believed that Headey officially called it quits on their low-key romance in 2014 — just three years into their eight-season Game of Thrones run — Page Six hinted that the breakup may have actually occurred long before the show premiered three year earlier. Considering the timing of Headey's marital history, the latter seems more likely, but has never been confirmed. After tying the knot with musician Peter Loughran in 2007, the TV star filed for divorce from her first husband in 2012, a year into their separation (via People). Meanwhile, Bustle reports that the actress got hitched for a second time in 2018 with childhood friend and filmmaker Dan Cadan. The married pair first got together in 2014.
Still, it appears that something may have changed between Headey and Flynn that same year, at least according to claims made to The Telegraph by an anonymous GoT crew member around that time. "Jerome and Lena aren't on speaking terms anymore and they are never in the same room at the same time," the insider alleged. "It's a pity because they appeared to have patched things up for a while, but now the word is they should be kept apart at all costs."
Does this mean Headey and Flynn temporarily rekindled their romance when she was between marriages? At this point, it's anyone's guess. However, it should be noted that, at the time of this writing, neither party has further publicly commented on the alleged matter. 
While Cosmopolitan reports that "it's actually stated in [Headey and Flynn's] contracts that they are not to star alongside each other," there may not actually be any truth to this rumor. According to The Sun, Flynn's rep recently denied this particular claim.
All that said, Lena Headey's Cersei and Jerome Flynn's Bronn did actually share just one brief scene together back in season three of Game of Thrones, according to Refinery 29. During the scene in question, Cersei is spotted rushing by Bronn and her guardsmen as they share a confrontational conversation. Four seasons later, the seemingly estranged exes very nearly appeared on screen together for a second time (via Elite Daily). With most of the main cast meeting at the Dragon Pit summit in season seven's finale, she and Flynn were saved by Bronn's quick (and now somewhat awkward) exit to grab a drink just ahead of Cersei's arrival.
When you play the game of thrones, you win or you die ... and apparently avoid sharing screen time with your former fling.