Sasha Obama Stuns In Gorgeous Prom Photos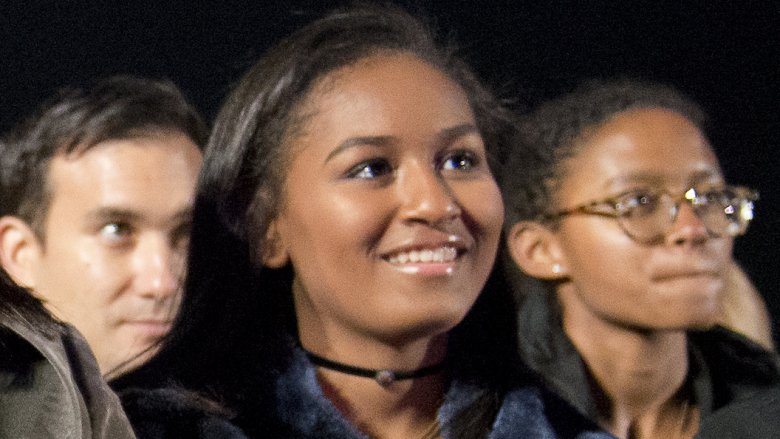 Pool/Getty Images
Sasha Obama is all grown up, and she's seriously gorgeous. The youngest daughter of former President of the United States Barack Obama and First Lady Michelle Obama showed off her super stylish side while attending prom in late May 2019.
Photos of Sasha posing with her prom date hit the internet over the weekend of Friday, May 24, 2019, showing the former First Kid getting her picture taken in a backyard before heading off to the big school dance. According to AOL, the images were shared by the cousin of Sasha's sharply dressed date. Page Six notes that the cousin posted the photos with the caption, "When your lil cousin take Sasha Obama to prom."
Yeah, we can't really blame the cousin for wanting to brag about his relative's prom date. Not everyone enjoys their senior prom with a First Kid, after all! Plus, how cute do Sasha and her date look together? Still, it'd seem that the cousin realized his post may have been a little much, and he's since deleted it, presumably out of respect for the two teenagers and their privacy. But, well, once something hits the internet, it lives forever, and people have been sharing the photos seemingly nonstop.
So, how did Sasha look? The 17-year-old looked amazing (of course!) in a sleek black satin dress that featured a high leg slit. Donning a smokey eye, Sasha further added to her senior prom look by wearing her hair straight, donning a silver necklace and hoops, stepping out in black heels, and rocking long white nails.
Seriously, how did Sasha grow up so fast? Her mature appearance — a far cry from the early days she spent growing up in the White House — certainly shocked many, as Twitter users couldn't stop commenting on Sasha's grown-up look.
"Sasha Obama in 2009 and on prom night 2019," one person posted on Twitter, sharing side-by-side photos of Sasha. "She's all grown up."
"I feel like a big brother watching my little sister go to the prom," another tweeted out. "Sasha Obama is such a beauty. And shout out to the simplicity of her dress."
And we'd imagine that Sasha's parents especially felt like their daughter grew up too fast. While Barack was missing from the social media prom photos, mama Michelle posed beside two people — perhaps family members of Sasha's date — so she was there for her youngest kid's teenage milestone. Sasha's older sister, Malia Obama, was also present for the prom photos, taking a picture with Sasha and her sister's date.
But Michelle and Malia didn't look to be the only people keeping close to Sasha that night. As one social media user pointed out, there appeared to be a Secret Service agent in the background of one picture, so we'd guess that Sasha's date wasn't the only person keeping her close company at her prom.
Sasha's sister knows what having a bodyguard at the prom is like, as she went to her own prom with a boy and a Secret Service agent. Opening up about Malia's prom night, Michelle wrote in her book Becoming (via People), "Barack and I shook [Malia's date's] hand, snapped a few pictures, and gave our daughter a hug before sending them on their way," adding, "We took what was perhaps unfair comfort in the knowledge that Malia's security detail would basically ride the boy's bumper all the way to the restaurant where they were going for dinner before the dance and would remain on quiet duty throughout the night."
So, just who was Sasha's prom date? Refinery29 reports that the boy has been identified as Chris Milton, And it would seem impossible to know at the moment if he and Sasha are a couple or just friends. Considering that they're just two teenagers, we doubt there's anything too serious going on just yet.
AOL reports that Sasha is set to graduate from Washington, D.C.'s Sidwell Friends School in June 2019, so, before we know it, little Sasha will officially be a high school graduate. And soon enough, Sasha will be a college student. According to Page Six, Sasha has decided to attend the University of Michigan in Ann Arbor— this according to a private Instagram post allegedly belonging to Sasha. "So proud to say I'm going to college with my sisters!!" Sasha reportedly wrote alongside a photo of herself with two of her friends. She also reportedly tagged the University of Michigan in the post.
We hope Sasha enjoyed her time at prom and looks forward to her future college days! We can't wait to see what's in store for her.