NBC Anchor Announces Engagement To Woman
Double congratulations are in order for NBC anchor Meagan Fitzgerald!
On Saturday, June 1, 2019, the NBC4 Washington weekend reporter took to Instagram to announce her engagement to longtime girlfriend Kelly Heath, just as the world rang in Pride Month.
"Cheers to a lifetime with the love of my life and best friend," Fitzgerald wrote, captioning a gorgeous slideshow from the happy couple's proposal, including a close-up snap showing off her beautiful engagement ring — an emerald-cut, according to Brides. "I love you so much! We're gettin' married!!!! It's been a long journey but worth the wait. Thank you for the way you love me. I said YES!!"
However, what makes this story even more special is the way Fitzgerald revealed her engagement news at work the following day. According to AOL, the occasion marked the first time she spoke openly about her sexuality and her relationship with Heath on the air. The local news anchor notably used the opportunity and her televised platform to share a message of hope and encouragement with her LGBTQ+ viewers to be themselves.
"It's not always easy being gay, lesbian, bisexual, or transgender. There's the coming out process, finding out who you are, being comfortable in your own skin and your own truth," Fitzgerald began. "It takes courage to be your true, authentic self — no matter who you are. But to the boys and girls watching, to the men and women who may still be struggling, it's worth it. Being just who you are is enough. I know this because I've been through that journey." We couldn't have said it better ourselves!
Instagram
According to NBC News, Fitzgerald, 33, and medical devices salesperson Heath, 30, met on a popular dating app back in 2017. According to the newscaster, "She likes to joke that we met the 'old-fashioned way' on Tinder." Fitzgerald added, "Meeting her was surreal. I knew she was different from the beginning and — even though it sounds cliché — that she was the one ... She's a beautiful person inside and out." (Cue the chorus of "awws.")
With a big smile on Sunday, June 2, Fitzgerald shared the deets on her future wife's proposal on TV, saying, "[My] beautiful fiancée, Kelly, popped the question yesterday along the Tidal Basin." They newly engaged pair celebrated with dinner at the Washington D.C. tapas restaurant Barcelona Wine Bar, which Fitzgerald called "a special place for us." She added, "And the people there were so gracious and kind, they made it a memorable night. And, of course, lots and lots and lots of champagne."
In addition to clearly marking a major milestone in Fitzgerald's personal life, the proposal announcement was also a doubly symbolic way to begin Pride Month — which she noted on Twitter. "Grateful to have this platform to not only share my special news, but a message I wish I heard when I was younger," she tweeted to her followers soon after her exciting news broke. Alongside a red heart emoji, she added the hashtag, "#HappyPride."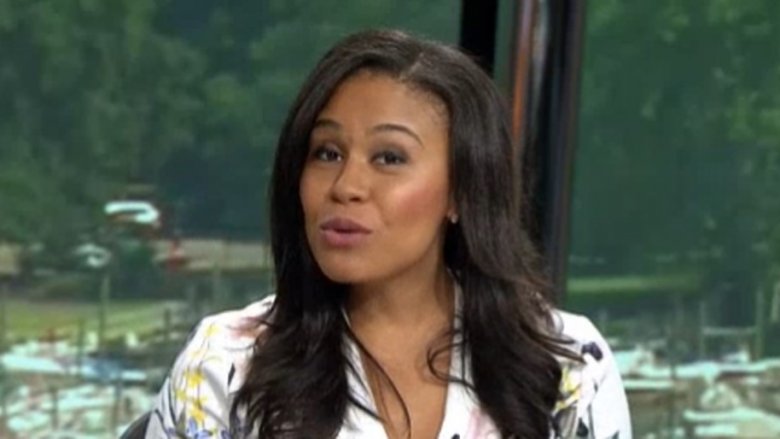 NBC4 Washington
Indeed, the importance and timing behind Fitzgerald's decision to publicly share the engagement news wasn't lost on her excited co-anchors, who shared their congrats on-air, nor a number of social media users, who flooded her social media accounts with messages of love, support, gratitude, and congratulations.
Some familiar faces even chimed in to comment on the engagement and Fitzgerald's inspiring message ... including none other than shock jock Howard Stern. While the man himself knows a thing or two about a happy and successful marriage, he commented in part on the couple's good looks on The Howard Stern Show, saying, "Wow! Now that's what I call a couple. That is steamy." For her part, Fitzgerald shared the clip on Twitter, writing, "Thank you for the support Robin and Howard! I really appreciate it. xo."
Sharing her own network's coverage of the happy occasion, the reporter later wrote on Instagram, "I'm truly overwhelmed by the love and support. Thank *you so much and thank you to @nbcnews @nbcwashington @nbcout for sharing our story." Completing the heartfelt caption with a heart emoji, she concluded, "I'm grateful to work for a company that celebrates and appreciates diversity."
Just days before Fitzgerald and Heath's engagement news broke, the news anchor shared a sweet selfie of the pair alongside the simple caption, "My love." And now she's looking toward the future, tweeting on Tuesday, June 4, "Let the wedding planning begin!"
Love is certainly in the air as we head into summer. According to Us Weekly, a number of celeb couples have announced their own engagements this week, including Real Housewives of Beverly Hills alum Paul Nassif, who recently popped the question to Brittany Pattakos.
Congratulations once again to Meagan Fitzgerald and Kelly Heath — and a sincere thank you to the NBC News anchor for the reminder this Pride Month that love wins.