Diane From Cheers Is Unrecognizable Today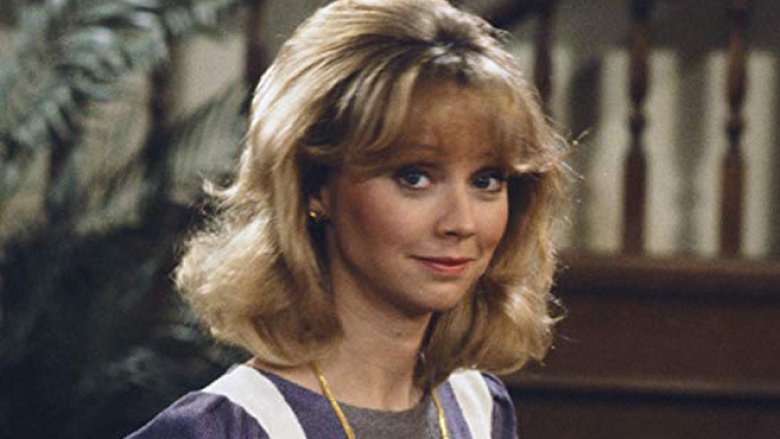 NBC
Diane Chambers was one of TV's most beloved characters in the '80s. Played by Shelley Long, the sassy waitress was a leading lady on Cheers for five years. She had some of the most talked about storylines, including a fiery romance with Sam Malone (played by Ted Danson). Chambers was loved by fans and TV critics alike and Long took home numerous awards for her role, including two Golden Globes and an Emmy.
At the height of her fame, Long did the unthinkable: she quit the show. As Entertainment Weekly noted, the young actress said goodbye to Cheers on May 7, 1987 to focus on building her movie career instead. She also explained on The Phil Donahue Show that she was "pretty much ready to devote more time to my family, and I already had my contract with Disney by that point."
The decision was so shocking that TIME included Long on its list of Top 10 Quitters and dubbed the move "one of the greatest career stumbles in show-business history." That's because Long's lofty plans to become a Hollywood star didn't pan out as she'd hoped. While Cheers replaced her with Kirstie Alley and shot to No. 1 in the ratings, Long struggled to find her next big break.
At first, things were looking up. In 1987, she landed a promising role alongside Bette Midler in Outrageous Fortune, and in 1989 she starred in another comedy, Troop Beverly Hills. Then things slowed down. She played Carol Brady in two Brady Bunch films, 1995's The Brady Bunch Movie and 1996's A Very Brady Sequel, and had some supporting roles on the big screen, including in 2000's Dr. T & the Women, starring Richard Gere and Helen Hunt. Other than that, most of her work still came from TV.
Long made a cameo on the final episode of Cheers, had some guest appearances on Frasier, and snagged several TV movie roles, but in 2004, she hit rock bottom. While her career failed to explode, her personal life fell apart. In 2003, her 22-year marriage to Bruce Tyson ended and she became depressed. According to sources cited in the New York Post, she stopped eating and spent many days in bed. Then, in November 2004, she was rushed to UCLA Medical Center following an alleged suicide attempt and was treated for a painkiller overdose.
In the years that followed, she recovered and began taking on work again. Most notably, she voiced a character on Disney's Milo Murphy's Law cartoon series and snagged a recurring role on Modern Family. The latter came with an unpleasant surprise, however, when she was suddenly killed after after appearing in just eight episodes. Long played DeDe, Claire (Julie Bowen) and Mitchell's (Jesse Tyler Ferguson) mom, who died in her sleep during 2018's Halloween episode.
When The Hollywood Reporter asked show co-creator Steve Levitan why they had chosen to get rid of DeDe, he explained, "While Phil (Ty Burrell) had lost his mother in a previous episode, we've never seen the entire family have to deal with such a loss. It seemed like an interesting thing to have happen." As for why it was DeDe specifically, he added, "She's directly involved with three of our characters and she touched everybody's life in some interesting way. It seemed like the right character to put everybody through something." 
He added, "Our casting director, Jeff Greenberg, has known Shelley since Cheers. He called and told her what the story was. We made ourselves available to her if she had follow-up questions. She was very sweet about it."
She may have been sweet about it, but since her stint on Modern Family came to an end, Long has been keeping an exceptionally low profile. According to DailyMailTV, she lives in a $1.3 million condo in Pacific Palisades, a posh neighborhood in California, which she rarely leaves. When she was spotted shopping in the area in April 2019, National Enquirer noted that "not a soul recognized the gal." According to an unnamed source who spoke with the tabloid, the actress "pretty much keeps to herself and spends most of her time with her little dog or in the company of friends." They also noted that, according to a GLOBE reporter who supposedly showed up at her condo, "Her place was packed with SO much antique furniture and weird trinkets, there was barely any room to move."