Twitter Reacts To Chris Pratt And Katherine Schwarzenegger's Wedding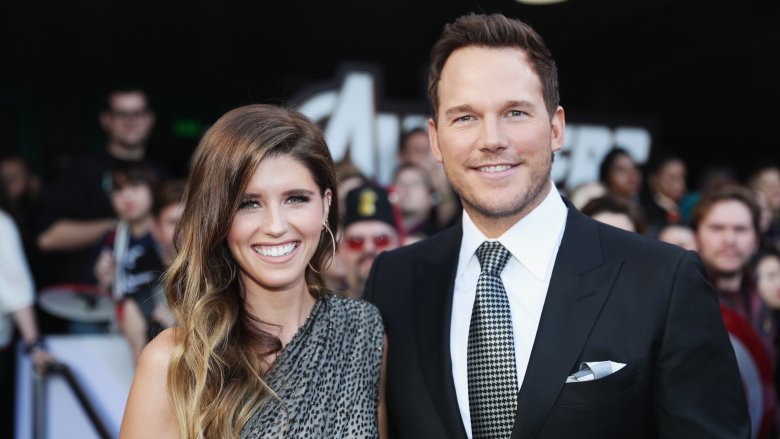 Rich Polk/Getty Images
People reports that Jurassic World and Guardians of The Galaxy star Chris Pratt and author Katherine Schwarzenegger tied the knot on June 8, 2019, a year after the pair started dating. Terminator star and former California Gov. Arnold Schwarzenegger is now Pratt's father-in-law. Let that sink in, friends. The intimate ceremony included celebrity guests such as Pratt's former Parks & Rec co-star Rob Lowe, Guardians director James Gunn, the Schwarzenegger family, and even Pratt's ex-wife, actress Anna Faris.
"Yesterday was the best day of our lives! We became husband and wife in front of God, our families and those we love. It was intimate, moving and emotional. We feel so blessed to begin this new chapter of our lives. We are so thankful to our families and our friends who stood with us and grateful to Mr. Giorgio Armani who created a once in a lifetime dress for Katherine to wear and for me, the perfect suit. This morning we feel nothing but blessed," Pratt tweeted, linking to an Instagram post revealing their wedding photo.
News of the nuptials quickly spread to online, where fans offered their thoughts on the newlyweds' big day. "Today was supposed to be productive but I just found out that Chris Pratt is a married man again and now I'm too distraught to get out of bed," one user quipped on Twitter. Another fan pointed out that Katherine's signature won't take as long to write now. "Chris Pratt and Katherine Schwarzenegger got married?! That was fast. At least she now has a simpler last name lol," she tweeted. "What a world we live in when Whiskers the cat is our president and chris pratt is a kennedy," another wrote (Katherine's mother, Maria Shriver, is JFK's niece). One user let everyone know to keep the faith, joking: "Chris Pratt was the fat comic relief on a sitcom 10 years ago. Don't stop believin' you guys."
According to E! News, the wedding took place at "the lavish San Ysidro Ranch in Montecito, California." A source told the publication the ceremony was "classic and romantic," with a string quartet covering John Legend and Louis Armstrong. Katherine's dress also provided some unintentional comic relief to the bride."The train was so big she was laughing about it because she needed help as she walked," the insider added. "She looked so excited to see Chris and had a huge smile on her face. Chris was in a dark suit, along with his son Jack who stayed close by his side."
Pratt and Faris were married for nine years, and the movie stars finalized their divorce in October 2018. Less than three months later, Pratt and Katherine got engaged. Many Twitter users pointed out the speed in which this all went down. "I feel like the world blinked once between Chris Pratt and Anna Faris divorcing and him getting married again yesterday lol," one user tweeted. "Holy Smokes! That was fast," another said. "Did they even have time to breathe in between??? LOL Didn't #ChrisPratt just divorce Anna Faris like yesterday or somethin'...Damn, Hollywood treats marriages like changing trousers."

A few Faris fans relayed their shock and joked: "Never thought I'd live in a world where Anna Faris & Chris Pratt weren't married. They bonded over having a bug collection for god's sake. Now Chris Pratt is married to the Terminator's daughter. I'll need a day off to process, thanks," one fan tweeted. "Is there a way to, like, choose Anna Faris in the divorce and never again see anything about Chris Pratt's personal life, ever?" another quipped. One Faris fan didn't take the news well at all: "I wish Anna Faris the best and I hope Chris Pratt gets fat again."
However, there doesn't seem to be any bad blood or hurt feelings between Pratt and Faris, because on a episode of her podcast, Unqualified, Faris had this to say about Pratt and Katheriner's engagement (per Yahoo!): "Chris texted me this morning and he was like, 'I proposed to Katherine last night'. And I was like, 'Ahh, that's amazing'. And I texted him back like, 'I just wanted to remind you I'm an ordained minister' ... I'm not very good at it," she said. "I do want to congratulate Chris and Katherine, so I love you guys. I do love you, and congratulations — I'm thrilled. "They're both f**king amazing people. I'm so happy."
Katherine's podcast, The Dog That Changed Me, has reportedly also benefited from Faris. "[Anna] has an incredibly successful podcast. I really admire all the work that she's done, and she's definitely an expert at it," Katherine told In an interview with Us Weekly. "Learning from her is another huge gift. I have such great people in my life that I'm able to learn from in all different areas of life and, and she's definitely somebody that I look up to in the podcast world."
It sounds like one big happy family, guys. As Twitter takes and congratulations keep pouring in for the happy couples, here are some more reactions to keep you updated.
I cannot believe Chris Pratt is a Terminator-Kennedy now.

— bobby finger (@bobbyfinger) June 9, 2019
Anna faris attended her ex husband of not even 2yrs wedding & just wow.. that's a strong woman right there

— Hciv (@hrcbell) June 9, 2019
Dunno what happened but Anna Faris accepted and married Chris Pratt before he got buffed and famous. That's true love.

— Faid Ariff Khairil (@FaidAriff) June 10, 2019
Chris Pratt got married and it wasn't to me pic.twitter.com/jM1CNsEJHq

— madz ☻ (@pattycakesfosho) June 9, 2019
chris pratt got married and it wasn't to me pic.twitter.com/f3EHUAN6Vn

— skye🦋 (@diethaute) June 10, 2019
You wanna see mature, grown adults co parenting a cute child and support each other 10000? Anna Faris and Chris Pratt putting all you Petty Betty's to shame

— Tiffany Reneeeeee (@dysfuncdumpling) June 10, 2019